The near term impact of Artificial Intelligence
[avatar user="malm" size="small" align="left" link="file" /]
The existential impact the rise of Artificial Intelligence could have on human existence was outlined in last week's blog.   Given the profound nature of the debate, it feels increasingly important to grasp the technical principles behind the practical application of Artificial Intelligence.  A great starting point for gaining that understanding is the famed Berkeley CS188x Introduction to Artificial Intelligence course which has been made available online courtesy of edX over the last few months culminating in a Final this week.  Undertaking the course proved to be a challenging and ultimately highly rewarding experience which I have now posted about in a separate article.
Meanwhile, as this apprehensive NYT opinion piece points out, the machines aren't just coming, they're already here and being extensively used today in a range of contexts most of us are largely unaware of:
"the machines are getting smarter, and they're coming for more and more jobs.  Not just low-wage jobs, either. … Machines are getting better than humans at figuring out who to hire, who's in a mood to pay a little more for that sweater, and who needs a coupon to nudge them toward a sale. In applications around the world, software is being used to predict whether people are lying, how they feel and whom they'll vote for."
The application of machine learning within the workplace is only going to widen as the technology improves – machines don't complain or strike or need any HR or salary and can work inexhaustibly on many suitably framed workloads.  Employers will inevitably be drawn in by their upside and there's plenty of scope for human disenfranchisement and deskilling along the AI revolution road.  It seems clear this is going to turn out badly for many humans even before the Singularity followed by ASI arrives:
"This is the way technology is being used in many workplaces: to reduce the power of humans, and employers' dependency on them, whether by replacing, displacing or surveilling them. Many technological developments contribute to this shift in power: advanced diagnostic systems that can do medical or legal analysis; the ability to outsource labor to the lowest-paid workers, measure employee tasks to the minute and "optimize" worker schedules in a way that devastates ordinary lives. Indeed, regardless of whether unemployment has gone up or down, real wages have been stagnant or declining in the United States for decades. Most people no longer have the leverage to bargain."
The extent of disruption is outlined in a Nesta report this week looking at the societal impact of robotic disruption.  Your best bet for avoiding obsolescence in the coming years appears to lie in being "creative" though it's not at all clear how society can reinvent itself in terms of training and political leadership to pivot to a predominantly creative human workforce adept at choreographing machine intelligence:
"Some 40pc of jobs in the UK could be fully automated, Nesta's Creativity versus Robots report found, but highly creative roles are much less likely to be taken by robots, with 86pc of these roles at low or no risk of automation in the UK"
Meanwhile the prospects for robotic replacement multiply right the way across the work spectrum from robotic receptionists in Japan to a software "iCEO" highlighted by HBR:
"It will not be possible to hide in the C-Suite for much longer. The same cost/benefit analyses performed by shareholders against line workers and office managers will soon be applied to executives and their generous salaries. Senior executives must wake up to this inevitability and join the conversation on the future of work, which only seems to be taking place at the policy level."
There are still skeptical voices in the mix.  Forbes this week poured some cold water on automation dystopia suggesting that what many of the inhabitants of Anxious Avenue really want is more regulation of further advances in AI.  Essentially industry-led intervention to submit future developments to some form of precautionary-principle guided scrutiny before it all gets out of hand.  The Forbes author seems to think this is a job best left to government. UK readers can probably judge the wisdom of that view for themselves during the run-in to the General Election.   Perhaps unsurprisingly, it appears that politicians are immune to robotic disruption.
Devices and Manufacturers
The Turing phone, aside from having a very cool name, is "extra secure and stronger than steel" with a frame "built from "liquidmorphium," a metal alloy that's reportedly stronger than steel or titanium".
Nokia may be plotting a comeback with a 2016 phone.  The timescale fits with the contractual obligation they have with Microsoft following the sale of their phone unit and they still have an enormous amount of experience and talent to draw upon.  However, Nokia will find the smartphone market a very tough place to make a mark in second time round:
"Nokia has remained silent about its work as it waits out its contract with Microsoft that prevents it from selling any phones under the Nokia brand through the end of this year or licensing the brand for use in phones until at least the third quarter of next year. That has not stopped it from staging a comeback scheduled after its contract ends. And indeed the company has been staffing up and hard at work on products for next year and beyond."
Asia
"That it chose to premiere a new gadget in India underlines the importance of this smartphone-hungry, cost-sensitive market to the Chinese company. The name of its new flagship phone is an acronym of "Mi for India.""
Chinese OEM OnePlus sold over one million One smartphones in 2014 and is aiming to hit 10 million sales globally next year "using a combination of online and invitation sales".  In order to do this, they're looking at Silicon Valley venture capital funding to double their workforce which has already grown hugely in the last couple of years:
"OnePlus, which offers phones at less than half the price of flagship models by Samsung Electronics Co. and Apple Inc., plans to boost staff to 1,500 employees this year, said co-founder Carl Pei, who started the company in 2013 with six people."
The Acer Liquid X2 has a monster 4,000mAh battery, a 64-bit octocore processor, 13MP camera, 5.5inch screen and can hold three SIM cards.  It looks surprisingly thin for it all, though:

Google and Android
This comprehensive deep dive on Android audio system architecture provides a great technical analysis on why pro-audio apps that have strict low latency requirements are "largely non-existent on Android".    The way that Android is bolted onto the Linux audio driver subsystem, ALSA, is identified as a key contributor to latency in the round trip from Analog to Digital and back (ADC -> DAC). The article is illustrative of the kind of deep architectural issues that can afflict platforms that need to be adapted for new use cases.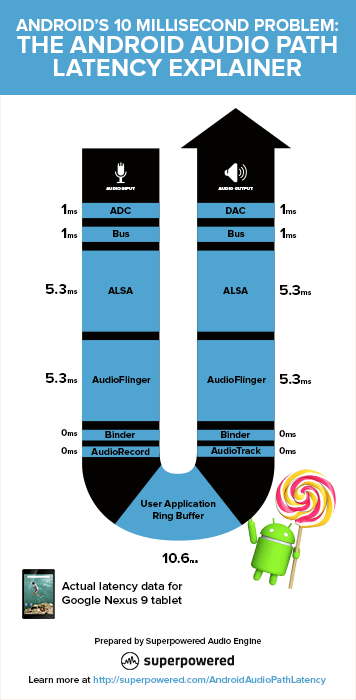 Google's Project Fi, announced this week, is at face value an attempt to provide US smartphone users with a seamless, invisible connection over the best underlying bearer WiFi and 4G depending on local availability.
Looking a little deeper though, as Engadget points out in its Fi cheat sheet, the initiative has a much bolder strategic intent as befits a company as ambitious in reach as Google.  With Fi they are seeking to build a cross-carrier meta MVNO with tech which brings WiFi to the party:
"the best way to look at Fi is as an ambitious experiment in mashing up existing networks. The heart of the service is a mobile mesh that combines Sprint's and T-Mobile's coverage areas with over a million of WiFi hotspots meant to give you the most reliable service wherever you are."
Cars
In an interesting development, Aston Martin have partnered with upcoming Chinese OEM LeTV in an exclusive deal to bring their in-vehicle (IVI) technology to the luxury British carmaker famously associated with the James Bond franchise. Additionally, "it may be able to help Aston Martin appeal more to China's younger generation of wealthy tech entrepreneurs and investors".
Apple Watch
"Apple also appears to be mimicking the scarcity-creates-desire approach, one that has served Hermès well with items like the Birkin and Kelly bags. They are rarely in stock, and customers sometimes wait months to receive one."
They're also apparently recruiting celebrity ambassadors drawn from the 1%.  TechCrunch are making merry referring to it as the "Beywatch" after rumours Beyonce has one.  She seems the ideal profile to represent their target market:
"By marrying the two, commodity and cachet, in the Watch Edition, Apple has created the perfect form of aspirational capitalism and thirst"
iFixit have an Apple Watch teardown making the observation that the system board is "fully encased" so essentially not user serviceable luxury casing notwithstanding.  It's very much in keeping with many other current consumer electronics devices these days.
Apps and Services
"Snowball data shows that over 60 percent of notifications are social messages (almost 40 per day). Will Facebook Messenger subsume the notification panel? 

…our engagement is now defined by push-driven notifications rather than the traditional pull-driven experience. We're "hunting and pecking" through our app grid a lot less; the apps that notify us (without over-notifying to the point of uninstall) are rewarded with our engagement (and our dollars).

Notifications represent the future app interface, and Facebook is making a bold play to own them. … What we're seeing today is the first step toward monetization of the OS and the emergence of a new important distribution channel, and apps and platforms would be wise to think critically about it."
Snapchat are using their own app to poach Uber engineers by deploying a geolocated message applied to photos sent from the vicinity of the Uber offices.   It's another sign of the intensity of the competition for Silicon Valley engineering talent where according to one correspondent "All of us spend a good 30 some percent of our time just hiring people, and it shouldn't be this hard":
"The photo filter, which can only be found if a user is in the vicinity of Uber headquarters, also shows a web address to Snapchat's jobs page and drawings of Snapchat's trademark ghost driving a cab while making frustrated and sad faces."
"Operator calls itself a "Request Network". It's an app that uses a network of human 'Operators' to fulfill customer requests. It can handle a broad range of commercial requests. For now it's focused on "high-consideration" purchases that may require expertise or have lots of options to choose from.

Combining the simplicity and convenience of messaging, the breadth and rich visual aids of mobile shopping, and the instant gratification of the on-demand economy could take the hassle out of commerce. With Operator, you won't even have to break stride or stop your conversation to buy something."
NYT previewed "health insurance as a service" startup Oscar who are "trying to upend the traditional model with a more modern approach built on technology and friendlier customer service." Health insurance has traditionally been a difficult service proposition to attack with tech.  It'll be interesting to see how far Oscar can go. They've certainly made a hugely impressive impact to date:
"Sixteen months after going live, the insurance company Oscar has joined the elite group of start-ups known as unicorns, or those with billion-dollar valuations."
Security
One company that is majorly profiting from a heightened concern about internet security and privacy is Silent Circle, makers of the "privacy-first" Blackphone.  They're on a roll heading towards an all-important $1billion revenue milestone with Blackphone 2 and regular media coverage of their prospects:
"The original Blackphone was launched last year and the company has notched up around $750 million in sales since June from Silent Circle's broad portfolio – which stretches across 'privacy first' devices, software and services."

Cloud and DevOps
The service currently provides a learning model similar to that used in many large scale learning applications, as well as visualizations for basic data statistics and the predictive performance of the learned model, but still has some limitations in terms of flexibility, data import and export, and support for automated model parameter tuning.
"Amazon said in its first-quarter earnings report that its cloud division, Amazon Web Services, had revenue of $1.57 billion during the first three months of the year. What is more unusual at a company that often reports losses, the cloud business is generating substantial profits. The company said its operating income from AWS was $265 million."
AWS remains the runaway leader of the cloud computing pack and retain an undimmed almost universal popularity with startups.   Microsoft's best prospect of catching up with them remains the enterprise cloud computing sector and convincing SMEs they are a better longer-term bet than AWS.  It will be a huge, likely insurmountable challenge: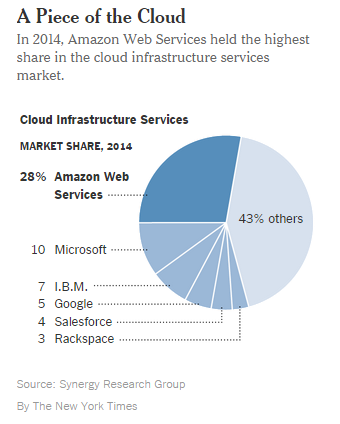 Software Development
Evan Miller's thoughts on four days' use of the Go programming language is a good read not just for his impressions on the language but for its entertaining and dry humour.  Miller's impetus was the need to develop a convenient hex-editor with markup for reverse-engineering binary file formats to combat an age-old approach which will be very familiar to system developers:
"My workflow at present is to print out the hex representation of a binary file onto physical sheets of paper, and then mark them up with a ball-point pen that I received last year at a conference about technology."
He found a new terminal library written in C called termbox that looked like a better option than ncurses and "saw the author mention that the Go version of the library had more features" so started from there.  He's found the experience a pleasant one in terms of what is possible with the combination of Go and termbox:
"Termbox, by the way, is a fun library to work with. It gives you a key press handler and an API for putting colored characters at points; that's pretty much it. If you're feeling crushed beneath the twin behemoths of browser programming and scrum meetings, termbox is a great way to attempt to resuscitate your dying sense of worldly wonder and recapture your faded feelings of youth. I highly recommend it."
Games
Science
Harvard scientists have decoded the complete genome of two woolly mammoths giving rise to speculation of a future Jurassic Park style raising from the dead of a creature that died out thousands of years ago, the assumption being that if it can be done, somebody is bound to try to do it regardless of ethical considerations.
For all our scientific confidence, however, there are many things we just don't know. For instance, researchers believe dark matter behaves in inexplicable ways that cannot be accounted for by gravity alone.
Innovation and Funding
This Cap Gemini perspective on Innovation in the Enterprise just about manages to hang together through the business-speak. There's a clunky emphasis on a one-size fits all procedural model to get from 1 to 5 in an "innovation maturity model" that seems to ape the infamous software CMM.   Innovation ultimately is a mindset centred on creativity and when it comes to creativity, culture trumps process every time.  Last year Asymco suggested innoveracy as the neologism for a lack of understanding of the role of creativity during innovation.  That said, there are some good references provided and the overall conclusion remains valid:
"As I noted before you cannot "just do innovation" you need to understand where you are; you need to decide where you want to be and establish the activities to move and keep you at the level you believe need to be."
The Kernel don't believe the Exponential Organisation hype citing evidence that we're once again in a 2000AD flavour tech bubble that will burst by the end of 2015.  The main criticism is that few of the so-called "unicorns" have a long-term economically viable and sustainable revenue model relative to the rate they are burning money.  Leading VC Bill Gurley's views from this years SXSW are illustrative of the point:
"We're taking on, in these startups, these … so-called unicorns, a level of risk that we've never taken on before in the history of Silicon Valley or startups. … you have more people employed by money-losing companies probably than you ever have before.  Which is tenuous, because when the capital slows, then those [jobs] aren't real anymore. Trying to predict what's going to cause all this to come down is hard to do, I don't know.  I do think you'll see some dead unicorns this year."
Crowdfunding started off as an idealistic disruption to the VC/Angel funded alternative.   This Quartz report on the scene suggests that its recent phenomenal success has turned crowdfunding into a "

mashup of commerce, finance, and investing" with a confusing mix of

 naive investors, idealistic inventors and savvy financiers.  Successes are lauded but failures are frequent and often end up costing investors their stake.  The model is likely to evolve as more crowd onto the bandwagon:
"Angel investors and VC's have been incubating projects on crowdfunding sites and trolling the platforms for new ideas for years, "now, we are just formalizing the process," Indiegogo CEO Slava Rubin tells Quartz. He also points out that Indiegogo recently began offering backers the chance to buy insurance on some donation-and-reward-based campaigns in case the projects on its site go bust."
Crowdfunding enthusiasm has proved popular pretty much everywhere, including the UK:
"In the UK, which has already passed a set of rules regulating the industry, crowdfunding is now the fastest-growing form of alternative finance, growing three times faster than peer-to-peer lenders, according to a report from the University of Cambridge and think tank Nesta."
Underlining the potential for disappointment and cause for concern is this disconcerting statistic:
"More than 60% of UK investors who put money in equity crowdfunding deals had zero prior investing experience and more than 40% were tapping funds that otherwise would have been placed in savings"
Work and Culture
"As we age, things often don't turn out as nicely as we planned. We may not climb up the career ladder as quickly as we wished. Or we do, only to find that prestige and a high income are not as satisfying as we expected them to be. At the same time, high expectations about the future adjust downwards. Midlife essentially becomes a time of double misery, made up of disappointments and evaporating aspirations.  It's at the bottom of the U-curve [the mid-50s] when expected life satisfaction aligns with current satisfaction levels. People come to terms with how their life is playing out."
A tweet on some deep human reasons why income inequality leads to social issues:
Martin Wilkinson at #ZDayUK15 discusses the reasons why income inequality generates social problems pic.twitter.com/PwYZHKFVxE

— David Wood (@dw2) April 25, 2015