Pick of the Week – Smart Thinking
The question "is it too late to start programming at 17 if you want to be a top programmer" was recently posted on Quora.  The top rated response was:
"Here is the quick checklist to tell if you still have time to become a top programmer:
1. Am I still alive?"
There are a couple of other elements needed in the mix – curiosity and a real desire to improve oneself.  Anyone armed with these assets is in a great position to build their depth of understanding of modern technology and think big and innovate more effectively. Building nested causal knowledge about complex systems is a critical aspect of building a capability for Smart Thinking as outlined in this book:
So is writing to marshall and articulate thoughts even if you are only doing it for your own benefit:
Software Engineers Should Write http://t.co/Xf0JapMF9i via @photomatt pic.twitter.com/DX1KucKJJf

— Chris Dixon (@cdixon) January 2, 2015
Smart Thinking advocates will doubtless enjoy this year's three Royal Institution Christmas Lectures which combined systems hacking, Raspberry Pis, robots, phone cameras and Python to great effect. The first lecture ended with a live game of tetris on the side of the Shell Building in London in an echo of a famous MIT hack.
RI Christmas Lectures are playing tetris on the Shell Building on the South Bank using a raspberry pi and a bunch of python code #impressed

— chris procter (@chr15p) December 29, 2014
Here's a video revealing some of the background to how it was done:
2014 reviews and 2015 predictions
Fred Wilson offered this acerbic perspective from his ringside VC seat on 2014.  He called out a decisive shift from social media to messaging and security as the single biggest story of the year:
"the social media phase of the Internet ended.  messaging is the new social media. families use whatsapp groups instead of facebook. kids use snapchat instead of instagram. mobile and messaging has started to impact the enterprise. slack is the poster boy for this trend in 2014. cyberwarfare, cybercrime, cyberhacking, and cybersecurity was by far the dominant theme of 2014."
"More and more companies will begin thinking like Amazon, Google and Facebook. As cloud-optimized and software-defined methods become mainstream, we'll see a move towards web-scale IT, starting with DevOps."
An unprecedented increase in web-scale tech startup valuations in 2014 served to underline that message:
2014 was the year tech startup valuations went on a tear without precedent. http://t.co/u9xq7SNrls pic.twitter.com/1Dge7tPhxi

— Christopher Mims🤳 (@mims) December 30, 2014
By way of contrast, the biggest tech failures seemed to mainly involve propositions focussed on atoms rather than bits with the exception of Bitcoin.
PocketLint provided a good summary view of the highlights of 2014 from a mobile perspective picking out Apple, Motorola, Amazon and Microsoft developments as well as Google's Ara modular smartphone initiative.  In terms of devices, it was all about Apple who continued to defy gravity in spite of a number of high-profile missteps.  They ended the year according to Flurry data with an astonishing 51.3% of device activations over the Christmas period:
In terms of predictions, WSJ picked out wearables, Windows 10 and advances in personal authentication security:
Kickstarter's predictions for 2015 had an unsurprisingly strong focus on DIY from wearables, drones, circuit boards, transportation and even CaaS (CNC as a Service) right the way up to homebrew Oculus DIYVR:
Smartphones and Manufacturers
This post from @marcoarment suggests that recent slip-ups in QA at Apple might be indicative of a wider malaise of marketing-driven overreach.  His conclusions are of relevance to Android OEMs who also have to absorb annual major platform updates often with far fewer QA resources to support them:
"We now need to treat Apple's OS and application releases with the same extreme skepticism and trepidation that conservative Windows IT departments employ. …  having major new releases every year is clearly impossible for the engineering teams to keep up with while maintaining quality. Maybe it's an engineering problem, but I suspect not — I doubt that any cohesive engineering team could keep up with these demands and maintain significantly higher quality.The problem seems to be quite simple: they're doing too much, with unrealistic deadlines."
In spite of these software quality concerns, industry analyst Ben Bajarin suggests on the basis of his data models that Apple will overhaul Samsung to become the number one smartphone vendor globally by Q4 2015:
"Apple bumping Samsung as the top vendor has everything to do with Samsung's trend line going steeply downward, more so than with Apple trending steeply upward. Apple is likely to maintain steady growth into 2015, continuing year over year quarterly growth. I don't anticipate this to happen in any other quarter than Q4 of 2015, unless something drastic happens to Samsung's device sales which I don't anticipate."
Tablets had a bad year in 2014.  This article provides the data shown below highlighting the sustained assault the category has been under from both smartphones and phablets in the last couple of years.  Some are now suggesting they may go the same way as netbooks.  Bajarin in his data-led analysis is more upbeat noting the upside to crashing prices namely that:
"At the extremely low price points tablets are moving to, they can be used for anything and everything and even dedicated to specific tasks"
Google and Android
"Analyst Chetan Sharma estimates that global profits in the Android hardware market for 2014 were down by half from the prior year — the first year that there has been any significant drop."
This race to the bottom uniquely linked to Android is a key dynamic pushing Samsung to greater efforts with their homegrown Tizen platform, "the OS of everything".  This week Samsung Tomorrow revealed that their entire 2015 Smart TV line will be powered by Tizen which is an important validation for the platform:
"Samsung Electronics announced that all of its Smart TVs in 2015 will come equipped with its new platform built around the Tizen operating system. Tizen, a standardized open-source platform, enables flexibility with even more content and devices, allowing developers to easily create compatible content, while connecting users to a world of limitless entertainment possibilities."
"while OnePlus had signed a global non-exclusive licence with Cyanogen, in India, Micromax believed it had an Indian exclusive on using CM's trademark and software. The two went to court.  It upheld the territorial exclusivity agreement.  From the ruling we learn that Cyanogen cut off support to OnePlus at short notice, and went public with the exclusivity deal with Micromax."
Apps and Services
Strings is a variant on OTT messaging proposition that allows you to delete texts you regretted sending after the event.  It's a variant on the Snapchat model albeit one seemingly positioned at the morning after contingent:
"tl;dr: Marissa has accomplished a ton, and she should be judged after seven years & $10b in acquisitions–not 30 months and $2b. This piece was designed to sell books and get page views — it doesn't match the reality of how hard these turnarounds are."
KnowledgeHound are seeking to position themselves as the Google of Product Marketing by offering "Market Research as a Service" (MRaaS) to SMEs that have a corporate inability to absorb and retain such vital information:
"Calling themselves "the Google of market research," KnowledgeHound's technology enables Fortune 500 companies to use, re-use, and recycle the consumer and market knowledge on which they spend an average of $60,000 per study. Instead of living on individual hard drives, which makes it unsearchable to the company at large, the data and research from each study is imported into the KnowledgeHound database, then augmented with a custom search engine and visualization tools."
Asia
Xiaomi's next flagship the Redmi 2 has been announced.  It's a formidable combination of wafer-thin margin midrange pricing for an LTE superphone built on Qualcomm's 64-bit Snapdragon 810 chipset.  The phone comes in a number of colours and is dual SIM capable to boot.  It should be huge in Asia: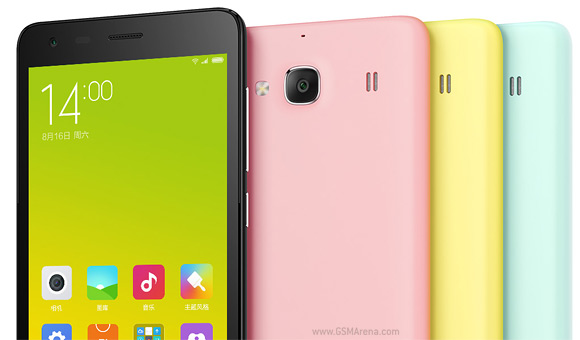 "Xiaomi is pricing the Redmi 2 at 699 Chinese Yuan, which works out to just $112. That's a killer deal for a device with LTE in Asia. It runs Android with the MIUI 6 skin complete with Xiaomi services standing in for Google."
As further evidence of the strength of the WeChat ecosystem, a Chengdu-based startup going by the name of "Call a Chicken" has received $1.6million in angel funding for essentially a WeChat-based food delivery proposition:
"Call a Chicken is exactly what it sounds like: a chicken-focused food delivery service. It offers different chicken-based dishes, prepared by renowned chefs and cooked with fresh meat, for home delivery. Customers order via WeChat – the company doesn't even [seem to] have a traditional website – or by phone anytime between 9 A.M. and 4 P.M. The dishes available change periodically and range in price. They're also limited every day, Xiaomi-style, so the dish you're looking for could sell out if you wait too long to order."
Hardware hacker Bunnie provides a long, very technical but absolutely fascinating journey through the murky world of Chinese IP rule bending or "Gongkai" as he calls it.  It's a uniquely Chinese approach to collaboration and information sharing that is the key to the ability of Shenzen outfits to push out the bewildering variety of Shanzai (cloned) phone variants they do:
"Chinese entrepreneurs, on the other hand, churn out new phones at an almost alarming pace.   Phone models change on a seasonal basis.  This is enabled because very small teams of engineers can obtain complete design packages for working phones – case, board, and firmware – allowing them to fork the design and focus only on the pieces they really care about.  Unfortunately, queries into getting a Western-licensed EDK for the chips used in the Chinese phones were met with a cold shoulder – our volumes are too small, or we have to enter minimum purchase agreements backed by hundreds of thousands of dollars in a cash deposit"
Western firms trying to do the same thing are at a built-in disadvantage because of the nature of the IP model they have to work with which is 'broadcast' based rather than built around a 'collaborative network' as he puts it: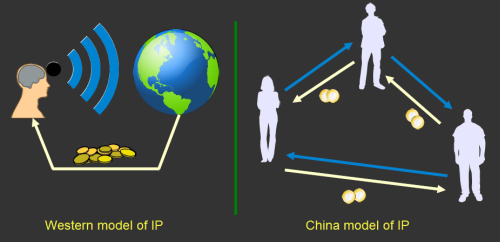 In the article Bunnie outlines his efforts to reverse engineer the Mediatek MT6260 in order to build a reference board called FernVale with accompanying bootable OS image.  This is the sort of activity that lies at the heart of Shanzai developments.  By way of example of what the ecosystem is capable of, he references this Shenzen GSM phone built around an MT6250 chipset retailing in China for an incredible $12: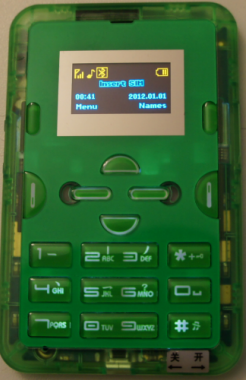 TechCrunch covered the curious tale of the Indian government asking "internet service providers and mobile operators to block access to 32 sites in the name of its censorship laws".  Among the affected sites were vimeo and github.  They reversed that decision in a number of cases a few days later but the episode is another reminder of the dangers of assuming universal internet service access globally.  It's a bit of an own goal given the expressed goal of the new government to:
"promote the country as a destination for companies in a range of verticals, including information technology. Blocking GitHub is most definitely not in sync with that vision."
Robots, Machine Learning and Big Data
Facebook's new keyword post search is a development that has enormous implications for privacy.  This TechCrunch article suggests that the thread connecting key features such as News Feed and Timeline is a ceaseless quest on Facebook's part to employ Machine Learning techniques to experiment with and monetise the  "gold mine" of the trillion-plus personal user posts it has in its possession:
"Privacy by obscurity is basically dead. Previously, if you posted something dumb once upon a time, you were safe unless someone painstakingly browsed back through your Timeline post by post, month by month and dredged it up.

Now anyone armed with the right, or wrong keywords can pull up your worst moments, and either quietly judge or publicly shame you.

Job seekers and public figures beware. Now is probably a good time to run some searches on yourself and make amends for anything stupid you said. Technically, your privacy settings haven't changed, but how privacy functions on Facebook has."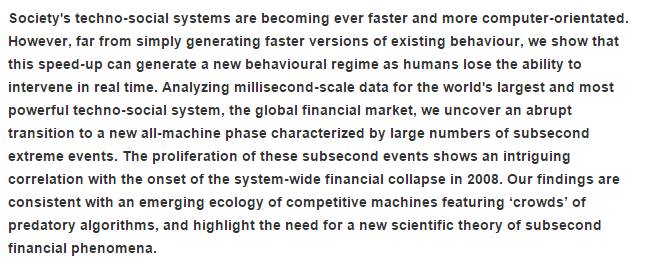 "As soon as a civilization invents radio, they're within fifty years of computers, then, probably, only another fifty to a hundred years from inventing AI.  At that point, soft, squishy brains become an outdated model."
Wearables and the Internet of Things
Parody thinkfluencer @ProfJeffJarvis predicts Smart Toilets will experience a flush of success in 2015:
I know I say this every CES, but next year is when America will go Smart Toilet Crazy.

— Prof. Jeff Jarviss (@ProfJeffJarviss) December 30, 2014
MontBlanc's eStrap is their attempt to update a traditional Swiss watch with contemporary technology.  It's a wearable module that integrates into the strap of the watch.  The use of DLC (Diamond Like Carbon) coating is a nod to the high tech luxury world:
"Montblanc's upcoming release of the e-Strap is a healthy sign that the often conservative luxury watch industry is trying to work with smartwatches rather than ignore them. … they are taking charge by offering what they feel is the ultimate combo – a traditional mechanical luxury watch with a strap that contains a smart wearable device."
Gizmodo published a nice piece covering the etymology of the term Bluetooth.  The story carries some interesting lessons about standing out in respect of brand, marketing and SEO.  The original name for the ubiquitous radio technology was "PAN" (for Personal Area Networking) which would have been far more difficult from a search optimisation perspective than the name of a medieval Danish king.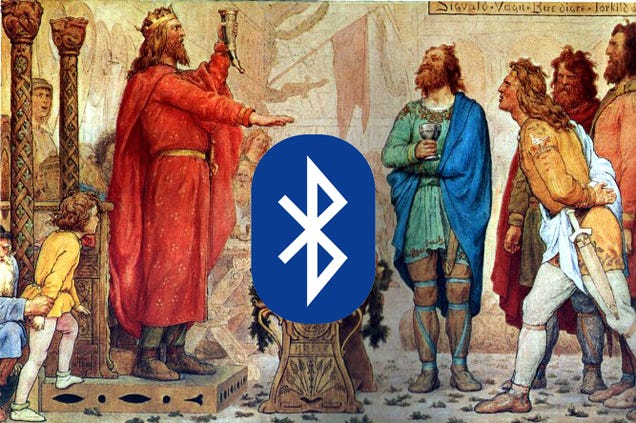 Software Development
Steven Sinofsky wrote a post on why remote working is hard highlighting communication as the main issue.  The article also raised these three key scenarios in which remote working can nevertheless work and offered some guidance as to how to align resource arrangements to minimise integration issues:
"- The first pattern that works … is when you have a co-located and functioning team and members need to move away for some reason then remote work can continue pretty much as it has before. This assumes that the nature of the work, the code, the project all continue on a pretty similar path.
– The second pattern that works is when a project is based on externally defined architectural boundaries
– The third pattern that works is that those working remotely have projects that have essentially no short term or long term connection to each other."
Work and Culture
Playing games on Google
Liking Facebook posts
Scrolling aimlessly through social media
Google Earth and Street View
Watching cat videos on YouTube
Timewasting games
Reading pointless articles about wasting time on the internet
They didn't include reading motivational self-improvement articles which LinkedIn seem to have cornered a particular market in of late.  Barely a day goes by without advice on topics like how to achieve inner peace or launch your own startup.  New Year is clearly a time that brings out the motivational brigade.
The open office environment is a mainstay of the modern corporate environment but as this Washington Post article points out, it is not without serious performance impacts due in large part to privacy invasion:
"many workers in open offices are frustrated by distractions that lead to poorer work performance. Nearly half of the surveyed workers in open offices said the lack of sound privacy was a significant problem for them and more than 30 percent complained about the lack of visual privacy."
Society and Inequality
It serves to nicely underline the r>g analysis laid out by Thomas Piketty and illustrates how the rich have a range of diversified options to secure a return on their wealth while the middle classes are largely reliant on the value of their home. Meanwhile the poor have no wealth besides what they can generate from labour income.  And that, in the final analysis, is what really powers the Uber economy and its multi-billion dollar valuations:
"the notion that brilliant young programmers are forging a newfangled "instant gratification" economy is a falsehood. Instead, it is a rerun of the oldest sort of business: middlemen insinuating themselves between buyers and sellers.

All that modern technology has done is make it easier, through omnipresent smartphones, to amass a fleet of increasingly desperate jobseekers eager to take whatever work they can get."