Pick of the Week – Bluetooth rising
Bluetooth is now an established smartphone connectivity technology.  Its low energy incarnation BTLE has grown in deployed base over the last year,  and, is one of the key enablers for Wearable Computing and the Internet of Things.  As highlighted before in this blog, Bluetooth in 2014 has been enjoying a moment in the spotlight which seemed unlikely just ten years ago.
This week the status of Bluetooth was further cemented by a substantial Qualcomm bid of $2.5bn for UK-based BTLE specialist, Cambridge Silicon Radio (CSR).  It's a further vote of confidence to bet this big on the technology.  Clearly, Qualcomm see plenty of opportunities for using the Bluetooth where it still hasn't broken through within, for instance, the smart home environment.  BTLE enhancements were prominent in the Android Lollipop feature announcements. These signified the introduction of "power-efficient scanning for nearby Bluetooth low energy devices like wearables or beacons" and "New BLE peripheral mode", available through non-blocking developer APIs:
"Android 5.0 adds new APIs that allow apps to perform concurrent operations with Bluetooth Low Energy, allowing both scanning (central mode) and advertising (peripheral mode)."
Almost daily now, new Bluetooth-based device concepts are unveiled, some of which are highlighted in the blog.  There is arguably more innovation here than in the world of mainstream smartphones which seems to have coalesced into a continuum of similarly-sized black plastic and aluminium uni-body.
Bluetooth was regularly touted in its early days as a "personal area networking" enabler. This is now starting to happen, not just through wearables and beacons, but also through concepts like this Sony Bluetooth smart auxiliary handset which:
"works as a kind of deputy phone – a satellite, if you like – for any Bluetooth-enabled smartphones concealed about your person, briefcase, or handbag. It connects by Bluetooth to your real phone, which can be up to a few metres away, and has a screen to display the caller or text message, as well as a microphone at one end and a speaker at the other."
Smartphones/OEMs
"Samsung needs to create new categories or businesses. The challenge for them is that they need to control the platform and service infrastructure. These are currently out of their control and I'm not quite sure how they can regain that control…What Samsung needs is a disruptive improvement. A disruptive improvement implies a new business model. Put another way, it means that Samsung needs to invent a new way of making money."
Standard and Poor's downgraded the Finnish economy's AAA rating on the back of the decline of Nokia and its paper industry. Finnish Prime Minister, Alexander Stubb, went in for nation state victim culture by singling out Apple on both counts .Though, he was at least bullish about the Finnish ability to bounce back:
"We have two champions which went down," Stubb told CNBC. "I guess one could say that the iPhone killed Nokia and the iPad killed the Finnish paper industry, but we'll make a comeback."
Fairphone is a crowd-funded "ethical smartphone" which has just released in the UK.  It runs Android 4.2 on a Mediatek chipset and will cost £250 off contract.  Fairphone comes with a promise of high ethical and environmental standards, and, includes a commitment to avoid "conflict materials" wherever possible:
Vodafone are switching on LTE-Advanced across the UK .  It is also expanding LTE roaming to an additional 19 countries around the world.  Many parts of the UK would welcome having ordinary grade 4G, as judging by some of the comments:
"LTE-A, as it's known, will go live in Birmingham, Manchester or London in the coming weeks, promising to boost signal and improve 4G speeds thanks to increased network capacity. "
The Amp is an interesting addition to the world of iPhone cases. It adds auxiliary power and electronics to "improve" key audio use cases.  It's aimed at both audiophiles and those with hearing loss.  AmpAudio, the company behind the product, have also released an app, SoundFocus , which complements the Amp.  Given the surprisingly buoyant iPhone case market, and tumbling component costs, technical cases seem like a big growth opportunity:
"The iPhone-compatible device clicks over your device and offers a backup battery, dual speakers, and, for the audiophile out there, a noise reducing pre-amp that can make your tinny MP3s sound like a live orchestra."
Vanity Fair published a long article about Microsoft  which covers the fracturing of the relationship between Bill Gates and Steve Ballmer in the run up to Satya Nadella's takeover.   It offers a number of interesting insights into Microsoft's culture and potential future direction.
Google/Android/Apps
Google announced the Android 5.0 "Lollipop" release timeline together with a $649 Motorola Nexus 6 smartphone and $399 HTC Nexus 9 tablet.  The Nexus 6 is based on a Qualcomm Snapdragon 805, and comes with a 3220mAh battery.  It's surprisingly expensive off-contract. But, is likely to be a lot cheaper with a two-year deal.  The Nexus 9 is an 8.9 inch tablet built around an NVidia Tegra K1, which should please media and gaming users.  Both devices present sleek aluminium styling. Google also announced the first Android TV device, the Nexus Player.
Google provided this summary of key new Lollipop features. This covers battery, camera, multiple user, and device support, improved security and settings, finer-grained notifications and, of course, the new Material Design language.  Collectively it represents a substantial upgrade to KitKat.  Tech2 outlined these top ten highlights from their perspective:
Pick up where you left off: Similar to Continuity in iOS 8, Lollipop lets you pick up where you left off,
Multiple device compatibility: Lollipop will support devices with different screen sizes including wearables such as smartwatches, TVs and cars.
Material Design: In order to maintain a consistent design experience across all Android devices, Lollipop uses the Material Design interface across devices it runs on.
Updated camera: Lollipop makes it easier to support features like burst mode and fine settings tuning. You'll be able to capture full resolution frames around 30fps, and shoot in raw formats like YUV and Bayer RAW.
Battery settings: There's a new battery-saver feature that extends the life of your device by up to 90 minutes
Improved security: Share your device securely with guest user mode, create multiple user accounts to enable friends to log in on your device.
Updated notifications screen: You can now view and respond to messages directly from your lock screen, or hide notifications for sensitive content.
New Quick Settings: The updated Quick Settings on the notification screen has new handy controls such as flashlight, hotspot, screen rotation and cast screen controls.
Smoother experience: Google uses a new runtime on Android (called ART), which claims to improve app performance, battery life and responsiveness.
Tap and Go: Tap and Go for NFC devices lets you set up your new Android phone or tablet instantly by simply tapping it to your old one.
Asia
HBR argues it is Xiaomi not Apple who are truly disrupting the smartphone industry dynamic today.  They demonstrated it is possible to make a profit by NOT blindly toiling on the technology upgrade treadmill.   Instead, Xiaomi look to build competitive smartphones which contain cheaper components that are positioned aggressively just above cost price.  They follow-up with sophisticated marketing.  Strategies chosen include flash sales to create hype and artificial scarcity around the products to successfully appeal to their predominantly young middle class customer base.  It's a marketing strategy which works very well for them as it is readily transferrable to other countries across Asia which is where all much of the growth in the coming years will be.  However, it remains to be seen if it is transferrable to the same extent in the West where customer service expectations may challenge the viability of such a model:
"essentially its profit formula is the opposite of Apple's, which collects its highest profits with the introduction of each model and needs to come up with new model after new model to keep those margins up."
Google India rolled out a cute Android One advert which combines cricket and self-improvement.  It appears to be part of the country campaign which features the brand tagline "apni kismat apne haath" (your destiny in your hands):
Security
Snowden would doubtless approve of the Anonabox, a tiny $45 Tor-in-a-box proposition that went viral this week resulting in a massively oversubscribed Kickstarter.   The box is simply a hardware router which renders anonymous your IP traffic thereby providing privacy for your online activity wherever you are. Or, which means, as Wired put it: "routing 

all 

your traffic through Tor may be as simple as putting a portable hardware condom on your ethernet cable."  The initial excitement dissipated somewhat with the revelation that it is built around largely off-the-shelf Chinese components. On reflection, it is unlikely to work through the Great Firewall of China. By the end of the week things started unravelling fast, as highlighted in this openly critical Hackaday post:
"The project claims to solve the problem of hardware backdoors, but ships with a backdoor root password (the password is 'developer!'), open WiFi, and ssh open by default. The Anonabox also claims to be a plug and play solution to security and privacy on the Internet, meaning if this project ever ships, there will be a lot of people who won't change the default configuration. That's rather hilarious in its implications."
Silent Circle celebrated the second anniversary of their secure comms platform with an upbeat post.  They've almost doubled in size, growing from 74 to more than 130 employees. They continue to focus on telecoms and enterprise. They seem well placed to prosper on the back of security and privacy concerns.
Services
Another data point for the assertion that voice is the next big thing in mobile.  Swedish mobile software outfit, Truecaller, just secured a $60m Series C , which by all accounts, provides the launch pad for serious growth.  They deliver a "verified caller id" service:
"Truecaller is a Swedish company that helps users identify all the phone numbers calling their smartphone, whether that number is in the Contacts list or not. To add even more verifiable numbers to the Truecaller directory, the company has integrated Yelp's API data into the app so that business calls don't come as a surprise."
The popular Japanese OTT Messaging app, Line, revealed 170m monthly active users (MAU) on a 560m registered user base.  The ratio of 1:3 for MAU to registered users generally acts a rough rule of thumb across the board for messaging propositions.  Viber is at 100m:280m and Tango 70m:200m by comparison.  TechInAsia discussed why MAU is a more meaningful data point than registered users for how healthy a Service is, because it reveals the
"Why the fixation on MAUs? It's certainly not the only metric for measuring an app's traction. But given how messaging apps are relatively demographic-proof, and given how the MAU is an industry standard for software of this kind, it's preferable to a count of registrations."
Big Data/Machine Learning
The fascinating story of Project Cybersyn was described by The New Yorker this week.   Cybersyn ("cybernetics synergy") was a bold initiative conceived by the Allende government . It ran in Chile in the early 1970s and was effectively an attempt before its time to build a system to run a nation via big data in what was known then as, "management cybernetics".  The data in question came from live factory feeds from across the country. An interesting aspect of the story is that the idea of managing the country via data was a socialist project, and it was dismantled when Pinochet came to power in 1973.
"The analytics project, called Audience Hub, has helped transform AutoTrader Group from an ordinary online aggregator of vehicle listings, ratings and reviews. It is now using the Hadoop framework to find correlations in the terabytes of unstructured data that come from customer website clicks and share that data with dealers and automakers who purchase advertising subscriptions on its website. The company is preparing to create a Web portal from which its customers may access real-time data on how consumers are interacting with their vehicle listings."
This thought-provoking slide deck from Benedict Evans in an official a16z capacity helps underline the AutoTrader case study. Evans looks at the meaning of the Industrial Internet.  For him, it's clearly all about the data and using the technology to build a continuous feedback loop with the potential to reshape fundamental business models.  He has Andreesen's  "Software is Eating the World" meme as the only text on two of his slides.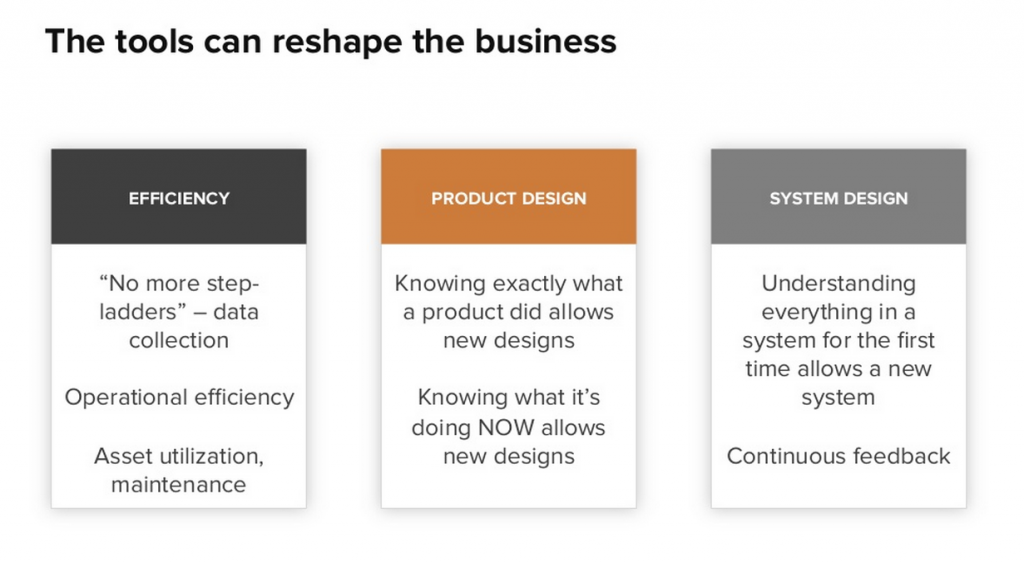 The robots are coming!  And, as highlighted in a previous post in this blog, no-one is quite sure if it's going to be for better or worse.  A Medium post this week draws a distinction between robots. There are those which aim to "better computers" and those which "aspire to be better humans" using R2-D2 and C-3PO as respective exemplars based on an analysis of their key characteristics below. Its conclusion is that we need the future to be built around the Artoo, rather than Threepio, model:
"We don't need more humans. We need better computers. We must decide between a world ruled by Threepios or enhanced by Artoos."
Wearables/InternetOfThings
Will.i.am is about to launch the smartwatch which he's been wearing for a while.  Presumably, he won't have any problem with publicity:
Talking of wearable technology, in this week's episode of UK television show, The Apprentice, teams were given two days to design and pitch a wearable computing concept product to mainstream retailers including John Lewis and JD Sports. It proved to be essential, if morbid viewing.  Neither team exactly excelled with their product choice.  The boys opted for a jumper-cum-video-camera combo whereas the girls opted for a solar-panelled jacket number.  The panning from Sir Alan Sugar was predictably painful. The degree of lameness involved makes the Telegraph wonder if it isn't all a Marxist plot to discredit capitalism.  Judge for yourself:
Medium published a long but fascinating insight into the manufacturing challenges faced and surmounted by Othermill. Othermill is a hardware Kickstarter start-up which builds a 3D milling machine for garage designers.
Dotti is a fun-looking connected pixel art proposition which is built around "a little eight-by-eight LED block with Bluetooth radio and a battery — up to 720 hours on standby or 5 hours of continuous display".  The block can be controlled from either an iPhone or Android.  It's not exactly cheap – at $100 you're paying about $1.50 per LED.
Programming
Diving into programming quiz proposition, checkio.org ,in more depth has proven to be lot of Python fun.  From source code, to solutions, to challenges successfully attempted thus far are all available here.  Please feel free to join, and award me points if you approve of any of them.  Even halfway through first ("home") base, it's already clear this is a proposition aimed at fairly experienced developers.  One solution required the implementation of recursive depth first tree traversal: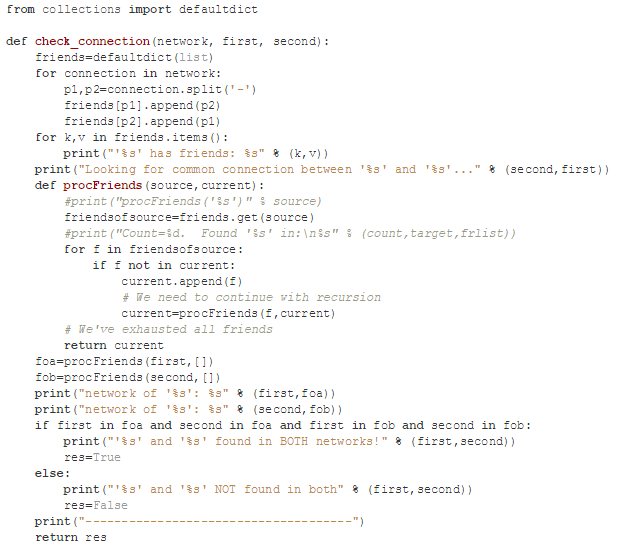 On the subject of the monetisation of educational propositions, this post provides plenty of interesting background as to how leading provider, Coursera, pivoted through multiple business models. Lines of business included providing a recruiting service to identity verification, to deep dive specialist courses, to corporate collaboration where tailored online corporate training appears to be a distinct opportunity:
Ultimately setting up a MOOC remains something of an experiment:
"So is Coursera profitable? Probably not with over 100 employees, a number that is expected to grow to 170 by the end of the year. But with decent revenues and plenty of money in the bank, Coursera has plenty of breathing room to continue growing its existing business models and trying out different ones to bring returns to the VCs who have invested so heavily in it."
Work/Culture
"Ponying up for egg freezing suggests that Facebook and Apple view childbearing (like exercise and food and sleep) as a biological imperative that interrupts an employee's total and complete devotion to the company. It's a distraction that can be best mitigated by meeting the needs in-house, for free. But egg freezing doesn't solve work-life balance issues facing parents. It just allows, and perhaps encourages, women to postpone them …And if we look to egg freezing as a solution to the question of work-life balance, then we risk conceding that women probably shouldn't dare get pregnant until they're important and rich enough to either demand or pay for the rest themselves."
It's Ada Lovelace Day, which aims to raise the profile of women in science, technology, engineering and maths. #ALD14 pic.twitter.com/4x3FIkmdz1

— NaturalHistoryMuseum (@NHM_London) October 14, 2014
It seems appropriate to link in this powerful polemic about how "nerd culture" in Silicon Valley is responsible for driving away women from the work environment.  The article calls for nothing short of a top-down recalibration of what sort of behaviour we value:
"Whatever the future becomes, the bottom line is we need to value being a decent human being a hell of a lot more than we do now. Our toleration of asshole behavior must end, and it's such an integral part of nerd culture that nuking the entire thing from orbit is the only way to be sure."
Ofcom's annual report is packed full of data on children's use of media in the UK.  Tablet ownership among 5-15-year-olds is now running at 34%, and smartphone ownership is at 20%.
Bill Gates reviewed Piketty's book Capital in the 21st Century . Though he has some reservations, such as the lack of consideration given by Piketty to the role of philanthropy, he broadly endorses Piketty's conclusions.   It's an important validation point, from one of the wealthiest people on the planet:
"I agree with his most important conclusions, and I hope his work will draw more smart people into the study of wealth and income inequality."
Wealth inequality is picked out as a consequence of what George Monbiot calls "The Age of Loneliness" in his analysis of our age:
"The war of every man against every man – competition and individualism, in other words – is the religion of our time, justified by a mythology of lone rangers, sole traders, self-starters, self-made men and women, going it alone … British children no longer aspire to be train drivers or nurses – more than a fifth say they "just want to be rich": wealth and fame are the sole ambitions of 40% of those surveyed. "
On the subject of things killing us, this graph compares Ebola to other major diseases both in terms of deadliness and infectiousness. It positions it in a line between bird flu and HIV:
https://twitter.com/pkedrosky/status/522367219976523778