Pick of the Week – #bendgate #updategate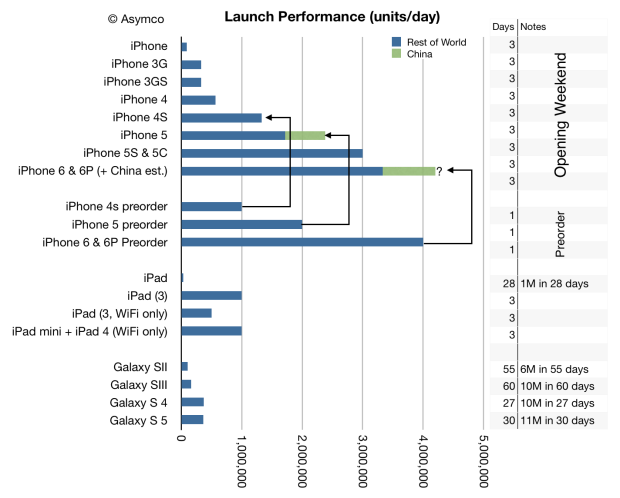 By Tuesday, however, things took a dramatic turn as Apple suffered two serious reputational blows in the shape of #bendgate and #updategate.  The former predictably enough was the social media term covering the relative ease with which the super slim iPhone 6 Plus in particular can bend within a trouser pocket.  An Unbox Therapy video demonstrated the bending being done by hand . It went viral receiving 20+ million hits within a couple of days of being posted:
The video made for painful viewing for Apple fans. However, Unbox Therapy "then poured petrol on these flames with a second video showing not only that trying to straighten a bent iPhone 6 Plus can shatter the screen, but that under the same tests a Galaxy Note 3 was fine".   The Internet got to work and dozens of parodies were spawned within a day.  It seems incredible that such a design flaw was not highlighted during product reliability testing.  Gordon Kelly in Forbes underlined Apple's culpability asserting that "the whole situation seems to have arrived through a lack of real world testing":
The All New iPhone 6 Plus + 1 Week Edition! http://t.co/a9UptRbrhY via @gadgetloveit #BendGate pic.twitter.com/v0L5YfRIoc

— GADGETLOVE (@gadgetloveit) September 24, 2014
Apple tried to limit damage in part by providing The Verge exclusive access to their US product testing facilities  where they demonstrated some of the ways they push their devices to their physical limits albeit in lab conditions:
As if #bendgate wasn't bad enough, Apple then suffered the embarrassment of having to recall their iOS 8.0.1 update (itself released as a patch for an issue with HealthKit in iOS 8) less than an hour after releasing it when the update "left some owners of its new iPhones unable to make or receive calls". In what was inevitably dubbed #updategate, Apple had to scramble to offer affected users downgrade instructions and communicate that they were 'working round the clock' to release an iOS 8.0.2 update 'in a few days'.  Again, it seems amazing that something so fundamental as basic phone call behaviour was missed during OTA QA and consequences for some are likely to be terminal:
My friends in QA: there is probably a new job opening or 2 at Apple today. #updategate

— Lee Spivack (@lspivack) September 24, 2014
As a result of this double adversity Apple had $20bn wiped off their share price.  They also handed a golden opportunity to their competitors as Forbes went on to point out: "

It is an exciting time for Apple rivals, if they handle it the right way

. Combined with 

iOS 8 upgrade problems

, Apple suddenly has its hands full placating angry iPhone owners, addressing warranty questions and convincing hesitant upgraders to still make the jump."  It's important to put it all in perspective though.  Apple ended the week releasing 8.0.2 and recovered much of their share price loss.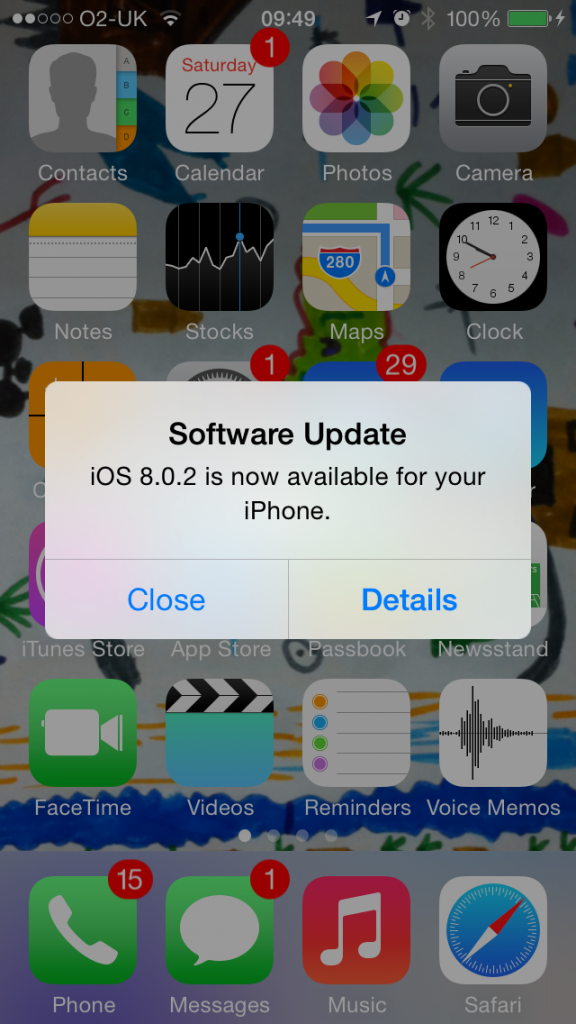 A further reflection of how

utterly dominant Apple are:
This is How Big $AAPL Is@StockTwits @howardlindzon @TDANSherrod
–
The Power of Visual Data pic.twitter.com/EgaABVfh54

— Ophir Gottlieb (@OphirGottlieb) September 23, 2014
Smartphones/OEMs
One rival seemingly unable to profit from Apple's woes is Amazon.   While thousands queued round the block to buy iPhone6 regardless, there was no queue at all for Amazon's Fire Phone:
https://twitter.com/triciad/status/513795543055998977/
And however bad it is for Apple engineering, they have the talent to turn it around and won't end up like Nokia.  In a widely quoted piece from The Verge, Vlad Savov asserts that the N8 released in 2010 was an aluminium-clad superphone with the best camera at the time and a contender in every way except one: "

The only thing Nokia didn't do right with that phone was its software."  The rest is history and with the quiet shuttering of the Nokia brand within Microsoft, he leaves us with a forlorn image: 

"I'm left staring vacantly at the four squares of the Nokia apocalypse that join up to form the Microsoft logo."
Apple engineers are also not in the same boat as their Samsung counterparts working on Tizen.  WSJ reported that "about 500 software engineers from the company's mobile unit will transfer to its consumer electronics,  TVs, network, printer and its corporate software R&D divisions."   Sounds like they'll be moving from working on Tizen smartphone software to work on IoT convergence.
VoLTE support appears to be in place for iPhone6 in the US on at least one carrier which will significantly boost interest in the technology: "Verizon customers who upgraded to Cupertino's latest handset are reporting that VoLTE

 is working on both the iPhone 6 and iPhone 6 Plus."
The LG Wine Smart is an interesting proposition.  It's a mid-tier Android 4.4 based flip phone for the Korean market which is "aimed primarily at elderly users", according to LG.  It comes with a "SafeKeeper" feature which is intended to provide early warning of potential falls as "when the phone has been unused for a long time, it can automatically send its location to a pre-determined contact."  On first glimpse it resembles a Symbian MOAP phone from the mid-Noughties: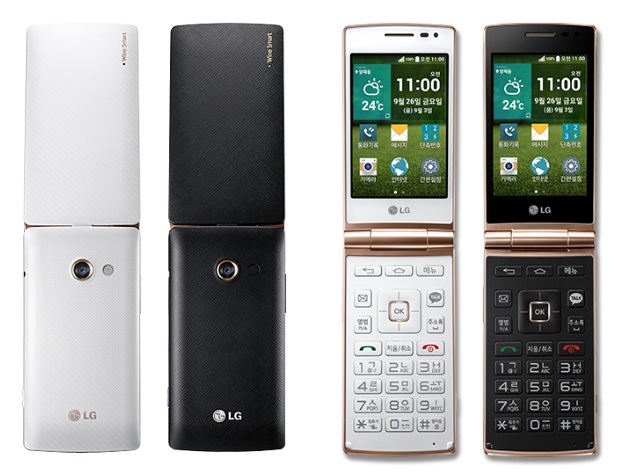 Google/Android/Apps
BGR reviewed the Spice Dream Uno , one of the three Android One handsets released in India last week.  Their conclusion is of a solid but not particularly radical phone, which is probably about right.   The constraints imposed by Google on OEMs building Android One phones are a more severe version of the ones placed on any Android OEM using Google Services (GMS).   And those constraints are growing over time as the company continues to solidify its vision of what a 'Google Services' phone should look and behave like.
This point of view post attempts to explain why it is hard for iOS first companies to find first class Android developers: "Android developers don't find it very attractive to join a company where Android will be always the 2nd choice."  Where does that leave Windows Phone developers?
Regardless of primary platform, it is an increasingly tough time to be developing a new app proposition.  Survey data from Localytics suggests that users are spending more and more time on their smartphone inside existing apps rather than trying out new ones: "

With fewer new apps being installed, and more time being spent on the applications already installed by the user, it is harder for new titles and developers to break through and become an established player."
Asia
Alibaba will look to spend some of its war chest on innovative software start-ups, like MomentCam, a viral Chinese photo app which turns people into cartoon characters.  They have just announced they secured Series A funding led by Alibaba.
Big Data
HBR make the case for the CAO or Chief Analytics Officer to ensure that proper leadership and emphasis is in place to support the coming analytics revolution:  "How can analytics become a strategic, core component of an organization if there is no clear owner and leader for analytics at the corporate level?"   Such an individual would need to operate as the "Switzerland of the executive suit" serving the interests of the business independent of specific divisional influence: "if the CAO reports to the CMO, then other business units such as product development or customer service might not feel that they get equitable treatment."
Services
Jon Gruber suggests we should not conflate Apple and Google smart watch platform strategies with vendor and service lock-in. In his view, it has never been easier to switch phone platform.  The reason the corresponding smart watch products will only work with iOS and Android smart phones respectively is to take maximum advantage of the specific features made available by each smart phone platform: "It's a pipe dream to think that Apple Watch and Android Wear could be cross-platform without a drastic reduction in functionality, or to argue that they're platform-dependent simply out of competitive spite in the name of platform lock-in."  Compatibility can only be achieved by compromising to the lowest common denominator as independent smart watch players have to do: "functionality-wise, something like Pebble is what you get if you set out to create something that works across iOS and Android, limited by the sandboxing rules for third-party apps."
The Aphex Twin's first album in 13 years, Syro, was available as a free stream on Spotify.  Or you could go buy it from the usual outlets or take advantage of various listening opportunities in record shops around the country: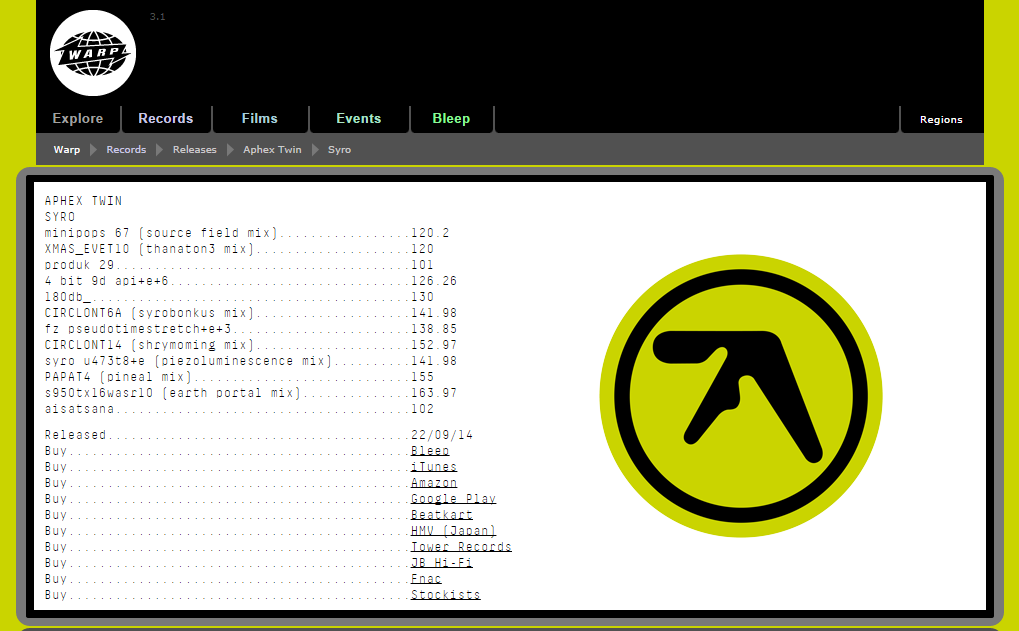 Security/Privacy
This week's big security story was the Shellshock vulnerability identified in bash which is already being labelled one of the most serious security bugs ever: "more than 500 million websites and hundreds of millions of devices all over the world, including wi-fi routers, may be vulnerable to Shellshock."  The FSF issued a statement which included links to patched versions of bash.   There is some uncertainty about the precise scope of exposure but one has to assume the worst with Cert-UK indicating the Shellshock vulnerability had "highest possible threat ratings… for both impact and exploitability", and that "it should be "assumed" that many government computers and other devices would be vulnerable to the bug, adding: 'This will inevitably include organisations that are part of the critical national infrastructure.' Many industrial control systems, from power plants to traffic light systems, rely on Bash software to function."  The after affects could be felt years down the line and well after the likes of Google and Amazon have patched their systems.
Comedy advice confusing base64 encoding with encryption:
https://twitter.com/spazef0rze/status/513705914067853313/
Marc Rogers, of Lookout, wondered if he could create a fake fingerprint which fooled the iPhone6 Touch ID sensor.  Turned out he could using the same approach he used a year ago on iPhone5, which involves high resolution photography and etching to create a skin that can be pulled over another finger to successfully fool an iPhone6.  It's not a simple or cheap hack, yet does demonstrate yet again that biometrics cannot be considered entirely secure.
Wearables/InternetOfThings
In a short, arresting interview Elmar Mock, the creator of the original Swatch, provides some sharp thoughts on Apple Watch and the clear threat he sees it represents to the Swiss watch industry.  He suggests that for the Swiss the "biggest challenge lies in the digital environment and the consumer experience that a smartwatch can offer. There is a lot to learn in this new area but it's only possible to learn by creating. Unfortunately, Switzerland lacks a Steve Jobs who can drag the watch industry into the future. It doesn't necessarily mean the industry is on the wrong path, but it does mean that it has missed the boat as far as smartwatches are concerned."
The Internet of Things is going to be really expensive once one factors in the current cost of the Things, and how many you need to build a typical proposition.
Programming
Forget node.js and Go.  If you want to make money you need to using your daddy's language, namely COBOL: "

college students that take COBOL classes earn as much as $10,000 more in their first jobs than their 

Go

-slumming hipster friends."  But you'll be in ever declining company, and you'll have to write spend time writing the coding equivalent of hieroglyphics:
This interesting post outlines and extols the virtues of Chaos Engineering at Netflix which involves deliberate destructive testing involving a colorfully named "Chaos Monkey" agent to understand cloud-based system resiliance: "Since at least 2010, Netflix has deliberately set out to introduce failure into its cloud systems running on Amazon Web Services using its 'Simian Army.'"  Chaos Engineering is one aspect of a wider move to an approach to large scale systems engineering called Reactive Programming: "I

n a reactive application you would split up the work in many small composable chunks and run them in parallel—which will bound the latency to a max of the longest performing chunk and make very efficient use of the resources available."
Work/Culture
ProductHunt know a thing or two about good mobile products. In a recent blog post, they've published some guidance on what makes a great product manager in the form of quotes from industry veterans.  A respect of and good interaction with engineering is a key theme as is a strong analytics/data sensibility.
Creating a quality-first culture is really hard.  This InfoQ article argues that it transcends merely having a process and organisation in place.  It's much more about the corporate culture and mindset with clear leadership direction from the top of the business through rigour around standardised metrics to cross-functional buy-in.  The author suggests that the two strongest indicators are shared rituals and conscious rewarding of quality behaviour: "Rituals have the capacity to powerfully align teams behind a common practice (forging a team identity), and rewarding successful initiatives create incentives for team members to feel a sense of ownership over their decisions and focus on what matters most."
Apparently 70% of a tech CEO's work time is wasted with about half of it spent on email.  The remedy involves a combination of saying no, cutting back on email, managing your energy, having better meetings, using a PA, and effective delegation.
The Scottish Independence referendum was a close run thing. One individual profited by betting £900k on 'No', earning nearly £200k in the process.  A self-confessed big data nerd, he studied the large quantities of polling data available as well as data from prior independence referendums like Quebec. He convinced himself there was no chance of the 'Yes' camp winning despite their late surge.  Nevertheless, this HBR article is very pessimistic over the divided vote and increasingly bitter campaign that ended up failing to clarify the way forward and asserts that "the lead-up to the referendum, and its aftermath, will have a deeply traumatic impact on the UK as a whole" for years to come.   The historical analogy provided is the breakup of the Austro-Hungarian empire a hundred years ago, a similarly confused mixed identity bag:
I don't know why people get confused, it's very simple… pic.twitter.com/xUCJ2X6fs8

— The Lazy Dog (@TheLazyDog_) March 9, 2013