Pick of the Week – Bluetooth and the Physical Web
Physical Web is a new open standard announced by Google this week. It is aimed at addressing the Internet of Things by making physical objects as easy to navigate as web sites by associating them with URLs.  Google have published a FAQ-based introduction to the technology on Github, along with implementation source.
Physical Web is effectively a competitor to Apple's iBeacon as it works by using Bluetooth LE (BTLE) as the bearer for device discovery. The standard plays to Google's strengths. This is because it integrates search to the discovery process and positions it as a future Chrome/Android feature that dispenses with the need for separate apps.
Physical Web is also interesting because it serves to mark a potential strategic direction for Google as a device platform ecosystem player in a post-app world.   iBeacon, though superficially similarly based on BTLE, does not require an ecosystem intermediary – it's quite possible to build simple iBeacon triggered "indoor GPS" services which don't involve Apple backends.  However, the technology is relatively limited and proprietary to Apple devices which has already resulted in a forked version called AltBeacon for Android.
First impressions suggest AltBeacon has most to lose from the arrival Physical Web.  Amidst all this jockeying for position, it's important to recognise an undeniable reality.  Namely, that some 15 years after Bluetooth hit its peak of inflated expectations only to lapse into disappointing niche use case status, it finally seems to be coming of age.  The technology retains a powerful potential to serve as a mobile industry disruptor outside the direct control of network operators or platform app stores.  A potential dramatically illustrated this week with the widespread use of FireChat to support the organisation of demonstrations in Hong Kong.  The app uses Bluetooth to establish a localised mesh network to allow protest to be coordinated without interference from authorities:
"Mesh networks are an especially resilient tool because there's no easy way for a government to shut them down. They can't just block cell reception or a site address."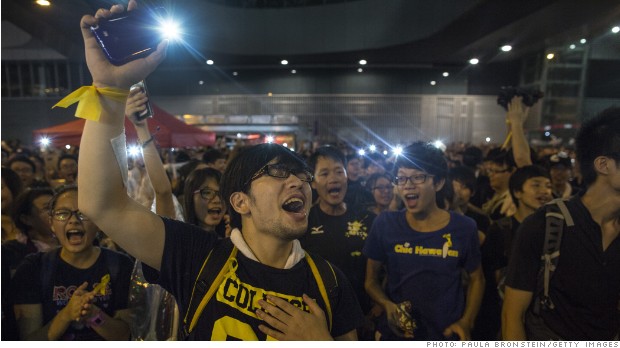 Apple
iOS 8.0.2 was released but #updategate lives on!  Many Apple users still report problems with cellular connectivity as well as continuing issues with third party keyboards and Touch ID.  In addition, others have reported problems with Bluetooth and WiFi connectivity.  No wonder many are asking when will it stop?  Testing a software update for a modern smartphone is an enormously complex logistical exercise.   There is no real shortcut to extensive manual testing of many key uses cases on multiple devices, which all takes time.  Updates pushed out under pressure and at short notice carry a major risk of regression which will inevitably to lead to angry customers.  This GigaOM article speculates that the whole sorry affair has been caused by overreach on Apple's part and that they ought to practice 'less is more':
"It's inexcusable for a major new feature like HealthKit to be pulled right after launch due to missed bugs. It's even worse when an update makes your phone unable to make calls. Clearly, Apple needs a little help in regression testing… Maybe, it's time for Apple to accept that not everything they want to release can be tested accurately in three months. iOS 8 is a big, welcome, update, but maybe in this case, less would have more."
Hopefully Apple will pause to reflect on the thoughts of Bill Gates who knows a thing or two about big bang platform releases:
 Steven Sinofsky used to head up the Windows team at Microsoft and clearly learnt several lessons the hard way while there.  In a timely recent blog post he praised the beauty of testing:
"Too often if the project is late or hurry up and learn or agile methods are employed, testing is one of those efforts where corners are cut. Test, to put it simply, is the conscience of a product. Testing systematically determines the state of a product. Testers are those entrusted with keeping everyone within 360º of a product totally honest about the state of the project."
The importance of getting updates "right first time" is highlighted in figures released by Apple on 21st September at developer.apple.com.  These show that 46% of their customer base updated to iOS8 within a week of launch.  Presumably many are now on 8.0.2,  and will probably be on 8.0.3 by this time next week.  Latest figures from Oct 5th don't show much of a change: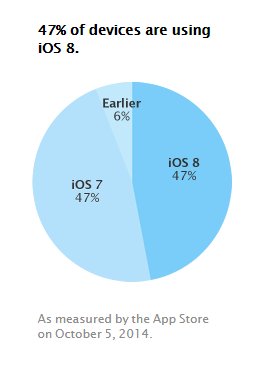 It's more of a publicity stunt than a genuine use case, but compelling nonetheless: an iPhone6 is driven over by a BMW:
"If case manufacturers want to have new iPhone cases ready to sell by launch date (which, this year, was 10 days after the announcement), they'll have to rely on leaked specs, inside sources, and, ultimately, a costly gamble on measurements not officially confirmed by Apple. If they guess wrong, the manufactured cases become worthless and the company eats the cost."
The phone case industry incumbents are vulnerable to disruption from 3D printing startups like WonderLuk with their fashion-oriented designs:
One entrepreneurial and irreverent inventor has even created a "pre-bent" 3D case for what Apple claim are the small number of affected users.  It's possible to modify the design to address different angles of bend:
"Every time I do this comparison, I am amazed at how far the iPhone camera technology has come. It has transformed the way we capture and share memories. With each new phone, we can capture these moments faster and more accurately with better quality images. Even though they share the same 8-megapixel CMOS sensor and five-element f/2.2 lens, after a few days of shooting with the iPhone 6, I can say that it is better than the iPhone 5S."
Smartphones/OEMs
Microsoft announced the (sic) "mobile first, cloud first" Windows 10 using a low-key blog post from Terry Myerson to outline its features.  The emphasis is clearly on providing a seamless ecosystem experience across a wide range of product topologies:
The Verge reviewed Samsung's flagship Galaxy Alpha. They found it to be a compelling enough device. Though, doubts remain as to its marketability in the face of stiff competition at the top end, notably in the form of iPhone6 and Xperia Z3:
"The issue for Samsung is how it'll convince people to spend their money on the Galaxy Alpha instead of some seriously compelling competition."
The Z3 is by popular consensus at the front of the peloton of leading Android devices.  Other OEMs in the chasing pack are on the same leading edge platform, and, will have to focus on another narrative to attract customers:
"With the maturation of Android and the standardization around Qualcomm's Snapdragon 801 processor this year, it's becoming increasingly difficult to differentiate between flagship phones on speed alone."
The Xolo Q2100 is an interesting addition to the IndiaDroid scene. It's a $220 KitKat based smartphone which runs on a Mediatek chipset which has an integrated fingerprint sensor. This is a feature which is normally only associated with high-end smartphones produced by Apple or Samsung:
Engadget reviewed the "security-first" Blackphone with its PrivatOS variant of Android.  They had some positive things to say but felt that there were many rough edges in terms of usability and a fairly pedestrian physical design.  One thing that is interesting about the device is that it is running on an NVidia Tegra 4i SoC and not a more industry standard Qualcomm Snapdragon.  Is that also a security feature?
They also reviewed the Tesco Hudl2 an Android 4.4.2 tablet running on an quad-core Intel Atom SoC and retailing at £129 or less if you trade in your Clubcard points:
http://youtu.be/rPIbVIMxgGE
At the other end of the cost spectrum, the Vertu Aster luxury smartphone launched retailing at £4200. Digital Trends published a hands-on review.
Google/Android/Apps
In an absorbing post, Steve Cheney outlines his thoughts on the future of Apple and Google who today are "entrenched in a modern version of the PC war … the only two players with relevancy at the operating system level."   In the near term, Cheney sees this platform advantage extending to adjacent verticals, where he feels Google will struggle: "Apple has a drastic advantage with wearables because it owns not only the OS, but also the semiconductor stack, the branding, the industrial design, the stores, and more of the direct distribution—wearables aren't subsidized by carriers."  Longer term, he suggests these platform verticals will morph into an entire experience layer which is the space Windows 10 is aiming at and Google are positioning themselves to play in with their Physical Web initiative:
"In 5 years, it's likely that the notion of an app won't exist like it does today. Everything around you will feel like an app, whether run on stationary screens like VR, your wearable, or on objects that navigate around you with smart software, like cars, robots and drones."
"this new messenger apparently won't force users to login with any Google credentials. Instead, it will likely use phone numbers for identification, which would be a big plus in emerging markets like India, where reliable data connections can be harder to come by." 
This Technode article provides an interesting insight into the vibrant dynamism of the Android-launcher market in China.  It seems that it is a key area of focus for entrepreneurial Chinese developers who seek overseas expansion once a level of success is attained in region, as happened with the Apus Launcher this week. It's certainly sobering to search on the term "Launcher" in Google Play:
Asia
In a fascinating article about order fulfillment Taobao-style, Alec Ash provides a breakdown of how his order of a pair of tie-died socks is made then delivered to him.   The journey provides many insights into the pressures facing modern Chinese youth and he ends with the conclusion that: "sometimes it's best to enjoy a Taobao delivery without knowing how it's made."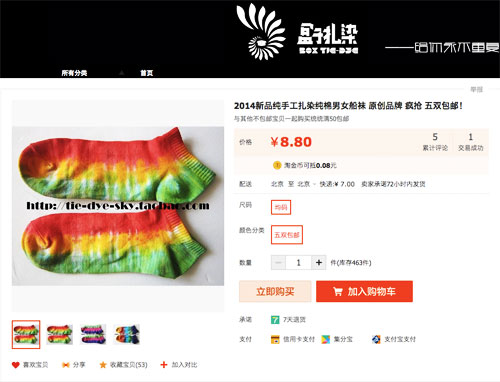 In a good example of unbundling, Kakao have launched two new Android apps in Korea: "The names may sound similar at first glance, but KakaoPick and KakaoTopic each offer distinctive user benefits based on their particular service models."  Kakao Pick is a social mcommerce service: "a new brand of mobile commerce that lets users earn savings by sharing shopping information with those on their Kakao friends list".  It has Kakao Pay integrated for payment handling.  Kakao Topic is a personalised news proposition:
"Optimized for mobile, the service features more than 110 Korean media outlets and content partners, which are then filtered through KakaoTopic's unique algorithm.  Based on user-selected interests as well as KakaoTopic's most relevant social media content, the algorithm presents a personalized content package suited to each individual user."
Services
Voice service has been somewhat left behind in the smartphone app explosion of the last few years.  That may be about to change. And, voice could end up being the next big thing in mobile with serious ramifications for network operators if OTT players manage to unbundle voice service as successfully as they have already done with messaging.   Talko is an interesting new startup operating in the OTT voice space.  They are led by Ray Ozzie, ex Microsoft Chief Software Architect, and have a first class team in an iPhone app.  However, the Talko website is rather mysterious about their longer term play, preferring to stick in the main to bland high level marketing: "Voice is the most natural way for people to connect. It allows us to communicate clearly, share ideas and emotions, and quickly solve problems together. Talko's an app that's designed to unlock the potential of voice. It's simple, and it's the best way to use your voice to get things done with others."  According to The Register, Talko is "a cloud-based voice collaboration app that uses VoIP to run calls between parties, with the app recording the entire conversation and storing it on Talko's servers."
Nokia's 'Here Maps' has arrived on Android as a Samsung-only exclusive for now, presumably prior to wider release. Engadget reviewed the experience and praised the performance of the back-to-basics no-frills UI:
Another week, another luxury service proposition.  This time in the shape of Inspirato which "combines the luxury vacation club model with peer-to-peer Airbnb-style listings."   It certainly has a luxury-grade subscription model: "The basic cost to join Inspirato is $17,500, then afterwards its annual fee is $3,500, which puts it into the 'luxury' market."  Even so, there's clearly considerable demand for this sort of thing. Doing the maths it has generated significant revenue to date: "Today, it counts just under 8,000 members – nearly double from July 2013."
Security
"People look at these things and see them as nothing more than storage devices.  They don't realize there's a reprogrammable computer in their hands."
"The Internet of Things will lead to hundreds, thousands, maybe even hundreds of thousands of physical devices in your enterprise being connected to the Internet. And every single one of those devices will be a potential point of vulnerability. It doesn't take much imagination to see the compromising impact of powering down or interfering with millions of devices through a single Internet of Things vulnerability, potentially resulting in physical damage to environments, injuries or death".
Wearables/InternetOfThings
Lineable are planning a $5 smart tracking bracelet for kids.  It employs a smart combination of iBeacon, and Bluetooth mesh networking (once again), via a feature they call 'Crowd GPS': "

Essentially a wearable iOS-compatible beacon, the device notifies you when your child is too far away and it allows other iPhones to become a sort of ad hoc GPS system that can track your little 

one."  Their $30k Indiegogo is almost fully subscribed.
Another bracelet; this time a steampunk special, with exposed circuitry which you can play Tetris on:
http://youtu.be/fMmbUYcq69g
"Hardware is the new hotness. This has been true for some years now: but today, the acorns planted by Arduino, TechShop, Kickstarter, lean prototyping, etc., are finally beginning to sprout into oaks.   It seems that the Shenzhen ecosystem is, bit by bit, almost beginning to become an AWS for hardware. I predict that hardware startups are about to go nonlinear on us — and I look forward to the results with great anticipation."
Software still matters of course. And, with hardware platform miniaturisation, we can expect more wonders like this – Minecraft on Android Wear:
Programming/Development
One of the best sessions at PyCon UK was on Python Games Programming using pyglet and cocos2D, as explained through the medium of a set of progressively built examples.  The presenter, @aikikode, subsequently uploaded all his sample code to bitbucket . It's well worth looking at if you're at all interested in learning more about how to use Python to develop fun games.
Donnie Berkholz has data which demonstrates the rate of growth of new Github users is declining  which suggests the platform is reaching an "inflection point".   While any high growth site must inevitably slow down at some point, he seems to feel it's happening a little early for Github. He discusses possible options for further growth from "invest[ing] in creating more applications for non-coders to make this type of platform play a success" to expansion into "untapped audiences" based in Asia, as: "GitHub search shows around 25K users who report living in China and 23K in India."
This InfoQ article praises Swift, and claims "It provides a super sweet mix between object-oriented and functional programming paradigms".  It goes on to outline the top five language "killer features" of the language, namely: syntax goodies; functions as first class objects; strong typing with inference,;generics, and tuples.  This code brings these features together in one neat example which also highlights the live coding, Playground, in Xcode6: 
The Kickstarter Kano Computing kit system which is aimed at the Code Club generation, and built around a Raspberry Pi, has started shipping. 18k kits have been made to date. They retail at $99.  The key innovation is around making the Pi more accessible to young hackers which is achieved through "a drag-and-drop Scratch-style programming interface, called Kano Blocks, which steps the user into the world of programming via the medium of classic games like Snake and Pong, and also kid craze du jour Minecraft. Users drag and drop graphical blocks to build code but can also switch to view the actual lines of [Python] code that these blocks are generating."  It's a hugely laudable initiative. But, inevitably at some point, users will end up against The Law of Leaky Abstractions on what remains a Linux platform:
Product Management
This visualisation of MVP conveys well the need for sprints to produce mini working systems (or "walking skeletons") which iterate towards a final product:
MVP explained
via @smarty pic.twitter.com/hZkCzqytAP

— About Programming (@abt_programming) September 28, 2014
TNW interviewed 6 entrepreneurs from which they built this list of the top 6 characteristics of rock star Chief Product Officers (CPOs).  It's familiar territory, yet, serves as a helpful reminder of how important soft skills are in the mix:

An Insatiable Drive to Make Things Better
Empathy
Tact
Attention to Detail
Strong Communication Skills
Influence
Work/Culture
ExecRank has a system for scoring corporate leadership. Or, as they put it:
"created position specific patent-pending proprietary algorithms for ranking executives. Our algorithms were developed, tested, and refined over a three year process that incorporated insights and feedback from position specific executives, recruiters, analysts, and evaluation committees featuring some of the world's most renowned business leaders."
The system has been used to generate a CTO ranking table which may hold a few surprises for some.  The top 5 CTOs in 2014, according to ExecRank's algorithms, are:

Werner Vogels, Amazon
Jeffrey Straubel, Tesla Motors
Justin Rattner, Intel
Stephen Brobst, Teradata Corporation
Chuck Hall, 3D Systems Corporation
Social Media management is an essential component of any modern organisation. However, it's such a new area that it is difficult to assess what constitutes best practice.  This TNW article provides a helpful outline. It features various infographics built from analysing what a real world Social Media Manager actually does.  It looks like a manic life spent constantly on the wheel of the web:
Google, like many tech industry giants, is overwhelmingly male –  and, it wants to do something about it.  It started running diversity training workshops last year which over 50% of Google staff have since attended.  The workshops "are based on an emerging field of research in social psychology known as unconscious bias. These are the hidden, reflexive preferences that shape most people's worldviews, and that can profoundly affect how welcoming and open a workplace is to different people and ideas."  It remains to be seen whether or not they work.  It's a positive development which others might want to consider copying.
Google's record on diversity also got the thumbs up from an ex-Googler who joined them to work in Software when he was 55. His Quora response to the question "What do people in tech do once they are past 35?" should be inspiring to anyone in the same boat. It also holds a cautionary tale for those who eschew technical craft to climb a managerial ladder.
"Humans need not apply" is another addition to the automation dystopia canon.  It's an interesting short documentary which makes a compelling, albeit depressing, case for human employees being rendered redundant by self-learning robots:
MUST SEE video on the future of work (explained) by @cgpgrey -> Humans Need Not Apply – https://t.co/JjvZAZjyqS

— Rudy de Waele (@mtrends) September 23, 2014
One of the major underlying concerns of the dystopians is the capacity of automation to exacerbate inequality in society: "As more and more automated machinery (robots, if you like) are brought in to generate efficiency gains for companies, more and more jobs will be displaced, and more and more income will accumulate higher up the corporate ladder."  Income inequality has certainly risen up the global agenda in 2014 thanks in part to the work of Thomas Piketty. However, Paul Krugman points out in a powerful NYT op-ed piece that the level of disparity between the rich and poor today is widening so fast that it ought to be a much greater social issue. He suggests the reason it isn't is because most ordinary people are largely unaware of the 'invisible rich':
"Today's political balance rests on a foundation of ignorance, in which the public has no idea what our society is really like."
On the subject of dystopia, it's tricky to know quite what to make of this TechCrunch piece.  It suggests the logical end point of internet messaging advances is direct brain-to-brain communication: "it's hard to see what — short of the downfall of human civilisation — would stop the evolution of digital telepathy from eventually happening. There are just too many structural forces that are larger than any of us pushing it forward."  At least the author accepts this may not necessarily represent an advance for humanity, and in fact, more than likely driven by military interest, if it happens.
One country which might embrace digital telepathy is Japan, judging by this brilliant article that packs a huge amount of dense insight into what remains one of the most perplexing and alien of nations for visitors from the West.  A key theme is that no matter how much time you spend living in the country, there remains a hidden inner world which foreigners cannot get past: