Pick of the Week
The "customer is always right" seems to be the central mantra of champions of analytics-driven customer obsession when it comes to building products.  So it's refreshing to come across this more nuanced perspective via Content Loop suggesting that perhaps the customer is mostly wrong in literal terms:  "Steve Jobs did actually listen to customers, but only to find out which problems they faced, and to identify the biggest points of friction they had. He did not listen to customers' proposed solutions because his belief was that the best, most innovative solution had to come from the company.  Customers might help identify the destination, but you can't usually listen to them on how to get there."  The article suggests that going down a literal route without any value add can actually lead to the Product Death Cycle:
As highlighted by TNW, part of being more nuanced involves being very clear in understanding the motivations of your users and how they feel your proposition turns them into better versions of themselves: "make sure you know what progress looks like in your user's life, not just on their screen."
An important tool for measuring customer motivation is the humble customer interview and the TNW article provides a handy template designed to encourage free form response because "to uncover the real story — the powerful, driving, emotional one — you have to access the person behind the user" and a vital element of that is to listen to them and not just parse their analytic vapour trails:
Smartphones/OEMs
BusinessWeek's analysis of Samsung's mounting problems and stagnating sales figures contained a couple of stark analyst quotes suggesting that the second half of 2014 might be even more challenging than a difficult first: 

"Samsung may be structurally vulnerable, with no sensational products in the pipeline that can stand out from rival devices," said 

Lee Seung Woo

, an analyst at IBK Securities Co. in Seoul. "With Chinese brands catching up fast, the second-half battle seems even tougher for Samsung."  

"The bigger iPhones in the second half of 2014 are Samsung's single biggest threat for almost five years," 

Neil Mawston

, executive director of Strategy Analytics, said before the earnings release. "Samsung should even consider accelerating the launch of the Galaxy S6."  

Recode are suggesting Apple will unveil the iPhone 6 at a special event as early as September 9th which will doubtless "suck all the air out of the tech news cycle" when it happens and underline the extent of the strategic challenge Samsung face.
A neat encapsulation

 of Samsung's smartphone problems came in a tweet by Tim Bajarin. The Korean firm finds itself embattled on many fronts most notably in three key battlegrounds, namely China, the US and India:
Apple #1 in US.

Xiaomi #1 in China – http://t.co/Vyx52No6oj

Micromax #1 in India. http://t.co/zUTdviOwb8

Samsung's losing big markets.

— Ben Bajarin (@BenBajarin) August 4, 2014
As befits the sobering situation they find themselves in, Reuters are reporting big changes in Samsung corporate culture are to be introduced this summer including an end to the infamous tradition of "mandatory drinking" that will be familiar to anyone who's travelled to Korea on business: "forced late-night drinking sessions, long a staple of local office life, are out."  Instead "it's 1-1-9 for evening company outings now: one type of alcohol, in one place and only until 9 p.m".
Counter to the prevailing direction of travel of the smartphone market, a suggestion from the Verge that the HTC have ported Windows Phone to run on the M8: "

Hardware-wise, it's probably the same M8 that's been running Android for a few months now, but this one's clearly aimed at fans of Microsoft's OS." 
Google/Android/Apps
It's not all positive news for Google however with news that Google are facing an antitrust investigation in Europe over Android: "

Regulators have allegedly sent questionnaires to telecom companies and phone manufacturers, trying to get a sense of whether Google is strong-arming them into promoting its own services at the expense of competitors. "  Also, Android is still not managing to pull away from iPhone in the all-important US market and with iPhone 6 launch imminent, Apple may even pull back to parity there:
I believe the fundamentals are in place for iOS to over take Android in US market share. Chart to change Q1 2015. pic.twitter.com/L24RlDLNTw

— Ben Bajarin (@BenBajarin) August 4, 2014
Most worryingly of all for Google, the fastest growth platform of all is Android without GMS (Google Services), namely AOSP, which is the raw material driving the "landfill Android" smartphone explosion in China and potentially India: "If one looks at the volumes of smartphones shipped by vendor, the most rapidly growing (Huawei, Lenovo, Xiaomi, ZTE, Coolpad and "others") are likely to be using forked versions of Android  …  The result is that the "more open" version of Android is beginning to threaten the "less open" version of Android. China is already lost to OHA but India where penetration is still very low is up for grabs. Into this fray Google launched "One" a more low-end friendly version of sanctioned Android, hoping to retain opportunity."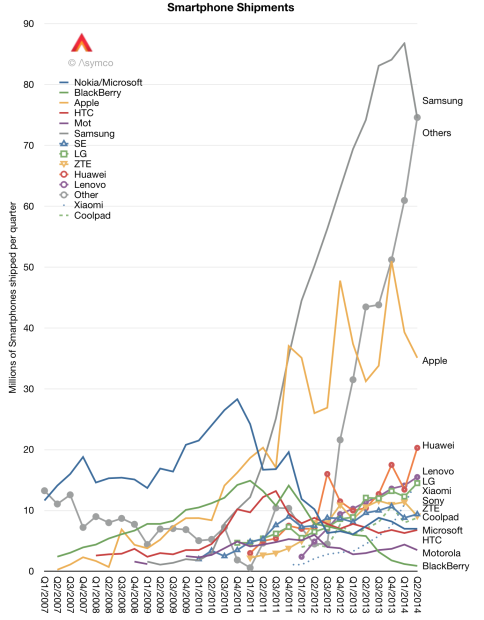 Google released the Google Now launcher for all Android 4.1+ phones to allow a wider range of Android smartphone users to experience more tightly coupled Google services integration: "

The software add-on makes Google's card-based repository accessible by swiping to the right of the home screen or speaking an "OK Google" voice command from that main UI. "
Consolidation via is something that in the West is uniquely identified with platform players who arguably have the ability to exercise elements of full line forcing and product tying.   Google's GMS is the exemplar.   Google are able to leverage GMS mandatory inclusion on Google compliant Android handsets not just to unbundle as with its photo service but more importantly to consolidate their platform as was demonstrated this week with the release of a preview of Google Fit.  It's essentially an extension to GMS promoted as a "single set of APIs for app and device manufacturers to store and access activity data from fitness apps and sensors.  Using these APIs, fitness information and history can be used in apps to do things like personalize coaching, bring insights into health activities, and recommend fitness lifestyles."
TechCrunch assessment of what constitutes useful design in the context of Android Wear and why it could prove to be disruptive courtesy of a train ticket booking Android app simply augmented to cover a couple of off-phone use cases: "

this is where Android Wear excels. It perfectly pairs an Android app with a tiny little watch display. To get a full-fledged app, you take out your phone. If you only need a couple of key features that are actually useful when you're on the go, chances are that the Android Wear app will help you. Android developers already know how to code for watches."
Google have open sourced the codebase for their Google IO app: "The primary goal of this is to provide a practical example of best practices for Android app design and development, including essential features to most Android apps, and a customizable template for apps with similar features."  According to InfoQ:

"the app shows how to implement a wide variety of features that are useful for most Android apps, such as:

Fragments and Loaders.
Services.
Broadcast Receivers.
Alarms and notifications.
SQLite databases.
Content Providers.
Action Bar and the Navigation Drawer."
Asia
The Karbonn A50S Indian "landfill Android" device recently highlighted here is "creating turmoil" in the UK press with some fundamental questions being asked.   The Daily Mail "compared the Indian smartphone against Apple's finest and asks why one is priced £549 and the other £26."  It's a 2G phone for starters but beyond that, it's a question worth asking.  GoMo News "

see it as a wake-up call to the existing smartphone vendors that they really do need to wake up and think seriously about the ways in which they are and can add value to their products

".
As highlighted earlier, Xiaomi became the top smartphone OEM in China in Q2.  The

NYT published an article

covering their spectacular rise: "Just last year, Xiaomi was a relatively obscure Chinese handset maker. But last quarter, Xiaomi was the top smartphone seller in the largest handset market in the world: China."   An interesting perspective on the Xiaomi phenomenon is

provided in a detailed review written by Rio Akasaka, a Google Product Manager trying out a Redmi 1S in China

.   He sees "an Android ecosystem built and enabled natively in increasingly powerful phones, in a world completely removed from Google".  In Xiaomi's MIUI-based ecosystem, Google UI design guidelines do not apply and developers are free to build experiences much closer to those provided by iOS.   This screenshot of the MIUI iOS theme is an inevitable outcome given the open admiration expressed by Xiaomi's CEO Lei Jun for Steve Jobs.  It shows

AOSP free of Google services

 adapted to look largely indistinguishable from iOS:
Security/Privacy
The wider privacy ramifications of the news that Google are employed hashing to identify "

explicit images of a child in a man's email and tipped off the authorities" 

are profound:  "On one hand, most people would certainly applaud the use of technology to scan email in a case like this.  On the other, debate rages about how much privacy users can expect when using Google's services like email. In a word: none."
USB security is broken: "Researchers say they have managed to reprogram the firmware within some flash drives with malicious code – code executed by the gadget's micro-controller to ultimately install malware on a PC or redirect network traffic without a victim knowing".
Cloud/Infrastructure
Microsoft really do seem to mean business in terms of positioning Azure as a mobile-agnostic developer platform.  Their technology and developer evangelists are reaching out to Android and iOS devs.  This sentence from a Microsoft InfoQ link retains the power to startle:  "Chris Risner demos an Android app built with Azure Mobile Services using structured data stored in the cloud, GCM push notifications with a single line of code, authentication, security and others."   As does the covering slide:
Services
The UK is now past the point of "peak SMS" it seems with WhatsApp and other OTT Messaging services implicated in its decline according to Ofcom data via this Benedict Evans tweet:
Ooloo sound like a conundrum as well as a palindrome.  They have launched what is essentially a Concierge service of sorts that sends voice queries to human beings for processing into a human response. This sort of service is normally positioned as an extreme luxury proposition and they're providing it for free which raises a basic scaling 101 question: "Adding the human element, actually takes a step backward from the artificial intelligence systems that tech companies have been trying to build. If it gains traction, OOLOO will have to hire like mad to have enough helpers to answer all the questions. There's no clear business model at the moment, though an OOLOO rep did says that the new company has 'different plans in mind' when it's ready to move beyond user acquisition."
Wearables/InternetOfThings
HP are partnering with a retailer called Gilt to build a luxury smartwatch designed in the US by Michael Bastian.  It's not immediately clear what OS platform it is using but it doesn't look to be based on Android Wear given it has taken its inspiration from the world of top end cars: "

Bastian says the design cues came from luxury automobiles, namely interior features like the dashboard and trim." 
Software Development
A useful if somewhat academic analysis of Kanban on InfoQ highlights the importance of Work in Progress which is examined using a reformulation of Little's Law from probability theory.  The key takeaway really is on reflection something that should be well understood by good developers: "

increasing the WIP will stimulate the team to optimize their work and remove kinds of wastes from their delivery process (yellow area) until the team reaches the maximum throughput possible (green peak). After that, more WIP may not cause any further improvement; in contrary, it may decrease the team throughput due to stress and task switching (red area)"

:
WIP = Th * CT
Where:
WIP (Work In Process) = average amount of unfinished items (bugs, user stories, change requests, etc.) in the development system.
Th (Throughput) = Team output in unit of time
CT (Cycle Time) = Average time it takes the team to finish one item
This TNW article on the "best first programming language" identifies the usual suspects – JavaScript, Python, Java.   Perhaps the most interesting takeaway however is the explanation of how, for the author, JavaScript driven web app development is coalescing around a MEAN paradigm (MongoDB, Express.js, Angular.js, Node.js):
VisionMobile's Developer Economics report highlighted here a couple of weeks ago painted a stark picture of the state of global mobile app development.   They've followed it up with a grim opinion piece in which they highlight the fact that mobile app development is basically a lottery given that: 

"

the vast majority of app developers struggle to make a living.  7 out of 10 don't earn enough to sustain full-time development

 

(we call them the Have Nothings and Poverty Stricken). That would be over 2 million people, roughly the population of Slovenia. Almost 90% of that record app store revenue will go to just 12% of developers."
This post from Matt Asay serves as a long view follow-up on the Gerstenzang a16z piece pointing out the dramatic shift in relative cost of infrastructure vs. engineering over the last 30 years: "In 1985, storage was a key expense, running $100,000 per gigabyte, while a developer could expect to get paid $28,000 per year. By 2013, things had changed considerably. Now storage is cheap, costing $0.05 per GB. Developers, on the other hand, are expensive: $90,000 per year. "   It is this dynamic behind the desire of a16z and others to see a "rise of the average developer" as it's the only way now to bring down the broad cost of setting up a software-driven startup:
Miscellaneous
The Verge reviewed the Lytro Illum, a $1500 state of the art DLSR camera billed as the future of photography with traditional DLSR look and feel coupled with light field sensor and post-processing software smarts.  When it worked, the results were impressive but according to the reviewer too many things like low light operation, autofocus and the PC software, just didn't work well enough: "For every great shot I captured, processed, and uploaded, there were just too many false starts, too many crashes, too many frustrations. They make the future seem much further away."
The BBC carried a story about a study that purports to have resulted in an "equation for happiness" which "combines expectations, rewards and past outcomes".   Apparently: "your immediate sense of happiness depends on the size of the gap between what you achieve and what you expect."
The study itself is based on data gathered from 18k users who have downloaded and played with a smartphone app called The Great Brain Experiment:
It's peak summer holiday time and the New Forest National Park has set up a Tech Creche where you can drop off your smartphone for the day: 

"The free service is based at the concierge building near Brockenhurst Railway station, is open between 9am- 10pm and will operate all the way through to September 14th."