Pick of the Week
Commercial software engineering is at a pivot point globally. In the West, notwithstanding the "rock stars" at high profile startups and places like Google, the reality is of an increasingly low status and marginalised position within the corporate hierarchy.  In a real sense, the esteem and status associated with software engineering has gone backwards over the last 20 years as the managerial niche has increasingly been occupied by non-practitioners for whom outsourcing is a given.  The situation is further compounded by the important role of hiring bias for which evidence is becoming clearer.  A powerful analysis of the world of low status software engineering where explicitly non-technical managerial skills are instinctively valued and promoted above technical chops is provided by Michael O. Church in an essential read: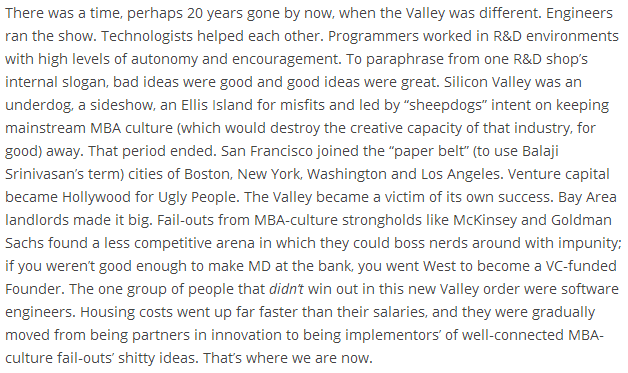 Meanwhile, in China, a whole new world is being feverishly created powered by armies of new software engineering graduates that will "change the way software is bought and sold" and add yet more downward pressure on the profession in the West: "China doesn't need you. Not your software. Not your programmers. Not anything you have to offer.  China mints over 100,000 new software engineers each year. Those engineers are writing an incredible volume of great software."
Church suggests software professionals in the West wake up to what is going on and try to reassert their identity particularly within the corporate environment: "If programmers want to be taken seriously, and we should be taken seriously and we certainly should want this, we're going to have to take stock of our compromised position and fix it, even if that's "getting political".  We're going to have to stop glorifying pointless self-sacrifice for what is ultimately someone else's business transaction, and start asserting ourselves and our values."
Smartphones/OEMs
An article from WSJ carries more bad news for Samsung with a prediction of further deterioration of their smartphone market share from influential credit agency Fitch and a stark assessment from Mark Newman, a widely-read industry analyst and ex-Samsung employee: ""They've got to offer more and charge less on low-end smartphones, which is exactly what the Chinese are doing, and if they don't, the Chinese are going to keep taking share away from them".    He remains convinced they can turn it around but they need to demonstrate a greater sense of urgency.   Tizen doesn't seem to be the answer though it appears Samsung may still see a role for it in fending off Xiaomi at the low end.  Wearables also don't seem to be the answer at least on their own.  In the UK, the Galaxy Gear Fit is being given away with the S5:
Sign of (tough) times in UK mobile markets. Latest contract deal @Phones4u bundles Gear Fit with "free" Galaxy S5. pic.twitter.com/DOO433Y0Gu

— Ben Wood (@benwood) August 11, 2014
By way of partial response, Samsung have announced "

a full slate of high-end smartphones 

called the Galaxy Alpha

, which mobile division chief J.K. Shin said in a statement was "built and designed based on the specific desires of the consumer markets".  The Galaxy Alphas are metal body phones in an attempt to counter criticisms of cheap plastic that often gets levelled at Samsung.  
It's increasingly important for all Android OEMs to find their "reason to be" as competition intensifies among incumbents.  One with new innovative entrants lining up to try and replicate the phenomenal success of Xiaomi products and brand over the last year: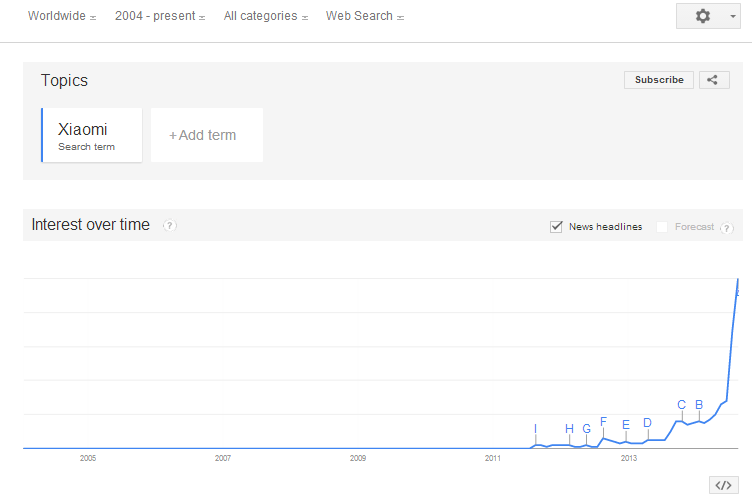 Benedict Evans has some interesting observations on the possible impact of a cheap "blockbuster" iPhone.  It won't do much to shift Apple's profits but there are two key strategic reasons for doing it: a) "adding a 'gateway' device in the mid-range with significantly more unit sales would build a much deeper moat around [the iOS] ecosystem" and b) "such a phone would sell, and sell well, and take a big chunk of the most valuable Android customers" particularly in the US.    He also points out how the iPhone continues to have an "extremely strong" 2nd hand market.  This is an area where Android phones seem to struggle by comparison.   In India, even 4 year iPhones have a cachet that current Android phones don't. The situation is further compounded by differences in replacement cycles.  Evans pointed to this graphic from Baidu underlining the relative longevity of iPhone vs. Android:
Baidu on Chinese handset replacement cycle, in years, Android on left, iPhone on right. pic.twitter.com/GHiHpB9Cai

— Benedict Evans (@BenedictEvans) August 11, 2014
And this tweet underlines how iPhone has captured the premium smartphone high ground:
Very telling chart on the smartphone platform narrative. via @IDC. pic.twitter.com/KMnL0mEcDY

— Ben Bajarin (@BenBajarin) August 14, 2014
@asymco tweet on US smartphone penetration suggests that Apple need a boost to get back on track to follow his predictive curve:
US smartphone penetration still following the same predictive logistic curve. iPhone slightly below target. pic.twitter.com/ubiSEi0gmy

— Horace Dediu (@asymco) August 7, 2014
AnandTech provided an in-depth preview of Intel's new Broadwell architecture chipset built on the forthcoming Core M microprocessor.    Due to ship around Xmas, it's aimed at next-generation fanless notebooks and tablet form factor devices like Surface Pro.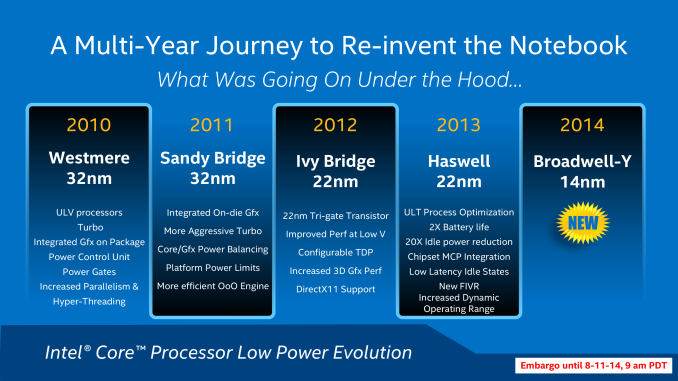 NVidia have a super chip of their own in the 64-bit  "Denver" Tegra K1.  It is targeted at next generation Android devices with the claim that it will offer "

PC-like performance in a tablet form factor"

:  

"The first shipping Denver-based mobile devices should arrive later in the year, and NVIDIA is unsurprisingly working with the 

Android L release

 to unlock the new Tegra's full potential. " Performance benchmarks disclosed by NVidia suggest it is competitive with Intel's Haswell platform and improves upon Qualcomm's Krait-400 (8974):
Google/Android/Apps
Recode are reporting that HTC are to spin out their Software and Services team into "a separate business unit aimed at building software and services for more than just HTC phones. The team, which includes 260 people from across HTC's offices, is based in Seattle, but includes people in San Francisco and Taipei."  It's going to be called HTC Creative Labs and their first cross-Android product will be the HTC Zoe video app.
Asia
Interesting TNW piece on Chinese search giant Baidu and how they are investing in "deep learning" to provide next generation growth.  The end goal seems to be clear – to build a better Google Now: "

ultimately Baidu wants to build the mobile phone into a personal assistant with the help of deep learning, that is, training a machine to recognize triggers and interpret them accordingly. There are indications they are well on their way at least in respect of image recognition: "internal evaluations show Baidu recognizes images more accurately than Google for 68 percent of cases it tested out, 14 percent of the case it does worse than Google, while in 18 percent they perform about the same."
Security/Privacy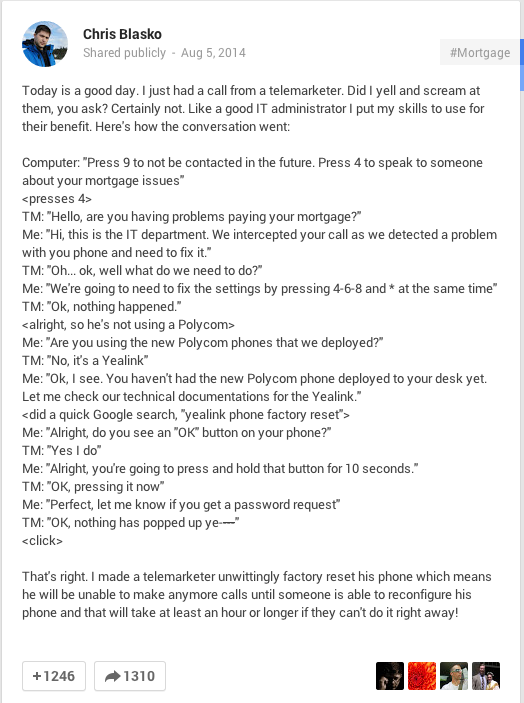 Cloud/Infrastructure
Smartphones and the smartphone component supply chain are eating the datacenter: "Li

ghtweight processors (

such as ARM

) and low-cost, low-power mobile components are now becoming the foundation of the next-generation datacenter … the data centers powering our cell phones will be remade using the same technologies that sit inside those phones.
" and in so doing offer "

unprecedented opportunities" for startups smart enough to take advantage of their speed of movement against slow incumbents: "startups can offer solutions at every level of the infrastructure stack…without having to be a part of it. They can bypass the existing stack. And there's a whole new set of benefits for people as new startups build new applications and businesses on top of these new platforms."
In a similar vein, from ContentLoop, an article based on a Samsung report about how employees are increasingly "taking over IT" and the genie of BYOD is becoming the nightmare (for conventional old guard IT types) of BYOS (bring your own service):  "Enterprise IT now has to adapt to this new multi-screen, mobile, nomadic reality and enable employees to make the most of these technologies and work in new ways."
Big Data/Machine Learning
The same Pew Internet Research study on robots seemed to elicit different responses.  On the one hand smart robots are coming to steal your job and "essentially anything that requires routine decision-making is in danger of becoming automated".  On the other the picture is much more unclear and "the truth is we simply don't know how many jobs of which kinds will be automated when." Either way, fear of automation dystopia is not shared by economists:
Wearables/InternetOfThings
CarePredict 

"is building a smartwatch that's designed to monitor the 

elderly

 while maintaining their independence. The Tempo is a wrist-worn sensor that keeps an eye on someone's activity patterns, and should it spot an anomaly, raise the alarm."   It does sound like a genuinely helpful application of wearable technology although some aspects of it might not go down that well with the elderly themselves: 

"

enabling families and others to keep an eye on their parents while at work or on holiday."
Catherine Monier, another "important hire from the global fashion industry"  is joining Apple from Yves Saint Laurent where she is Head of Retail according to 9to5mac.   They add that she will be joining Paul Deneve's team:  "Sources say that Deneve's team at Apple has been working on new strategies for Apple's official retail stores in order to make the stores more capable of selling and marketing fashion and wearable goods."   Presumably related to iWatch.   Apple appear to have a strong team with a lot of experience in selling luxury and fashion goods to support their assault on this new sector.
Quite aside from Marketing firepower, the MD of bolt.io, a hardware seed fund, dished out some blunt advice to aspirant product startups seeking some of their magic – you can't manufacturer like Apple either

: "

What happened when Apple wanted to CNC machine a million MacBook bodies a year? They bought 10k CNC machines to do it." Apple is operating on a totally different scale to anyone else and it's worth bearing in mind this further counsel

:   "If you see a feature on an Apple device you want to copy, try to find it on another company's product. If you do, it's probably okay to design into your product. Otherwise, lower your expectations."  You probably won't have an internal training program like the one Apple provide through their own internal University: "Its purpose is to remind employees to surround themselves with the best things, like talented peers and high-quality materials, so that they can do their best work."
According to this BBC link, which sounds a bit like a Professor Denzil Dexter sketch from The Fast Show, "the waste fibres from hemp crops can be transformed into high-performance energy storage devices.  Scientists 

"cooked" cannabis bark into carbon nanosheets and built supercapacitors "on a par with or better than graphene" – the industry gold standard."
Miscellaneous/Work
Continuing with a central theme this week,  a US court has rejected a proposed settlement in an antitrust case relating to anti-poaching.   It appears that certain Silicon Valley company execs thought were immune from any legal consequence in relation to their actions.  Steve Jobs in particular seems to have been a "walking antitrust violation" as "

court papers showed, [when] Google wanted in 2005 to hire a group of Apple engineers.  Mr. Jobs's response [was] "If you hire a single one of these people, that means war.""  

According to NYT "there is "ample evidence" that Silicon Valley was engaged in "an overarching conspiracy" against its own employees, a federal judge said on Friday, and it should either pay dearly or have its secrets exposed at trial."
This handy Medium primer on stock options suggests more awareness than might be expected around the stock options.  The notion of grant and strike price seem to be least well understood based on results of a survey of option scheme participants in the UK: