Winter Is Coming
[avatar user="malm" size="small" align="left" link="file" /]
As highlighted last time around, for the Silicon Valley tech giants after many years of basking in adulation, Winter is now here in the form of greater public suspicion and legislative scrutiny.  In the US the election of Trump changed the calculus entirely particularly for Facebook and Google:
no one can deny the winds have changed. The election was a tipping point. For the first time, it illustrated how it is possible for these platforms to affect consumers adversely through the democratic process. There's no going back from that.
Meanwhile over in Europe the EU has proved a particularly tenacious and determined tormentor one where the realisation of the enormity of what happened is coupled with the political will to do something about it:
various straws in the wind that show how digital behemoths are losing their shine. Many of these relate to Brexit and the election of Donald Trump, and to the dawning of a realisation that Google and Facebook in particular may have played some role in these political earthquakes.

In 2014, Ben Smith wrote a piece entitled The Facebook Election, in which he predicted that the social network would "replace television advertising as the place where American elections are fought and won". Looks like he was right: the technical has indeed become political.
Winter is also coming for many of those affected by the technological unemployment some of these giants are ushering in. The Guardian on how robots could take 4 million private sector jobs, some 15% of the total workforce, disproportionately targeting finance, accounting, transport, distribution, media, marketing and advertising, within ten years.  Humanity may end up taking a backseat on Basic Income as events unfold over the coming decades.  It's a topic touched upon by Peter Fleming in his book Death of Homo Economicus recently reviewed in the Guardian.  For Fleming too, Winter is coming unless all those Precariat workers of the world that fall under the API unite and fight back against privatisation of the public sphere:
Fleming doesn't buy the Paul Mason fantasy that voluntary cooperation on the model of Wikipedia or open-source software will somehow scale up to rebuilding society along more equitable lines. He also disapproves of the death drive he perceives in "accelerationism" (full speed ahead with rampant wreckage capitalism so as to hasten its inevitable implosion), and the misanthropic eco-fanatic's desire to dismantle civilisation for the sake of the worms and the mosquitoes. Instead he favours a "radical de-privatisation of the public sphere", some version of universal basic income and a fellowship of the precarious to demand universal workers' rights – as for instance with the court victory of London Uber drivers, who argued successfully that they were employees rather than atomised contractors.
Some of these themes appear to be central to the new BladeRunner judging by the early reviews. It already looks to be essential viewing with a deeply pessimistic take on the future for humanity, at least in its current incarnation, in a dystopian future of environmental collapse in which a miracle happens.  Blood in the snow as well as in the water.
Its mind-boggling, cortex-wobbling, craniofacial-splintering images are there to trigger awe or even a kind of ecstatic despair at the idea of a post-human future, and what it means to imagine the wreck of our current form of homo sapiens. Evolution has not finished yet, any more than it was finished 100,000 years ago. As so often in literature and cinema, we are reminded that science fiction is there to tackle big ideas, and makes realist genres look flimsy and parochial. This film delivers pure hallucinatory craziness that leaves you hyperventilating.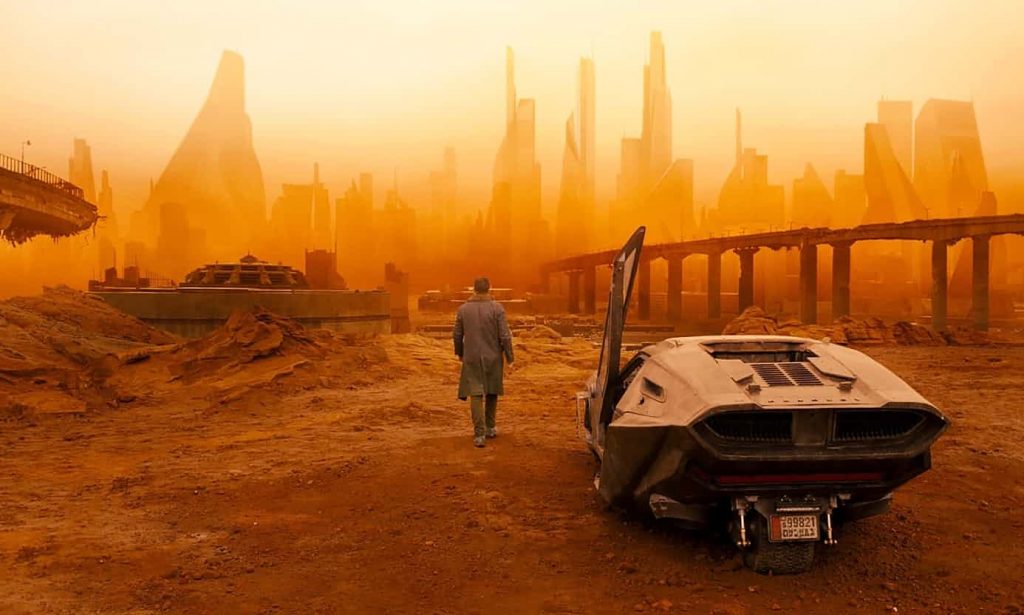 Amazon
The last newsletter referred to blood in the water for tech but it's pretty clear that America needs Amazon more than Amazon needs America especially with the glittering prize of 50k new jobs on the table:
There may be blood in the water in Silicon Valley, but it isn't coming from Amazon. The company's stock is up roughly 30% this year, unperturbed by tepid financial results and the angry tweets of US president Donald Trump. Its business practices remain unfettered by federal regulators and seem unlikely to be criticized at the local and state level so long as HQ2 is on the auction block. Even America's most liberal public officials have yet to mention Amazon's checkered history on labor and as a white-collar employer in their effusive tweets and statements. Amazon may not always be a good employer but it is one of the largest, with 382,000 employees on its payrolls. The economic prize for HQ2—namely, 50,000 high-paying jobs—is simply too big to risk.
Digital Trends reviewed the new Amazon FireTV stick which comes with 4k UHD video, HDR10 and Dolby Atmos support as well as Alexa integration all for just $70.  This Chromecast-sized dongle could be a serious contender for top Christmas 2017 purchase:
The new model packs a serious punch in the hardware department considering its small size, featuring a 1.5GHz quad-core CPU and a Mali-450 GPU, and offer 2GB of RAM, as well as 8GB of internal storage — better specs than the current Fire TV Stick, but still considerably less powerful than the latest Fire TV box.

Just like we've seen on previous Amazon Fire TV products, the new device will be able to power on any TV that supports the current HDMI-CEC standard. More exciting, though, is that the newest Fire TV model will feature more Alexa integrations than ever, allowing users to request individual TV channels like the Food Network, and playback content from Hulu, Netflix, Amazon Prime, all with simple voice commands.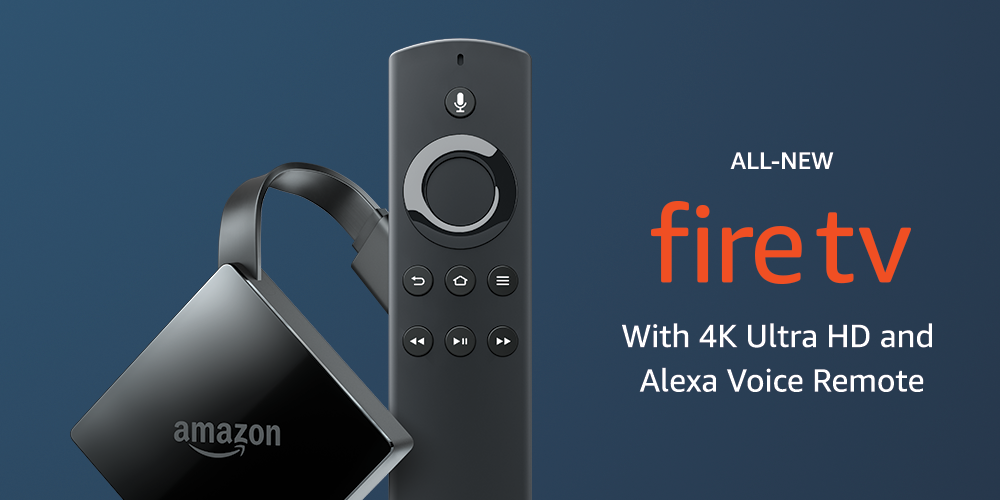 Apple
By way of comparison, here is The Verge's detailed review of new 4k Apple TV.  Their takeaway on it is as follows:
If you're already invested in a huge iTunes movie library, or you buy so many movies that Apple's cheaper pricing makes a big difference to you, you're not going to be unhappy about buying an Apple TV 4K. It'll be fine, and having your existing library get upgraded will be nice, although the HDR upscaler will occasionally make you sad.

But if you just want to watch some Netflix and you're fine with renting movies from a service like Vudu or Amazon, stick with the apps on your existing 4K HDR smart TV for now or pick up a Roku.
Quartz on why the iPhone X might represent "Peak Apple" and it could be all downhill from here.  It's been said before but this hasn't and is indubitably true:
The most impressive thing the company has shown off in 2017, the year that was supposed to be its most impressive in a decade, was a $5 billion campus. Much like everything else the company released this year, the campus seemed to favor form over functionality.
Tech
FirstRound on how Instagram engineering scaled from 0 to 300 staff.  Looking for curiosity and drive are key attributes they sought in candidates:
"The candidates we got excited about were the ones who would say, 'This week I was really interested in the game Go, so I built a Go prototype and learned this thing.' Rather than, 'Well, the company I work at uses React, so I'm using React.'"
Andy Rubin's much vaunted Essential phone has apparently shipped only 5000 units, Titanium and all.   Luxury territory indeed.
Docwriter is a "typewriter that sends its keystrokes in real time to a Google Doc".  This post explains how it works using a Raspberry Pi 3 hidden inside of a normal typewriter.

Python
Good post from Adrian Rosebrock on how to set up a deep learning p2.xlarge GPU-powered AMI running keras, mxnet, TensorFlow and OpenCV on AWS.   Once you have it set up you're good to go:

Having this capability and convenience on tap is helping fuel the remarkable growth of Python as highlighted in the last newsletter and elaborated upon in a fascinating further post on StackOverflow providing evidence that pandas is helping to drive the figures: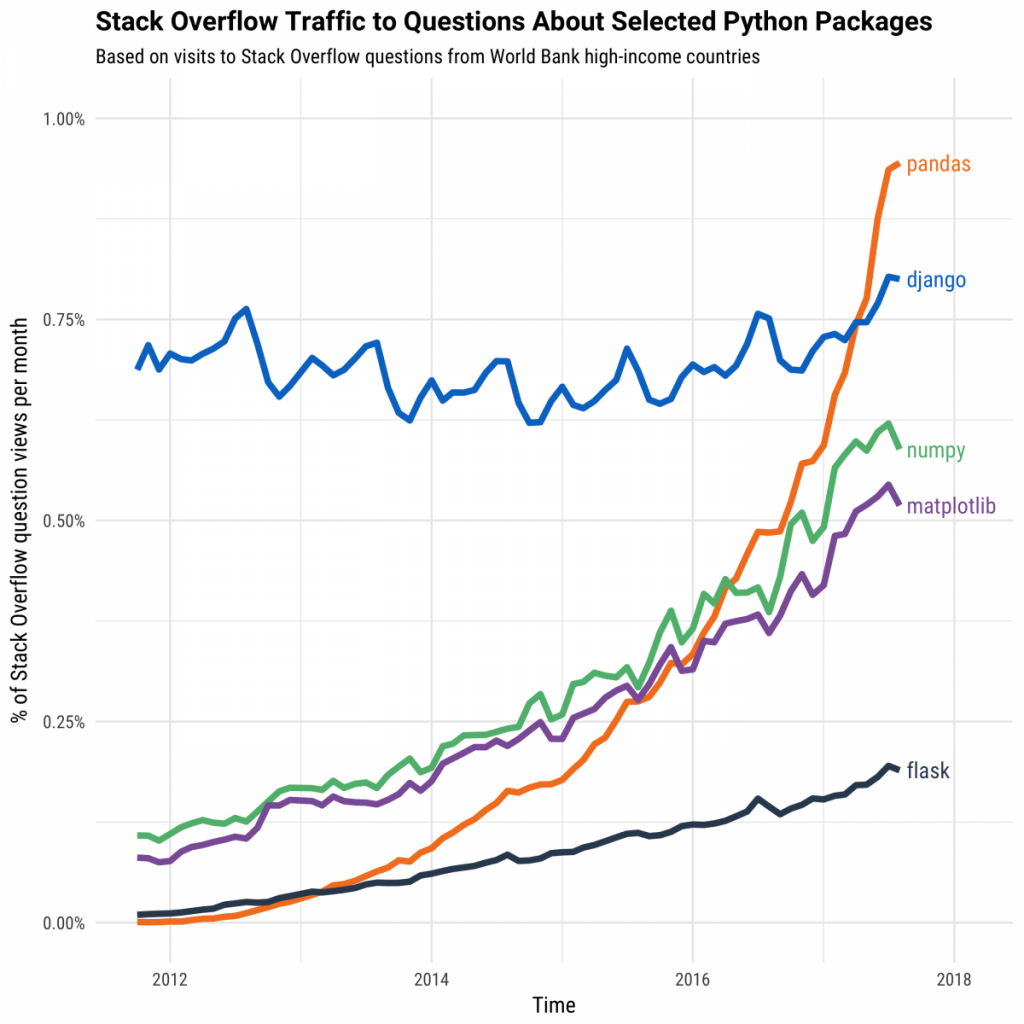 and this view on networks of related tags used by visitors to the site revealing that the trinity of pandas, tensorflow and matplotlib are the vectors of growth: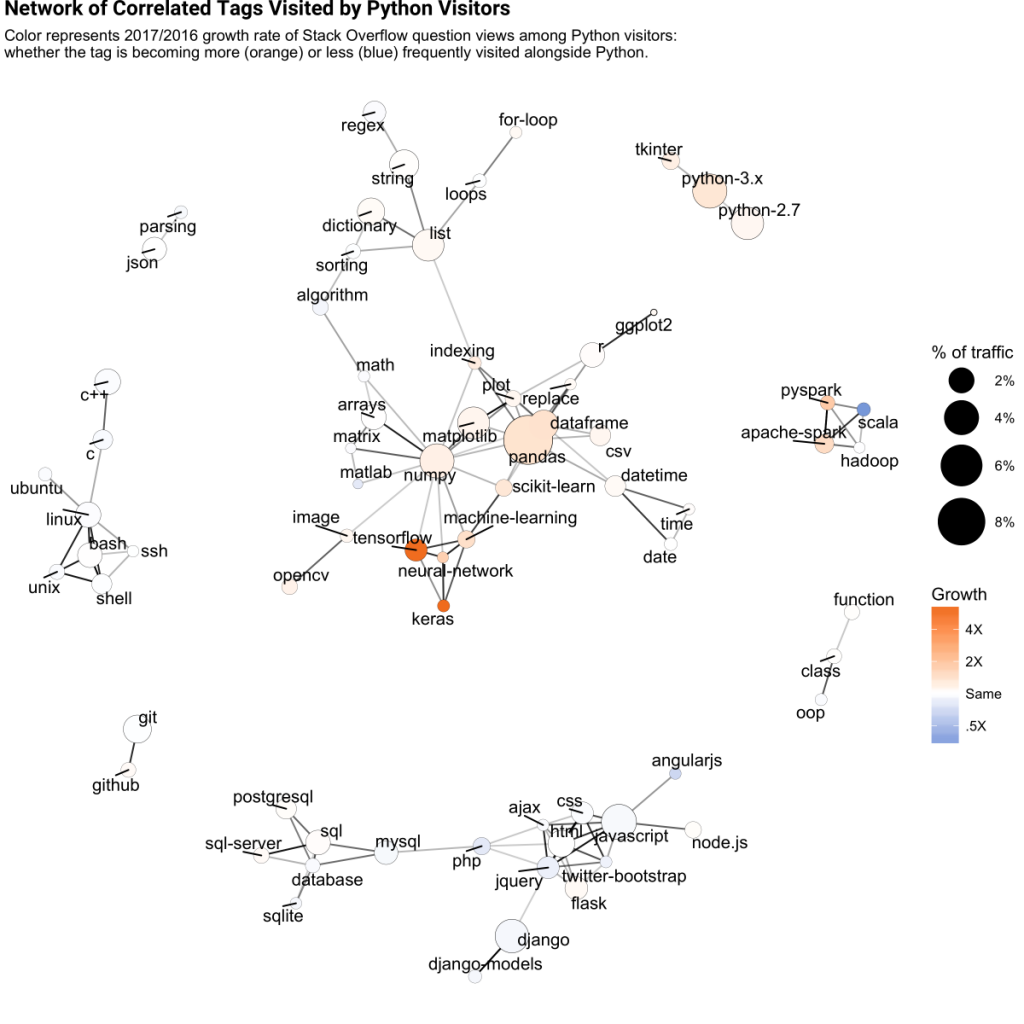 Health and Wellbeing
Staying at the office late is bad in multiple ways but there are plenty of workplace mores and pressures to do it.  Which is why the story of Pepsico's exhortation to his team to ensure they "leave loudly" presumably to remove through their own action any awkwardness around the perception of sneaking home "early".
HBR long read on the loneliness epidemic and how it has reached crisis proportions in the US beautifully covered by Vivek Murthy, ex-US Surgeon General:
During my years caring for patients, the most common pathology I saw was not heart disease or diabetes; it was loneliness. The elderly man who came to our hospital every few weeks seeking relief from chronic pain was also looking for human connection: He was lonely. The middle-aged woman battling advanced HIV who had no one to call to inform that she was sick: She was lonely too. I found that loneliness was often in the background of clinical illness, contributing to disease and making it harder for patients to cope and heal.

The world is suffering from an epidemic of loneliness. If we cannot rebuild strong, authentic social connections, we will continue to splinter apart — in the workplace and in society. Instead of coming together to take on the great challenges before us, we will retreat to our corners, angry, sick, and alone. We must take action now to build the connections that are the foundation of strong companies and strong communities — and that ensure greater health and well-being for all of us.
Lack of sleep is called out again in a remarkable Guardian article as another of our deadliest enemies implicated in a whole range of illnesses from dementia to cancer:
"Humans are the only species that deliberately deprive themselves of sleep for no apparent reason." In case you're wondering, the number of people who can survive on five hours of sleep or less without any impairment, expressed as a percent of the population and rounded to a whole number, is zero.
Mark Boyle of the Guardian is their "Life without Technology" correspondent.  In this post he outlines how his own lifestyle is shorn of the trappings of modernity in every way.  He lives a simple life in harmony with the land and the hours of the day avoiding stress at all costs.  Inevitably parallels with Essentialism and the philosophy of Henry David Thoreau come to mind:
I pick my own fruit and vegetables from the garden and hedgerows, and eat them as fresh, raw and unwashed as is optimal. I cycle 120km each week to lakes and rivers, where I then spend three evenings of that week relaxing and catching the following day's dinner. I work outdoors, getting sweaty and dirty doing things I enjoy. I made the tough decision to live in the natural world so that I could breathe clean air, drink pure water and create life that allows others the same. I wash with water, and water only. I use no chemicals inside or outside the house. I wear as few clothes as I need, I use nothing electrical – no fridge, no screens, no phone. I avoid sugar, caffeine and stress like the plague.

I only managed to do it by stripping away modernity's bullshit, learning to live with the land, and reducing my bills down to zero. Simplicity in these times is hard won, but I've found that it's worth it.

I can only speak for myself, and I support everyone's decision to care for their own health as they see fit. Ultimately, we're all going to die and I wish to go out like the American writer and conservationist Edward Abbey: by taking off to the wilderness, where wildlife can feed on my dead body just as I have done on theirs. It seems only fair.

Two things, in this respect, I find important. One is that like Henry David Thoreau once remarked, I do not safely reach death and "discover that I had not lived". Second, that I don't cling to my own fading light so desperately that I extinguish it for all else. Like all good guests, it's wise not to overstay your welcome.
Culture and Society
Lorde's version of In the Air Tonight received a lot of praise:
but somehow this recent rendition by a much older Phil Collins nearly 30 years on seems more compelling:
In his pomp, he commanded the stage with the same number.
Politics
Simon Jenkins in the Guardian on why Trump's pronouncements on North Korea are highly dangerous hot air with little light and that we in Britain should have nothing to do with them.
The Evening Standard reviewed a new book, Tragedy and Challenge, on 21st September.  From the review alone it sounds like a brilliant diagnosis of the essential problem of what went wrong with British industry:
Britain's industrial decline correlates strongly with the increase in the influence of accountants.