The Chinese Way
[avatar user="malm" size="small" align="left" link="file" /]
Macro Polo surveys the deep roots and long branches of Chinese techno-nationalism.  There are three components to this worldview:
technology as a source of national power,
competition with foreigners
the need for indigenous Chinese capability.
The areas the Chinese authorities want to focus on include biotechnology, renewable energy production and artificial intelligence.  Bloomberg highlighted a specific advantage they may have with AI, namely unencumbered access to huge quantities of government data:
The nation is betting heavily on AI. Money is pouring in from China's investors, big internet companies and its government, driven by a belief that the technology can remake entire sectors of the economy, as well as national security. A similar effort is underway in the U.S., but in this new global arms race, China has three advantages: A vast pool of engineers to write the software, a massive base of 751 million internet users to test it on, and most importantly staunch government support that includes handing over gobs of citizens' data –- something that makes Western officials squirm.
Tech is also being used in other idiosyncratic ways in China from innovative QR code use including the panda flower arrangement below to cryogenic freezing in the case of a woman who had her body frozen after death.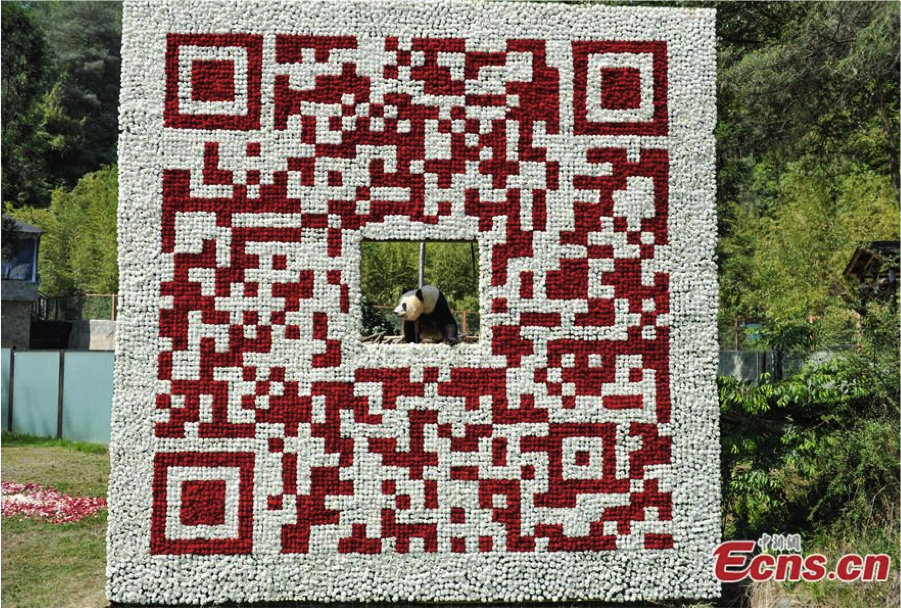 Amazon
Amazon may be dominant in the West but it is struggling relatively speaking in China to make headway against Alibaba and JD.com.  AWS China too is under pressure to ensure its customers comply with government regulations around the use of VPN to bypass the Great Firewall.
Amazon have opened up access to the Alexa Device SDK aimed at commercial device integrations:
The Guardian on how Amazon's Whole Foods purchase gives it a huge new source for customer usage data and how diving for pearls within it is increasingly the name of the game for the Silicon Valley giants.
Whole Foods certainly made an impact with its Day 1 inside the Amazon family:
Amazon.com Inc. spent its first day as the owner of a brick-and-mortar grocery chain cutting prices at Whole Foods Market as much as 43 percent.

In a sign of how the retailer is changing, the Amazon Echo, a voice-activated electronic assistant, was also for sale, for $99.99 — a sharp pivot into electronics for a company known for kale and quinoa. The Echo Dot, a smaller version, was advertised for $44.99.
Reuters suggests Amazon is the Hurricane Harvey of retail but there are a few largely niche outfits who will be able to stand up to the force of nature specifically calling out Ross Stores, Home Depot and AutoZone.  The growing power of Amazon is creating calls for greater scrutiny.  Small wonder that the company is strengthening its voice in Washington by recruiting seasoned lobbyists to help make its case.
Artificial Intelligence
Apple's new Machine Learning blog published an article on how deep learning approaches have helped significantly improve Siri performance.  It's a good example of how real-time application of deep learning techniques are outperforming classical ML methods such as (in this case) hidden Markov models. If you skip to the bottom you get to compare the resulting generated audio from the different systems. The implementation described here involves a pre-built model that is shipping in iOS 11 so this isn't an AlphaGo style garage experiment. Millions of iPhone users will use this work every day without perhaps in the vast majority of cases having any idea how it is happening.
The last newsletter referenced a tech talk from Google Brain chief Jeff Dean.  This week a post from Colin Raffel on his one-year residency at Google Brain which portrays a picture of an environment very close to academia with plenty of open sharing of results:
Brain also has a comparatively strong bias towards sharing work – in particular, I think the fact that TensorFlow is open-source and is developed here pushes for this a lot. At an academic lab, publishing and sharing is basically your job description; the exact same is true for research scientists at Brain. In other words, there is no discernible difference in my job description and deliverables compared to (for example) a postdoc's, except that I'm not going to be teaching any formal courses.
Why Machine Learning matters is a another starter resource with integrated maths, code and examples aimed at "humans".
The Entrepreneur wonders if AI be "illegal" in the EU from next year because of GDPR.  It's certainly going to present a serious challenge to current business model and provides a sharp contrast to the situation in China outlined earlier:
"the GDPR applies to any use of personal data (defined as data that can identify someone directly or indirectly), it poses major challenges to artificial intelligence in particular, as machine learning algorithms often rely on user data to learn to do things."
We can't ban killer robots – it's already too late.  The drones are here to stay and will get smarter and deadlier…: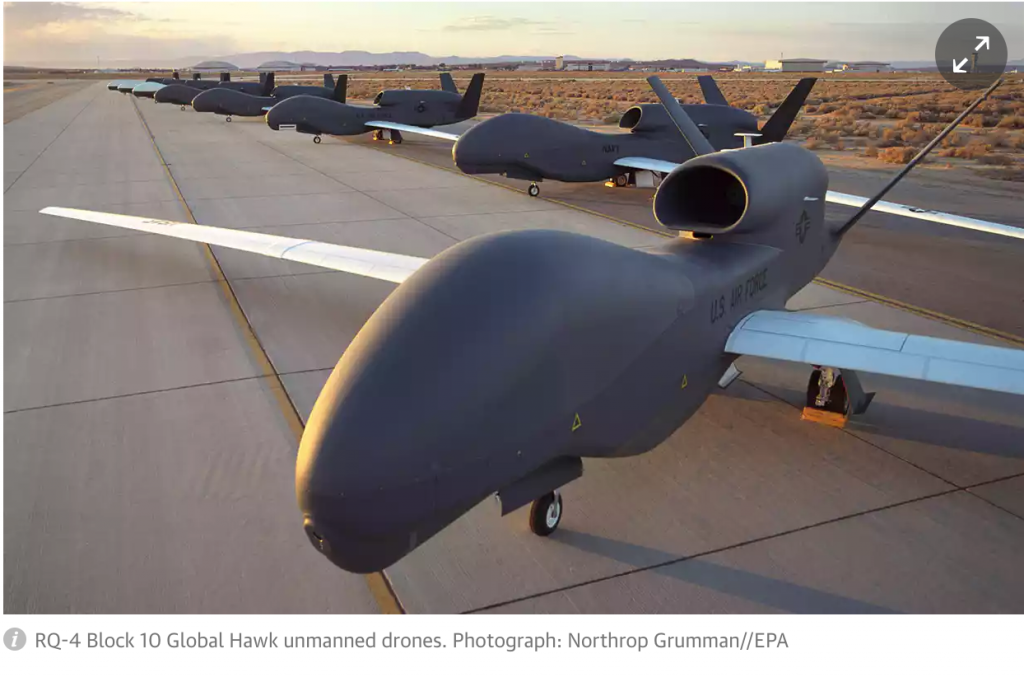 Cloud Platforms and Services
An important post from NYT on how hate groups forced online platforms to reveal their true nature.
It is worth noting that the platforms most flamboyantly dedicated to a borrowed idea of free speech and assembly are the same ones that have struggled most intensely with groups of users who seek to organize and disrupt their platforms. A community of trolls on an internet platform is, in political terms, not totally unlike a fascist movement in a weak liberal democracy: It engages with and uses the rules and protections of the system it inhabits with the intent of subverting it and eventually remaking it in their image or, if that fails, merely destroying it.
CNet compared iOS 11 with Android O and found Apple's offering falling short:
Google is killing it on AI — that's everything from its Google Assistant to a cool-looking feature that can copy a Wi-Fi password when you point the camera at it. … Apple isn't dead in the water by any stretch. It has a chance to catch up if it's able to make AR — which mashes up virtual items with the actual world — seriously mainstream.
Undaunted by that criticism, Apple look set to follow both Netflix and Amazon in spending hundreds of millions on original Hollywood programming.
Adrian Cockcroft is a software industry luminary who helped build Netflix's cloud platform. He's now at AWS. His recent Medium post on Cloud Native computing is an important read:
Cloud native architectures take full advantage of on-demand delivery, global deployment, elasticity, and higher-level services. They enable huge improvements in developer productivity, business agility, scalability, availability, utilization, and cost savings.
Furious Samsung users found out the hard way that a software update had bricked their top end smart TVs.   Meanwhile back in HQ, the company will have to work out how to move on from the seismic court decision to jail Lee Jae-yong, the heir to the empire, for bribery.
Software Engineering
Where in the world does mobile software development happen?  StackOverflow attempted to answer the question by looking at questions asked on the site.  They found that both Android and iOS development was less hot in the Americas, Europe and Russia.  Further analysis suggests a correlation between GDP and level of interest.  Here's the picture of StackOverflow traffic relating to Android by geography: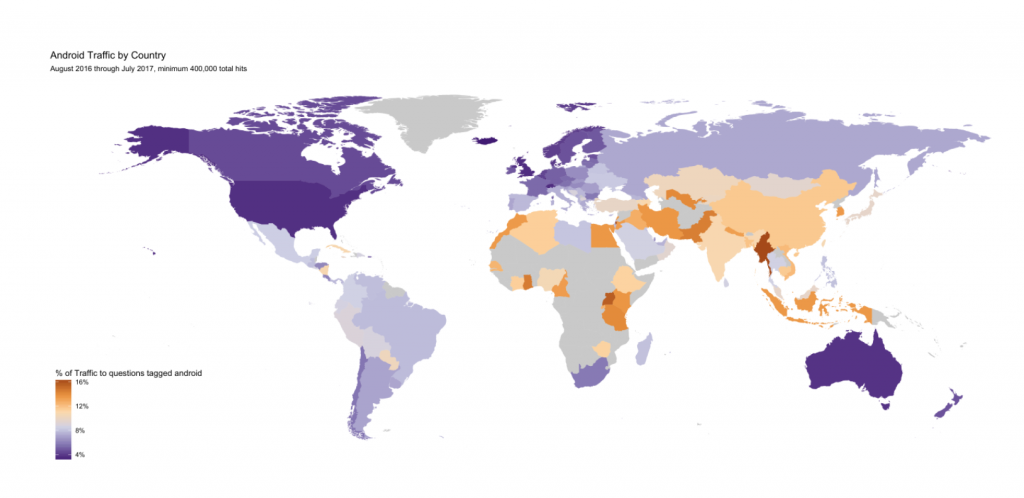 Also courtesy of StackOverflow, three methods to quickly onboard new developers:
Meet Face-to-Face Whenever Possible
Build Their Confidence With Easy Wins
Get Your Entire Tech Team Involved
Christina Wodtke on moving on beyond OKRs:
Culture and Society
Bloomberg on the evidence that people start hating their jobs in greater numbers once they hit 35 and over.  When linked with the recent revelation that you get lonelier as you get older, it all points to disturbing and sad picture of aging in Western societies.