Humans and Humanoids
[avatar user="malm" size="small" align="left" link="file" /]
Artificial Intelligence anxiety is very much part of the 2015 cultural zeitgeist with some arguing that we're already sitting in the front row seats of a defining period of our history.   Entering into the mix this week was a Channel 4 drama series called Humans set in a proximate future in which humanoid robots sold as consumer products called synths have entirely replaced their low-waged human equivalents.
Humans is interesting in that it raises issues like the singularity and technological unemployment on primetime TV even if other subjects such as robot consciousness and human fear of the machines are more familiar Hollywood staples and the drama itself is a little pedestrian in pace.  One of the storylines involves sex worker bots which Noel Sharkey believes will be a key driver for the next wave of developments in humanoid robotics a view echoed in this week's NYT Robotica episode:
telepresence robots, which enable humans to remotely navigate around an office building hundreds of miles away, and sex dolls that can talk back, will be the next biggest new developments in robotics, as that's where all the money can be made.
VentureBeat suggests the series raises important questions about how human we can make robots.  Their take on where we are today is as follows:
1. Is it possible to give machines human values?  Yes
2. Can we agree on what those are?  No
3. Should the creators of AI be "compelled" to program them in?  Yes and no
4. What is the mechanism for making this happen; government?  Absolutely no idea
5. Would we allow exceptions such as military drones? Definitely
Whether or not androids dream of electric sheep has been a favourite science fiction concern, the subject of the Philip K. Dick classic that led to Bladerunner.  And it seems that the answer is yes, if suitably trained because this week, Google Research provided some disconcerting evidence of AI "dreaming" in a post containing hallucinogenic images generated by a stacked layer neural network after training.  The development was inevitably widely covered by the mainstream media.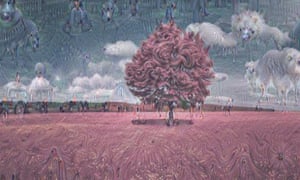 The same convolutional neural network (CNN) technology used by Google lies behind recent improvements in computer vision specifically relating to automatic photo tagging and classification. As ProgrammableWeb point out, there are now a whole slew of commercial APIs that provide access to this functionality, many developed in the last year or so in addition to consumer image tagging propositions such as Google Photos.  The reality behind the current state of the art in CNN tech is, however, far messier and complex and well covered in this fascinating deep dive into how a leopardskin sofa was mistaken for a leopard.
Primal fear of AI overreach nevertheless remains hard to displace with public disquiet stoked in large part by Hollywood blockbusters like Avengers Age of Ultron, Ex-Machina and Her that generally focus on the malevolent aspects of AI:
The more prosaic proximate reality is that what we really need to fear is ourselves and our tendency to eschew the protective cover of the precautionary principle with all the consequences that entails:
The real danger, I believe, lies in the fact that the society we take for granted always hovers on the edge of instability. By relying increasingly on software, with more and more of the wires exposed (microservices, APIs, RPC, etc), we are placing ourselves next to the modern day equivalent of a nuclear reactor, but with none of the safety features.
Devices and Manufacturers
Benedict Evans post on the existential threats that keep Google and Apple awake at night.  For Google, it is fear of losing its reach. For Apple it is that iOS developers leave the platform.   Of the two, Google would appear to have more to worry about given its struggle to establish a base for its services in China and India.   Neither company seems to believe the current app paradigm has long-term viability and are pushing forward with more "frictionless" approaches that effectively involve unbundling them and having their experience "smeared across a variety of integrated touch points and OS-level utilities" as Wired put it.
More importantly, Microsoft CEO Satya Nadella has now effectively united hardware and software divisions under the leadership of Windows Phone chief Terry Myerson.   Clearly the future of Windows Phone is at best to be first amongst equals.  Its long term prospects remain unpromising and it was revealing that Nadella didn't mention Lumia at all in his announcements.
Meanwhile ignoring the lesson from history, the same Nokia that divested its phone division and CEO to the Microsoft crusher chose the next day after the Elop announcement to confirm plans to return to the phone market in 2016.  They will seek to licence their iconic brand name to Android OEMs rather than make phones themselves which will derisk their downside in any failure.  TechCrunch see Foxconn as a potential customer:
Foxconn is presumably a likely candidate, given the pair are already working together on the N1. I for one would wager that a Nokia-branded Android phone — of a similar minimalist, Apple-esque hardware calibre as Foxconn served up for the N1 — would sell like hotcakes in Europe. And  outsell sales of Windows-powered Lumias without breaking a sweat.
One Nokia employee who won't be involved is famed UX designer Peter Skillman who is apparently moving to Microsoft (of all places) to become general Manager of Microsoft's "Smart Internet of Things".
SCENE 1: WHICH PHOTO DO YOU LIKE BETTER?
14.16%
758 votes

(758 votes)

Photo A (iPhone 6)
85.84%
4595 votes

(4595 votes)

Photo B (Galaxy S6)
A teardown of a set of Beats headphones, which sell for hundreds of dollars at retail, revealed that the hardware contains less than $18 in components. … Beats are made to project luxury and premium status, so the manufacturers want to make sure that they feel solid and durable. And that's why almost a third (29.5 percent) of a set of Beats' weight comes from four pieces of zinc with no other purpose but to add that heft.
Fairphone have launched a second iteration of their 'conflict-free' ethical smartphone.  The Fairphone 2 is interesting not just because it shows the Dutch manufacturer is still a contender but also because it has been designed by Fairphone and isn't simply a reference design and because it is majoring on modularity for longevity and repairability:
With the Fairphone 2, the company has essentially built the modular phone Google made us all dream of, but with fairer components and a realistic release date of later this year. … Fairphone says that the modularity "[encourages] users to have a deeper relationship with their phones" by allowing them to "take more responsibility for keeping them in working condition"
The DxO One iPhone camera attachment is "another take on strapping a separate camera sensor and lens system to your iPhone, but it's the best one yet.":
The DxO One attaches via the lightning port, and once it's attached the camera can swivel up to 60 degrees forward and backward. For such a small connection, it holds in place surprisingly well. And because the DxO One attaches this way instead of using Bluetooth or Wi-Fi, the whole experience is blazingly fast. The corresponding app launches within a second of plugging it in, and photos taken with the camera's shutter button appear instantly (the app also has a shutter button).
Apple
The launch of Apple News missed out in last week's WWDC summary highlights which was something of an oversight.  It's essentially a news syndication platform that aggregates RSS feeds and branded content into a common Apple News format with a discovery and recommendation front end curated in large part by human subject matter experts who Apple have already started advertising for.  Publishers will be able to sell their own ads and users will be free to personalise the news to fit their taste.  The overall structure reflects that of Apple Music and it could similarly be a huge game-changer.
This thoughtful VisionMobile piece explains why Apple Music should be seen as a disruptive as opposed to sustaining proposition.  It is not merely about supplanting Spotify with a similar type of product.  For the authors Apple Music is really about breaking the recording industry mould by allowing the long tail of artists to connect directly to Apple users.  Music industry incumbents ignore the lesson that platforms trump products at their peril:
Apple Music aims to create a new market for digital music by connecting artists with Apple users. The platform will empower hundreds of thousands of less-known artists and break the walls inherent to the current industry structure.
Google and Android
The ill-fated and widely panned overhaul of Chrome's bookmark manager is no more after confusing and annoying far too many users.  The latest version of Chrome has reverted to the old approach:
After months of silence, Google has quietly confirmed that it's ripping out the new bookmark manager and rolling back to the old one.
Google's first set of phone-making partners Micromax, Karbonn and Spice have no development roadmap for the platform's next batch of devices. Some are clearing available stock at discounts, executives told ET. Intex, Lava and Xolo, which were to join the above three, no longer seem to be keen, leading some to question whether the search giant is planning to drop the Android One project altogether.
Apps and Services
Good TNW piece on the ubiquity of card-based UIs and their connection to responsive UX design:
Cards are especially powerful in responsive design because they allow information to populate based on device and screen size without disrupting the flow of the overall layout. Because each card easily adapts to horizontal or vertical layouts, a card-based interface may not require drastic restructuring for different orientations since every component is already neatly organized in its individual container.
the likely focus is on highlighting the content that's most relevant to you based on your activity and who you follow, as well as hiding abusive tweets before you have to reach for the "block" option.
"the California Labor Commissioner's Office said that a driver for the ride-hailing service Uber should be classified as an employee, not an independent contractor."
"Ultimately, businesses will consist of owners, talent assemblers, and contract workers for everything else. Platforms will spring up that know what contractors have certain skills, what they've done, and whether they're available. Contractors will get instantly matched with talent assemblers. Entire teams could be hired with the click of a button."
Security and Data Privacy
Users don't need to provide a phone number or any other identifying details to use the app, and encryption keys are stored only on phones — making it impossible for Threema to read the contents of messages.
LastPass strengthens the keys needed to unlock master passwords by forcing them to go through a large number of complicated iterations. The company appends random digits to the key, then encrypts it more than 100,000 times, which makes it difficult to break stolen hashes with password cracking tools.
RedMonk supplied this perspective on the differing approaches to privacy adopted by Google and Apple and how they reflect key strategic concerns.   Apple in particular seems to be "betting that users will value their privacy over new functionality and new capabilities". Whether or not that is true remains open to question.  For now though, the EFF reckon Apple "has your back" over Google at least in terms of government data requests: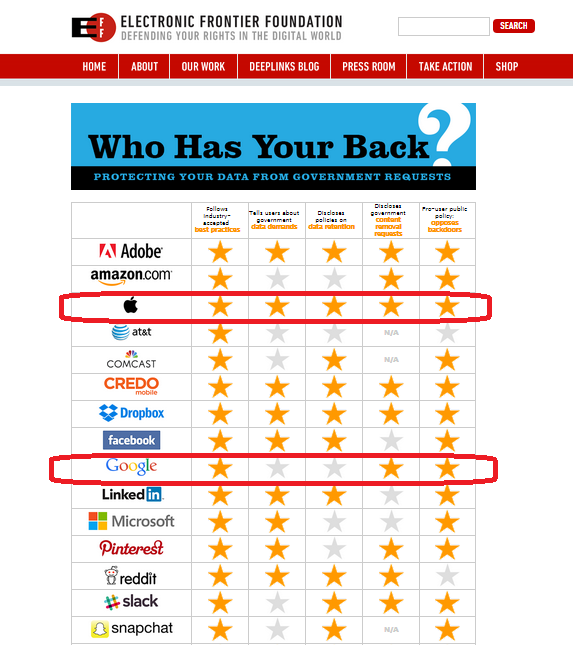 Smart Cases
Yes, there are stupid people out there. There are people who will throw money at anything. There are also people who will Barnum up the place sell snake oil to rubes. The fact that Kickstarter would endorse something without a technical assessment defies belief. The only conceivable reason this could be a Staff Pick on Kickstarter is because Kickstarter believes it will be funded, thus earning them a percentage of gross.
Artificial Intelligence and Robots
NYT's last Robotica episode was devoted to US-based RealDoll's efforts to integrate Artificial Intelligence into their existing "lifelike" sex dolls.  It's definitely not everyone's cup of tea but it is a sobering reminder that the sort of demand RealDoll caters for is one of the strongest proximate drivers for AGI:
the Realbotix head, which can be attached to the existing RealDoll body, will cost around $10,000, and be commercially available in two years. The full body [also] being developed … will most likely range from $30,000 to $60,000.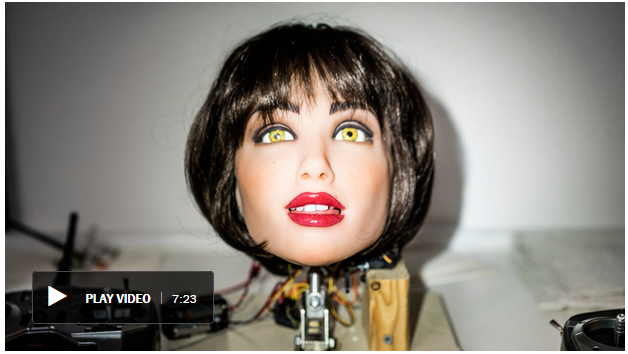 HBR have been generally bullish about the prospects for robots especially in an industrial context.   This recent HBR post outlines where they are already widely used today to aid productivity. The German automotive industry seems to be a particular beneficiary and their use within it doesn't seem to have resulted in corresponding technological employment:
A related HBR post underlines the positivity positing that robots are getting cheaper, smarter and safer all the time and are poised to expand out of their present-day automotive base.
Cloud, DevOps and Agile
We love Go. We've found it really fast to deploy, really easy to instrument, really lightweight and inexpensive in terms of resources. It's taken a while to get here, but the journey was more than worth it.
Architecture design in an agile context is notoriously difficult. This InfoQ presentation offers a few insights into how to make headway.
Adrian Cockcroft InfoQ presentation on the state of the art in microservices covers a huge sweep of new propositions you may not have heard of as well as 'old hat' like Docker.  Perhaps the most important point he makes is that the use of cloud and DevOps is now entirely normalized within many businesses.
Even so, many businesses still struggle in developing a cogent forward-sighted technology strategy for their IT architecture and systems.  HBR just published an important and timely reminder of the critical importance of having a blueprint for enterprise IT that addresses backend agility:
It is imperative for firms to have a blueprint for how information will be used to help the business create and capture value, how different kinds of information will be integrated, and the extent to which organizational processes will be standardized. At a time when the customer end of the business model seems to be getting all the attention, executives must not neglect the equally important operations back end.
Big Data
WSJ cover IBM's desire to push Spark into the spotlight as the de facto big data framework for addressing what it sees as the limitations of the current incumbent Hadoop in dealing with the real time model updates forced on workflows by streaming data:
Spark addresses some of the limitations of Hadoop, an older open-source software framework that employs a distributed architecture to analyze large amounts of data. Hadoop is less suited for analyzing data in real time, and it has a reputation for being tricky for developers to use
Hadoop is already fairly entrenched in many enterprise big data workflows so it is unlikely to go away soon.  Even so, key Hadoop advocates such as Cloudera appear to be warming to Spark.   There are clear business drivers for the interest, most notably the ability to real time adjust a customer profile as new information is ingested about their behaviour.  Within this workflow outline lies the ultimate endpoint for personalised experiences:
Spark shines in applications that involve multiple data environments, such as omni-channel marketing. Spark can use batch machine learning to profile each customer from the historical database, then apply streaming data analysis to update individual profiles in real time as customers browse products. Spark can then use that information to influence the customer's purchase choices.
Wearables and the Internet of Things
Together, Foundry Group and True Ventures owned just over half of Fitbit before this week's IPO, thanks to the money they poured into the company in its early years.
Not everyone is quite so euphoric.  This MarketWatch post suggests that Fitbit's long-term prospects aren't great. Furthermore that the company's core premise of wellness is inversely correlated with the profile of its user base.  In other words, the vast majority of people who have a Fitbit probably don't need one and those that do probably won't use it:
The success of Fitbit and the unrolling impact of Apple Watch makes the story of the cancellation of Microsoft Moonraker watch all the more galling.  Moonraker seems to have been started within Nokia Devices before the acquisition and quietly shelved by Microsoft soon after in favour of Microsoft Band which hasn't really gone anywhere.
Cars
Awesome fun post on the Travelling Salesman Problem (TSP) and its application to the 196 Tesla supercharger stations dotted around the US.  The recipe is orchestrated using Python with BeautifulSoup employed to scrape the coordinates of the stations, geodesic distances between each pair of stations calculated taking into account the curvature of the earth and a TSP solver applied to the resulting data to generate the revealing map shown below:
One interesting thing to note is that, for each supercharger in the US, on average there's another one less than 60 miles away. That's pretty nice. …  the total is almost 16,000 miles, not an easy trip for the salesman!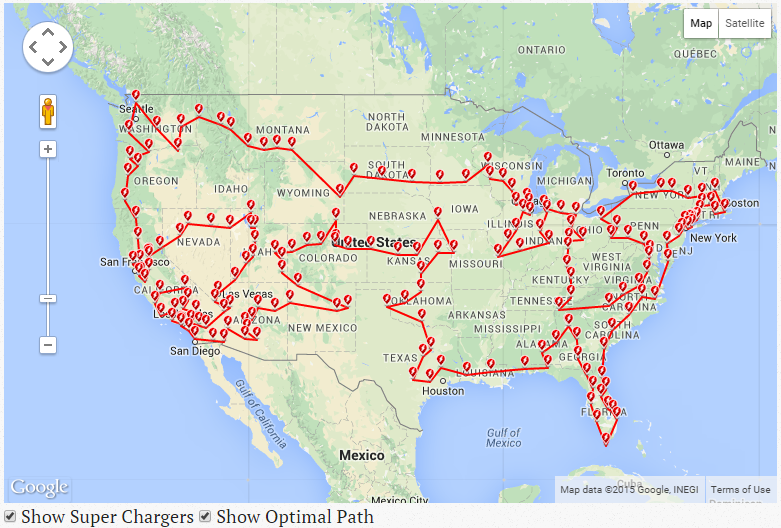 Asia
India could help Foxconn mitigate accelerating wage inflation in China, where it makes the majority of iPhones, and base production sites closer to markets where its key clients want to grow.
These apps are free, which explains some of their success. Their business models are based on advertising: speed boosters and browsers are the sort of apps that users touch on a daily basis, and they also collect data on the apps installed on one's phone, the websites that one visits, and even who users contact. The Chinese utility companies hope this will make their users attractive to advertisers.
Science
Startups and Funding
According to Benedict Evans, mobile and not software is eating the world.  He makes the point that a key driver for this state of affairs is the collapsing cost of building a global scale startup which is increasingly challenging the orthodox VC model: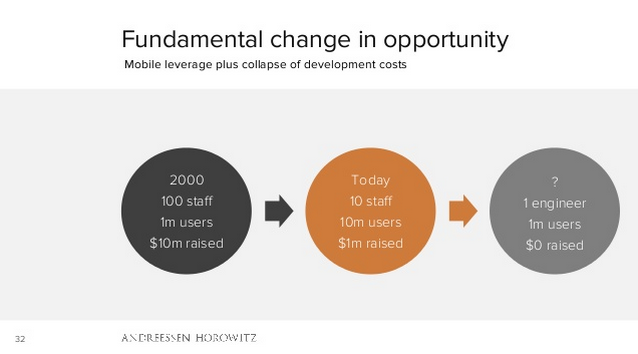 This deck courtesy of Enterprise startup DocSend quantifies the VC funnel for seed capital.   It's a must-read for anyone seeking early-stage VC funding presenting a wealth of insights on the harsh realities of a pretty brutal process where an average of 40 investor meetings are required before success:
Nevertheless, startups remain a calling for many entrepreneurs with this MarketWatch analysis suggesting strong levels of self-belief given the formidable area of reasons for failure:
"82% of startups are self-funded and 24% of entrepreneurs rely on friends and family to keep their business dreams afloat."
Research from HBR outlines how private equity works and where it thinks it adds most value namely in "financial, governance and operational engineering" based on prior experience.  Key corporate concerns like technology strategy and IT/Digital governance tend to be delegated to the management team and board.  One clear takeaway from that state of affairs is that a PE-backed company is very much the sum of its Executive Team (ET) and Board (BoD):
In financial engineering, PE investors provide strong equity incentives to the management teams of their portfolio companies. At the same time, debt puts pressure on managers not to waste money. In governance engineering, PE investors control the boards of their portfolio companies and are more actively involved in governance than public company directors and public shareholders. In operational engineering, PE firms develop industry and operating expertise that they bring to bear to add value to their portfolio companies.
Digital Enterprise
"A recent Adobe survey of marketing professionals found that many companies lack the analytical skills to properly make use of their data. Machines can gather data, but it takes people with analytical and creative minds to turn all those numbers into actionable insights. "The job market has not caught up to the reality of this role, nor has the marketing community in general," explains Jason Rose, SVP Marketing at human data platform, DataSift."
Atos reduced email by 64% by using collaboration software. They could have just used Slack like most everyone else but opted for an acquisition route – old habits die hard:
It acquired social-software maker blueKiwi and combined the acquired company's application with two from Microsoft, creating a platform that allows individuals and teams, including those in partners and clients, to enter virtual "communities" where they can collaborate on complex projects.
As you climb the career ladder, your level of expertise will atrophy relative to those who are hands-on day in day out.  This HBR post explains why it is crucial not to try and out-better your staff on the technical front but rather seek to augment your generalist skills.  Key among these is helping to unblock your team:
Your old style of management, which I call "specialist management", depended on expertise. You need to put that behind you and adopt a new style of management: the generalist style.
Work and Culture