Pick of the Week – Google Moonshots Inc.
A Quartz post this week highlighted how ad search, Google's cash cow, faces major challenges on a range of fronts with a consumer shift to mobile app usage, the growth of non-Google Android, increased usage of ad blockers and growing competition notably in the form of Facebook.  These factors have collectively contributed to a flattening in Google's financial performance over the last few years:
Preoccupation about future direction seem to be at the core of a major reorganisation that has seen Sundar Pichai take over most of Google's product portfolio in theory freeing up Larry Page to focus on what's next since as ReCode suggest "the changes will create less of a bottleneck and also help him focus his attention on existing and new products."   It's unclear whether Andy Rubin's decision to leave Google to focus on "hardware startups" is related to the changes but it will be perceived as a blow.  The FT published an interview with Page in which he once again exhibited his trademark tech optimism as he outlined how Google could help address a variety of global scale challenges humanity faces in the next 100 years.  It is in tackling these "moonshots" that the company will find sources for future growth.
One moonshot possibility is global health.  Google took their first concrete steps in that direction this week with the release of Google Fit for Android.  Their Google X Life Sciences team have ideas far beyond that though with this report of a health diagnostics concept from right out of the future:
"Google X has been working on nanoparticles that, after consumed, stream through the human body and pick up on signs of waning health — cancer cells, for example. The nanoparticles then congregate at a band worn on the wrist to report their findings."
Medium published a fascinating interview with Google's Andrew Conrad who heads up the unit.  In it he indicated that the ultimate goal was to build nothing less than a tricorder.  Progress so far has been quietly impressive:
"At our Google facilities, we've been able to build the nanoparticles, decorate them, prove that they bind to the things that we want them to bind to, in really clever artificial systems. We've made these molded arms where we pump fake blood through them and then try devices to detect the nanoparticles."
Another moonshot possibility would be configurable and updatable smartphones which Google's ATAP (Advanced Technologies and Projects) team have been continuing to work on through 2014 in the form of Project Ara.   A developer conference has been announced for January 2015 and a video of a current prototype booting up has also been released.  The Verge are reporting that Ara devices might be on market as early as "next year":
Enterprise computing is a hard enough nut to crack that it's almost worthy of moonshot status itself.  Google made some significant progress this week here too in the form of a tie-up with leading consultancy firm PwC to help support roll-out of Google Apps across business clients.  PwC coincidentally released a report on 2014 Top Ten Technology Trends for business many of which fall right within Google's orbit in marrying sophisticated analytics with actionable business insight: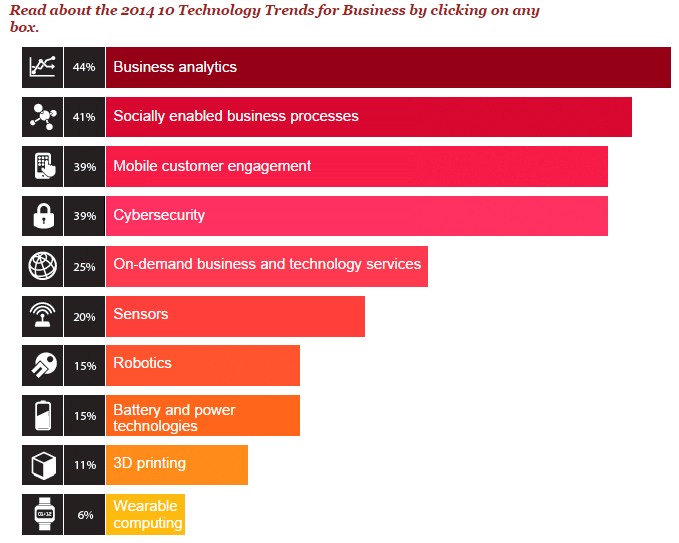 Smartphones
An essential deck from Benedict Evans outlines how mobile rather than software "is eating the world" as technology has outgrown the technology industry and become part of the fabric of business life.  Among many thought-provoking observations, the collapsing cost of business start up stands out.  Evans raises the prospect of one-person startups with a million users requiring no VC or Angel involvement:
Samsung Q3 operating profits at $3.9 billion are down by over half over the same period a year ago with lacklustre Galaxy sales the chief culprit.   Samsung have tried bigger and better phones already and although there are signs they may look to reduce prices further, it's not clear what they can do to reverse this decline:
https://twitter.com/BenedictEvans/status/527847891969114112/
Asymco also highlights Samsung's sliding smartphone profits and how they have been assaulted by a four-way combination of Apple, Xiaomi, Huawei and Lenovo.  The story here is eerily reminiscent of Nokia with a similar urgent advice on the necessity of innovating their way out of disruption being dispensed:
"At some point the fast follower exposes themselves to being faster followed. Better to find new lands to conquer."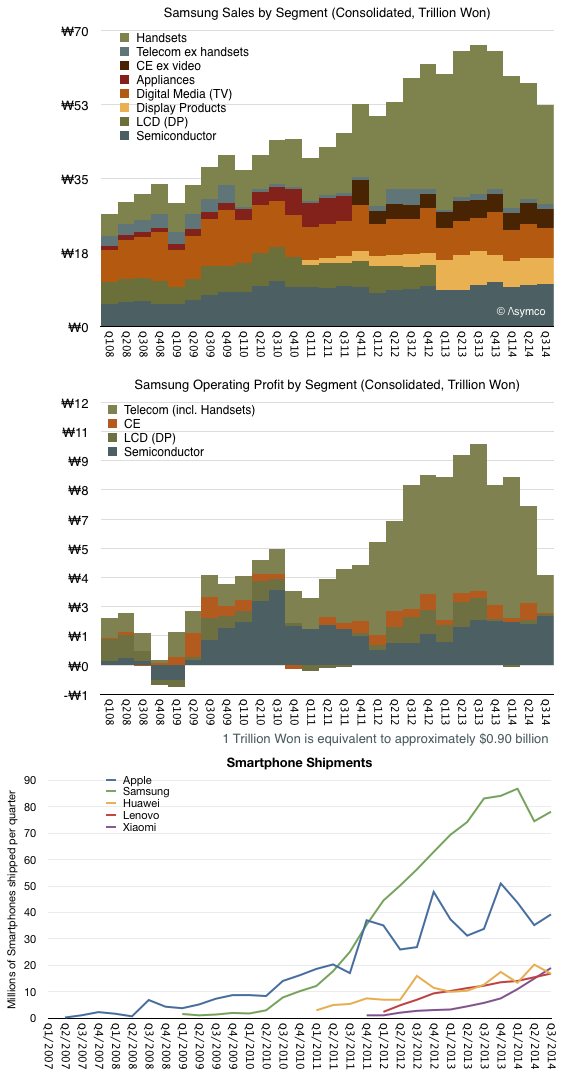 Microsoft aren't shown in Asymco's data but their acquisition of Nokia's phones business has had no impact on a long term Elopcalyptic decline:
Mobile phone sales trends: Samsung, Nokia/MSoft Mobile, Apple pic.twitter.com/IhYERopJJe

— Charles Arthur (@charlesarthur) October 30, 2014
"Amazon noted that the company was taking a $170 million writedown "primarily related" to overcommitting to the Fire Phone. They ordered too much inventory, and made promises to their suppliers that they couldn't keep."
Asymo offered this irreverent advice to Amazon on pricing:
Amazon claims pricing error in Fire failure. Even after price reset to $0.99? Perhaps a negative price would help.

— Horace Dediu (@asymco) October 31, 2014
Honor are a new brand entrant in the super-competitive European smartphone market.   What marks them out is their parentage – they are a Huawei operation albeit without any significant Huawei brand association.  They've just launched a high end spec Android phone, the Honor 6 "and it has a full HD 5-inch display, an octa-core processor, Cat 6 4G LTE and a 13-megapixel camera."   They're going to need luck to make it a success given the smartphone OEM inequality landscape.
John Colucci at Engadget had an "epiphany" when he had to switch to using a OnePlus One as a replacement for his water-damaged iPhone 6.  He was so impressed with the Cyanogen Mod powered device he decided to switch in a bamboo backing that made it feel "special" enough for him to ditch his iPhone:
"For me, it was the right decision to part ways with my past iPhone life. The One's built-in CyanogenMod, coupled with a great-looking piece of hardware and my newfound understanding of Android, just fits like a glove now."
Tesco may be mired in an accounting scandal right now but their recently released Hudl2 according to Engadget is "the UK's best value tablet".   Interestingly Tesco shifted from the quad-core Rockchip processor on the original Hudl to an Intel Atom quad core for Hudl2.  They may find themselves shifting platform again on Hudl3 to a Qualcomm or NVidia SoC creating a growing maintenance burden for themselves.
Smart Cases
"It doesn't matter what your phone looks like. You'll never notice anyway.  Because you, like the overwhelming majority of smartphone buyers in 2014, are going to take your phone out of its box and put it directly into a case, where it will remain for the duration of your two-year contract … If you buy a smartphone, there's an overwhelmingly large chance that you'll buy at least one case to go along with it. The NPD Group found in December of 2013 that 75 percent of smartphone owners use a case on the device."
Google and Android
Google have published some very helpful developer guidelines with integrated code samples to assist the porting of existing Android apps to Material Design.  Among the key UI features covered are navigation drawer behaviour and authentic "hero transitions" both highlighted below:
Several of the market-leading Android launchers including Nova Launcher and Apex Launcher have now issued updates that align look and feel with Lollipop and introduce L features like the app drawer.
"The move signifies a change among top smartphone makers from merely offering security features to mandating their use, and at the same time, making them easier to use."
"Nextbit's offering is dubbed Baton, and as the name suggests, it lets you quickly pass an app's state from one Android device to another, meaning you can continue playing on the same level in a game, editing the same document in an app or browsing the same web page right away; with the precondition being the second device must also have Baton and the same app installed."
Judging by this TNW article, much of the smarts behind Baton reside in its cloud-based backend:
"Nextbit's Baton syncs your Android devices with the cloud at the OS level. You can sync apps from phone to tablet and back without the developer doing anything. Everything is handled by the operating system, no APIs required."
Apps and Services
Apple Pay finds itself facing a formidable opponent in the US in the form of the MCX or Merchant Customer Exchange.  In what appears to be coordinated action, a number of MCX members withdrew NFC payment terminals highlighting security concerns. It follows recent announcements by Walmart among others that they wouldn't accept Apple Pay as a valid payment method in store.  The end result is that "s

uddenly, after the mostly

positive

 

reports

 of using Apple Pay, it was impossible for shoppers to pay with it at these common stores.

"  MCX is promoting its own mobile payment system called CurrentC which is linked to bank rather than credit card accounts.  Several commentators think Apple Pay will win out in the end with Benedict Evans writing a good piece on how Apple disruption is built upon the way it partners as much as the software it develops.   Under Tim Cook Apple have excelled at partnership in a way they never did under the more binary Steve Jobs.
Italy is proposing to provide free public wifi across the country. To anyone that has experienced the frustration of trying to locate any form of connectivity there, this can't come soon enough.
Social fitness platform Strava have secured an $18.5billion Series D round, an indication they are looking to achieve mainstream maturity by "building tomorrow's sporting network in the manner that Facebook and LinkedIn have developed today's social and professional networks."
Truecaller were name-checked in this blog a couple of weeks ago. They've now released their Android TrueDialler Android app and echoing its name, it's a truly impressive proposition that has to be experienced to grasp just how innovative it is.  A word of warning though.  It seems that they may try calling you on the number you registered with based on the experience of 50% of a sample of two…:
Asia
Xiaomi's incredible rise continues unabated with news from IDC that they moved up to become the world's third biggest smartphone vendor.  It's all the more remarkable considering they still operate largely across China.  Mind you, they only enjoyed their lofty position for a day until Lenovo formally acquired Motorola:
Congrats to @Xiaomi for getting to #3 in mkt share. sorry it only lasted for 24 hours until the @Motorola @lenovo deal closed – we're 3 now!

— Rick Osterloh (@rosterloh) October 30, 2014
"If we must pick a fault at this stage, it'd be the main camera module that sticks out a little on the back, which can be forgiven for the sake of maintaining image quality."
Sticking with China, Mark Zuckerburg's Q&A at Tsinghua University conducted largely in Mandarin is hugely admirable and will likely generate considerable respect in region for humility and cultural sensitivity regardless of how fluent or not he was.
Connected Cars
RedBend are an established player in smartphone FOTA (firmware over the air) and DM (device management) solutions. They're increasingly talking up the prospects for FOTA in cars which is a whole unexplored lucrative aspect of the connected car space and one that makes a lot of sense.
Machine Learning and Big Data
"simplified analysis and powerful pattern detection that enables more users across IT and the business to discover relationships in their data and build advanced analytics."
Accessible data analysis and visualisation tools like Splunk are vitally important for empowering a workforce increasingly required to generate actionable insight from big data though often lacking a real background in statistics or data processing. Without the democratizing power these tools are able to bring the big data  revolution "may never happen":
"with the exception of data scientists, most of us today are woefully data illiterate… data literacy is built upon data democratization and the user experience. If a platform is difficult, it won't be used. "
HBR are increasingly cautious about overblown claims for big data applicability.  This week they covered the use of "quantified HR" for people management.  Claims that more data will lead to improved productivity are an uncomfortable throwback to the era of scientific management and "time and motion" studies:
"employers still dream of turning employees into high-performing machines. A new era of Taylorization has begun, thanks to the widespread penetration of technology at work. HR has evolved into people analytics, and talent management has become the organizational guinea pig for big data."
Michael Schrage also writing in HBR cast a data skeptic eye over Tesco, the undisputed champion of "quantified retail".   In a curious parallel with Samsung, their recent struggles are in large part due to a cheaper no-frills retailers disrupting a dominant incumbent. Tesco's aggressively data-led approach may have worked in the past but many consumers now seem to be openly questioning who's really benefits from the analytics:
"Tesco's decline present a clear and unambiguous warning that even rich and data-rich loyalty programs and analytics capabilities can't stave off the competitive advantage of slightly lower prices and a simpler shopping experience. Better insights, loyalty and promotion may not be worthless, but they are demonstrably worth less in this retail environment."
Two other important notes of big data skepticism came this week from Michael Jordan and Elon Musk.  Jordan is a Distinguished Professor at UCB and one of the world's leading authorities on Machine Learning.   In a fascinating wide-ranging interview with IEEE spectrum he suggested that we are still in the early days of data engineering and that errors in particular are insufficiently considered in many current analyses:
"with big data, it will take decades, I suspect, to get a real engineering approach, so that you can say with some assurance that you are giving out reasonable answers and are quantifying the likelihood of errors."
"I think we should be very careful about artificial intelligence. If I had to guess at what our biggest existential threat is, it's probably that. So we need to be very careful with artificial intelligence."
Kevin Kelly of Wired is more upbeat in his assessment of the current state of AI citing three factors that will usher in the age of AI, namely: i) cheap parallel computation, ii) access to big data collections, iii) better algorithms.  In his view the primary purpose of an AI is to "help define humanity. We need AIs to tell us who we are".  The idea here being that anything an AI can do, like beat a human at chess, is by definition not quintessentially what makes us human.
Wearables and The Internet of Things
Microsoft entered the wearable race with Microsoft Band, a wrist wearable which keeps the emphasis firmly on health and fitness. This inside article profiles the engineering team involved and how they managed to improve their own fitness as part of "years of research, testing, iterating and inventing a whole new product category".  The device is a combination of wearable sensor technology and Microsoft Health, a "new security-enhanced cloud platform that stores and analyzes all of this data".  Interestingly, Microsoft Band will be available from the outset cross-platform for Windows Phone, iOS and Android.  Another interesting data point is that no resources or technology from Microsoft's Nokia acquisition seems to have been involved.  The product will face serious competition.  The wrist is increasingly contested space prized by every wearable entrant including Apple for whom success will be measured in old-school Microsoft terms:
"The market for Apple Watch is the number of wrists in the world. To the extent that those wrists will be covered with Apple hardware will determine whether it is successful or not."
http://youtu.be/CEvjulEJH9w
Fitbit's latest trackers were also announced this week.  The Charge, Charge HR and Surge will be the flagship Fitbit models for 2015.   The Charge products are essentially upgrades to  the popular Fitbit Force with the HR adding heart-rate monitoring.  The Surge is a different proposition which will find itself competing with Garmin and TomTom products in the fiercely competitive fitness watch space:
"It's more smartwatch than activity tracker and is clearly designed to appeal to fitness fanatics. The Surge also has a heart-rate monitor and built-in GPS capabilities that can track pace, distance, and elevation."
Geak are a company worth watching.  Their Geak II Android 4-based based smartwatches are not only stylish, they also "last a week" on a single charge according to the BBC.  There's a good write up of the background to the watch and its features here:
"the company behind the original Geak watch was voted in the 2013 top 10 most innovative Chinese companies by Fast Company.  The Geak II is the next evolution of the original Geak and as the developers note the Geak II is their attempt at breaking into the International market."
As a steampunk "wearable" watch with roll cage enclosure and mounts for the leather strap, "the ChronodeVFD is a costume piece not meant for daily wear":
Sticking with the retro-technology theme the hemingwrite is "over-engineered typewriter for the 21st century" with cloud-based connectivity mixing with traditional controls.  It earns a good write-up in The Verge. 
Programming
Congratulations to @lordmauve for (yet again!) winning PyWeek this time with The Legend of Goblit, an adventure game built using PyGame and Python 3:
I won Pyweek! https://t.co/M0aDhVVWdR

— Daniel Pope (@lordmauve) October 26, 2014
PyCharm have released a free entry level version of their excellent IDE aimed at the educational coding space.  This could be a game changer for Code Clubs which typically have to struggle by with IDLE which painful experience suggests is simply not usable enough for young newbies.  They've clearly thought through the features required:
"We analyzed educational trends and tools on the market carefully. To understand what should be improved in PyCharm and how to make it the best educational IDE possible, we polled hundreds of instructors from different universities all around the world."
More checkio fun and solutions this week involving one involving prime palindrome code golf.  The answer below secured a top 300 place but is clearly not the shortest one possible by some margin. As with actual golf there really ought to be a handicap for managers 😉
def golf(n):
   while 1:
       n+=1;p=str(n)
       for i in range(2,n):
           if n%i==0:p='xy'
       if p==p[::-1]:return n
Work and Culture
"Well, I think women are worried about how other people think of them, and even though I try not to think that way, it is sometimes unavoidable. There is also the opinion that you don't want to be called "a woman in tech" and singled out because you are a woman. "
This LinkedIn post outlined how big bang (ie. annual) performance reviews can have hugely negative productivity impacts particularly if insensitively handled.  The suggestion offered is that they are replaced with regular 1-1 feedback.   Interestingly:
"Adobe ended performance reviews in 2012, after the employer noticed greater employee turnover after the annual reviews. In an interview with Human Resource Executive, Donna Morris, Senior Vice president of People Resources at Adobe, says that the reviews were an outdated process and made people feel like they were labeled."
Do:

Ask questions and get clarifications — it's critical to understand the specific ways you can improve
Take the initiative to make a detailed plan of action
Remember to see the value in feedback — it can be a springboard for positive change

Don't:

Get angry or argue with the feedback — you'll only make things worse
Turn only to sympathetic friends to vent — you also need honest mirrors to make sense of the review
Consider the review the final word — how you react to the feedback is far more important
Any excuse to wheel out a classic:
Talking of cringeworthy television, The Apprentice episode this week made for dreadful but grimly compelling viewing showing how not to do digital marketing.  The two teams were tasked with making a YouTube channel and trying to make it go viral.  They chose the lowest of lowest common denominators by opting for slapstick cooking and fat shaming as their subjects.  BuzzFeed rightly wanted nothing to do with either video.  The show ended in a new low with all three of the candidates for removal being fired for being "deadwood".  On that count it could have been everyone involved in the show including Sugar for referring to the technology entrepreneur project manager as "the internet man".