Pick of the week
An NYT interview with Laszlo Bock, Google's SVP of People Operations, suggests Google have rowed back on their notoriously hard-edged approach to interviewing after finding no real correlation with future success: "On the hiring side, we found that brainteasers are a complete waste of time. How many golf balls can you fit into an airplane? How many gas stations in Manhattan? A complete waste of time. They don't predict anything. They serve primarily to make the interviewer feel smart."   They've focussed instead, at least for key leadership roles, on structured behavioural interviews based around a standard checklist designed to pick out particular traits: "We found that, for leaders, it's important that people know you are consistent and fair in how you think about making decisions and that there's an element of predictability."  It's worth reflecting on that adjustment in the light of Carlos Bueno's important post on how much of Silicon Valley has become a "mirrortocracy" where a dominant clique is reinforced through a self-similar hiring bias exercised by "a bunch of logically-oriented young males" who often have little real world experience of hiring:  "It's astonishing how many of the people conducting interviews and passing judgement on the careers of candidates have had no training at all on how to do it well. Aside from their own interviews, they may not have ever seen one. I'm all for learning on your own but at least when you write a program wrong it breaks. Without a natural feedback loop, interviewing mostly runs on myth and survivor bias."
The way a company approaches the hiring process provides a lot of indications about what it's going to be like to work there.
Google and Android
BusinessWeek published an extended profile of Sundar Pichai which provided the first hint that Google were going to change tack with Google IO and use it to provide Android OEMs with greater transparency of forthcoming major releases: "This year, Pichai will preview the next release (Lollipop? Lemonhead?) for the first time at I/O, rather than waiting until the fall. It's a significant shift toward greater transparency. 'I want the world to understand what we are doing sooner,' he says."   The article also provides this stark comparison between iOS and Android platform adoption velocity, clearly conveying a key strategic challenge for Android:
The Verge expanded on the iOS-Android rivalry in an article suggesting that choosing between iOS and Android ecosystems is now akin to choosing a religion because "though both companies have embraced their adversarial relationship, their mobile platforms are actually growing more similar than different in their function and purpose" with their ultimate goal being to "create an ecosystem that no-one would ever want to leave".
In the week when Microsoft launched the X2, Nokia have launched an Android launcher called Z.   It's currently in alpha and closed to new subscriptions.  Provided you can download it, Z-launcher sounds like interesting opportunity to "

at seeing how Nokia designs an interface for other companies' handsets.

"   TechCrunch suggests Nokia may have succeeded in pulling an epic troll of Microsoft.   The dedicated Nokia website for Z-launcher has a video introducing it:
Smartphones/OEMs
In the aftermath of the Amazon Fire Phone announcement, several commentators have asked, why did they bother to enter such a crowded market?   This New York Times interview with Jeff Bezos provides some clues and also a glimpse into the  massive engineering effort that went into making it: "If you just looked at the number of machine vision and computer scientists, hardware engineers, you're talking about thousands of people building this phone."   The phone doesn't have to sell vast numbers – it's positioned at the 25 million or so Amazon Prime subscribers to make it even easier for them to buy more stuff from Amazon: "Success for Amazon will not necessarily be overtaking iPhones or Samsung phones, but wringing more money from its most loyal shoppers, on whatever device they want to shop."  Or put more bluntly "it seems like Amazon is trying to lay the groundwork for a world where we can bypass all forms of non-Amazon shopping." It's going to be difficult for Amazon as signs of a backlash emerge to a business model that seems to encourage impulse buying:
Evidence emerges that the inclusion of a kill switch on smartphones does deter their theft based on the experience of the iOS Activation Lock feature:  "

Comparing data in the six months before and after Apple released its anti-theft feature, police said iPhone robberies in San Francisco dropped 38 percent. In London, they fell 24 percent"

.  According to a company spokesman, "Google will also be introducing one in the next version of Android".
Apple contract manufacturers Foxconn and Pegatron are also going on a hiring spree in advance of iPhone6 launch.   Meanwhile an interesting Apple patent emerges describing an

 autofocus actuator for an iPhone camera lens that uses artificial muscle material instead of traditional motors to control focus and aperture.
Sharp introduce Free-Form Display  "

a revolutionary advance over the conventional display shape concept that enables the creation of new display designs to match a variety of applications".  Basically means

 can be made in any shape.
Researchers in Montreal have "

developed sensors that can sit under the surface of the scratch-resistant Gorilla Glass used in many mobile devices" potentially ushering in transparent electronics. 
VisionMobile's Mobile Megatrends 2014 is now available for free download covering mobile ecosystem evolution, the economics of the handset business, messaging apps as the new platforms and the future of HTML5.  The Android material follows familiar lines – it is the "most closed open source project" with 4 major control points: app store billing, branding, killer services and Google APIs. The last control point is being progressively exercised with each major Android release moving the most valuable developer functionality up into the proprietary Google Services layer: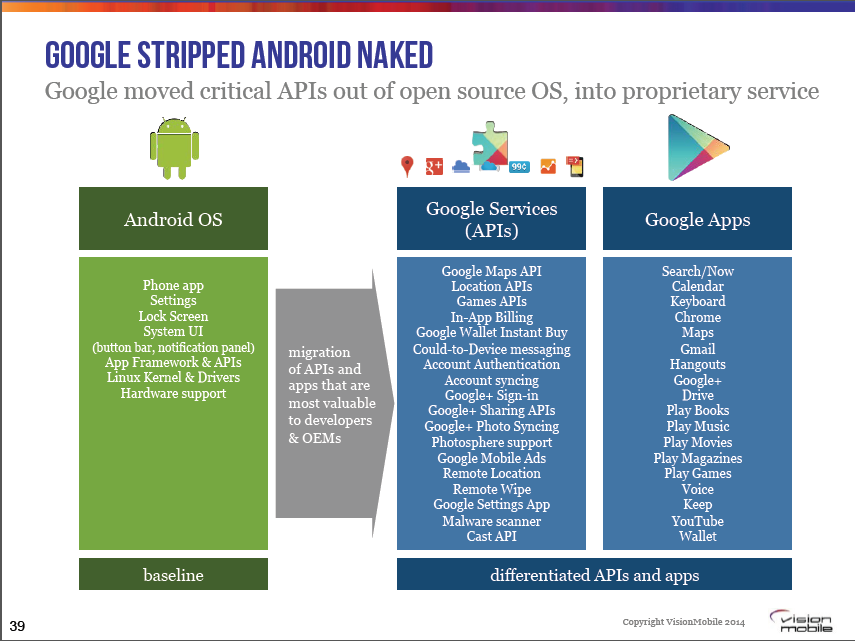 Asia
For now the focus is on copying successful Western models and translating them to a Chinese context.  A good example is Tujia, the Chinese Airbnb which just raised $100m Series C VC funding.   According to WSJ, Tujia co-founder Michelle Yang "

was the principal group program manager at Microsoft Corp.

 and was responsible for overseeing the search engine Bing".   Meanwhile Chinese WhatsApp competitor WeChat has rapidly eclipsed SMS as a primary communication channel to the extent that on average, Chinese mobile users are sending less than 1 SMS a day.
China remains a hostile environment for Western software and services propositions though.   Following on from the blanket closure of Google app access in China last week, evidence suggests Dropbox is next: "

The GreatFire database, which continually tests the accessibility of internet links from inside China to identify new blockages, shows that dl.dropbox.com

 

is no longer accessible

 from inside China".

 
WSJ profile of Indian OEM Karbonn Mobiles who are "now ranked fourth in India in terms of overall cellphone shipments with about 10% market share in 2013 when 257 million phones were sold, according to data from IDC".
Cloud/Infrastructure
Bill Fathers, VMWare SVP for hybrid cloud reckons the NSA Snowden revelations will actually accelerate a move to public cloud: "

Currently just two or three percent of work loads are in the public cloud, but Fathers expects that to move to 20 percent over the years"
Vinod Khosla reckons the big opportunity in Enterprise IT is in removing humans from the loop.  It's another reminder of a distasteful but strengthening Silicon Valley trend to devalue and even to an extent belittle human involvement within the future technology landscape, a trend picked up and highlighted last week.
Security
Services
A really great fun post outlining all the horrible complexity involved in delivering even a relatively simple Service proposition. The spoof service in question is called Blue Packet but is actually remarkably similar in many ways to Yo.
Voice over LTE (VoLTE) has not yet taken off in a meaningful way but according to this article that could change with many operators like AT&T and DoCoMo declaring support, the prospect of more efficient spectrum usage and even an opportunity to improve indoor coverage which remains surprisingly poor: "16 per cent of mobile users in "key markets" said they had poor or no mobile voice coverage within their home."
How people pay for online transactions varies depending on their location:
How people pay online. pic.twitter.com/GFLGuilhzS

— Benedict Evans (@BenedictEvans) June 26, 2014
Big Data/Machine Learning
John Lewis use Enterprise Splunk quite heavily and it seems to have transformed their operational intelligence landscape leading to a perhaps overoptimistic assessment that operational intelligence "should be its own team and platform that sits in-between all functions".   That doesn't detract from Splunk however which is great technology of course.
iWatch watch
Wearables/InternetOfThings
Android Wear looks like becoming a 'de facto standard' for wearables built around card-based notifications:
Android Wear analysis by @BBCTechUK plus my views on it becoming defacto s/w for wearables http://t.co/ZIBqEZjfZh pic.twitter.com/OXlvguCSnZ

— Ben Wood (@benwood) June 25, 2014
Engadget review of the Sony Smartband is rather positive suggesting that it is "

a wearable that will, for once, appeal to people other than the fitness crowd" which is important because "if you're not into activity tracking, there aren't many wristbands aimed at you."  According to Engadget, the only thing missing from the proposition is a social element:
Meanwhile the NYT review a couple of competitor products, the LG Lifeband Touch and Samsung Gear Fit which are ostensibly more oriented at health/fitness use cases.  Maybe.  According to the article, "they are gadgets that do a bit of everything but excel at nothing. And they face exceptional consumer skepticism" and in case you missed the message the reviewer "can't recommend you spend the money on either the Gear Fit or the Lifeband Touch."  It seems the whole tracker industry is simply waiting to see what Apple delivers.  The opportunity is to make a breakthrough impact is there though.  Fitness app usage is growing 87% faster than overall app market with a recent mainstream TV advert from Apple heavily pushing the capabilities of iPhone 5s in this respect:
http://youtu.be/xTjejvnBJfU
Soundhawk have created a smart hearing aid that they'd rather you refer to as "

a wearable device for those of us who've enjoyed our lives with the volume at full blast and can't hear quite like we used to".    It seems to be able to switch in some level of noise cancellation depending on environmental context:
Miscellaneous
Star Trek sliding doors just inched closer to reality: