Pick of the Week – Automation Dystopia
In this recently published WSJ article, Nicholas Carr makes a case for over-enthusiastic application of automation serving as an agent of deskilling across a range of disciplines from factory work to aviation to health care:
"As software has become capable of analysis and decision-making, automation has leapt out of the factory and into the white-collar world. Computers are taking over the kinds of knowledge work long considered the preserve of well-educated, well-trained professionals: Pilots rely on computers to fly planes; doctors consult them in diagnosing ailments; architects use them to design buildings. Automation's new wave is hitting just about everyone."
The diminution of the human in system design is a theme he explores at length in his recent book, The Glass Cage. His solution is a greater provision for the place of human beings in what he terms "human centred automation":
"In "human-centered automation," the talents of people take precedence. Systems are designed to keep the human operator in what engineers call "the decision loop"—the continuing process of action, feedback and judgment-making. That keeps workers attentive and engaged and promotes the kind of challenging practice that strengthens skills."
The subject is becoming a topic of exploration for popular culture. Paolo Nutini's single Iron Sky is a case in point with the corresponding Plan B video outlining a disturbing vision with roots going back to an 80's childhood:
"I was sent the track with no explanation from Paolo. As a child I stared at the planet Jupiter and had a vivid hallucinatory experience. A feeling of abject terror. In bondage to an omnipotent machine. When I heard the Chaplin quote I remembered this clearly. So the video became a dystopian vision of the future as imagined by a child in the 80s."
The Chaplin reference is to his final majestic speech from the Great Dictator, an electrifying call to arms to fight against a system run by "machine men with machine hearts":
Smartphones and Manufacturers
Faltering sales frequently foreshadow reshuffles and it seems Samsung are no exception with reports of an imminent reorganisation in their mobile division.  The proximate cause is overestimation of demand for the Galaxy S5.  Reading between the lines Samsung are sitting on an awful lot of unsold phones:
"Considering that Samsung was so confident that the device would be a blockbuster that it increased production by 20 percent, it could now have as many a 4 million unsold devices sitting in warehouses."
Staying with the theme of overestimated demand, Sony are expected to lose $2bn in 2014 due mainly to their underperforming smartphone unit.   Their proposed remedy is a well-worn route likely familiar to anyone who has worked at any OEM other than Apple in the last few years.  The company will:
"slash its mobile phone line-up and reduce the number of regions where Sony sells phones. That will likely result in job cuts. Samsung announced a similar plan earlier this month."
Wave Associates is a collective of senior ex-Nokia Sourcing staff.   They put together a paper called Death of a Ringtone analysing the source of Nokia's failure to develop an ecosystem of software and services to rival that of Apple and Google's.  Their charge sheet is long and all points to one root cause – software competency:
Appreciate the importance of software to the smartphone business
Understand the key technology changes and consumer trends
Select a software platform that would support services and applications reliably and attract other smartphone licensees
Develop viable business models that included online services and mobile applications
Build a software development process that was integrated with holistic product management
Foster a developer community and apps ecosystem
Seek out the best expertise or partners to help expand into the software business

Their conclusion is simple and stark:
"All of the issues listed above relate to software in one way or the other, and it is for this reason that the software cut was the deepest. Nokia failed to properly understand, manage and develop their software business. Software killed Nokia"
Jonobean has a slightly different focus on the same story in this article.  In it he explores how Nokia comprehensively failed to harness abundant sources of innovation within the business due to a culture fixated on transactional as opposed to transformational leadership.  He includes this graphic dramatically charting Nokia's market share crash from dominance in 2009 to obliteration just 12 quarters later.
It's perhaps appropriate that the shuttering of Nokia Sync was announced this week with a fairly bleak notice of termination:
One more to the graveyard : "Final Notice: Termination of Nokia Sync and Impact to You" : http://t.co/HB0KgYALKW

— David Caabeiro (@DavidCaabeiro) November 28, 2014
Nokia Sync offered extensive support for local sync via Sync ML. With it's departure, cloud-mediated sync is effectively the only game in town for smartphone owners.  And for owners of multiple iOS devices, that seems to introduce additional complexities:
Genuinely confused by iCloud+iTunes. The apparent simplicity of iOS (combined apps+data) is muddied by obscure rules pic.twitter.com/HUxWNVTniW

— Scott Jenson (@scottjenson) November 30, 2014
Google and Android
"What separates the expert Android developer from the neophyte goes beyond knowledge of how to code an app. When faced with a complex task, true Android experts will have a thorough and principled appreciation of the different implementation options available as well as their implications and ramifications."
The inherent uncertainty of Android as a long-term proposition for OEMs is something that ought to be a key strategic consideration but often doesn't seem to be.  Benedict Evans certainly sees it as a key concern:
For example, we have no idea who'll be the main Android OEMs in 5 years, or indeed what Android will be, or if it'll still exist

— Benedict Evans (@BenedictEvans) November 28, 2014
Apps and Services
Hyperlocal OTT Messaging service Yik Yak has been valued at between $300m and $400m.  Not bad for a non-Silicon Valley software company founded a year ago and run by 23-year olds with a 200 character limit on messages.   Yik Yak has taken off on US college campuses with many being drawn by its anonymity and the way it levels the playing field in a way Twitter increasingly does not.  On the downside, there are signs that Yik Yak has helped facilitate cyber-bullying.  WSJ provide a disturbing picture of a world with plenty of "threats, trash talk and suggestive posts":
"For the uninitiated, Yik Yak is an app that allows users to anonymously post comments that can be read by others within a 1.5-mile radius. They can "upvote" comments they empathize with, or that they think are clever (the equivalent of liking on Facebook), and can "downvote" comments that they think are idiotic or obscene."
The recent success of Yik Yak underscores the huge ongoing opportunity for OTT messaging propositions.   A Medium post written by Kik founder Ted Livingston provides a lot of insight into a very fluid scene.  It highlights how chat is at the confluence of social, mobile and web in Asia and just how effectively WeChat have leveraged that new reality:
"For the last four years, all chat networks have been struggling to figure out the most native, viral, compelling way to integrate content into chat.  At Kik, we decided to move from native apps outside chat to web apps inside chat.  … To be the WeChat of the West, you have to have a mobile-first chat and a chat-first platform, and you have to get the youth on your side, in a safe and authentic way."
Livingston suggests that in spite of the acquisition frenzy from the likes of Facebook, the "WeChat of the West" will likely come from the same unpredictable space Yik Yak emerged from:
"The WeChat of the West will have to come from somewhere other than 1 Hacker Way. And as WeChat, Snapchat and Kik are already showing, maybe it won't come from Silicon Valley at all."
The potential for messaging apps to serve as a gateway into other service experiences is a key element of the WeChat phenomenon.  @mtrends highlights Snapchat's move into money sharing as a similar strategic play with huge potential.
The monetisation of messaging activity is likely to be explored a lot more by social network sites in the coming years.  Stuart Dredge in the Guardian suggests there are four broad categories of options available to messaging app providers:

Privacy and encryption
Payments and shopping
Media partnerships
Advertising
Of these four routes, advertising is becoming increasingly problematic as evidence mounts that users are becoming increasingly inured to adverts with CTR rates remaining stubbornly low in spite of increasingly sophisticated personalisation.  In an interesting post in The Conversation, a US academic explores what options are left to social network sites and the profound ramifications they entail:
"Upcoming changes to the business models of some of the world's most powerful companies are set to have huge political and social ramifications. It's going to become easier and easier to ignore the ads we're exposed to online, but harder and harder to ignore how the prevailing internet business model, one where users don't pay, has turned our personal information into commodity that's bought and sold beyond our control."
Quikkly is a UK startup founded by Ken Johnstone, ex-CEO of INQ Mobile, and Fergal Walker, ex-Head of Business Development for Facebook EMEA.   Their proposition is essentially "QR codes done right" with the call to action embedded in a more human readable tag:
Judging by the the skills they're looking for, it seems at least some of the smarts are handled through image recognition: "Image processing experience a bonus, preferably OpenCV integration on Android, JNI and NDK experience is a massive plus".  The mobile app and ability to create tags is free:
Asia
Phone Arena outline their top rated 20 Chinese Android smartphones.  It's an important list with some unfamiliar names from a Western perspective and it helps to underline a dramatic new reality particularly in terms of technology proposition at around a $300 price point in what is increasingly become the centre of the Android phone world:
"China is now the world's largest phone market, having surpassed the United States last year, and only furthering its growth. As we get adjusted to those new realities, we get treated to quite a few surprises in tech: brands like IUNI that most of you probably haven't heard much about, are currently offering top-notch smartphones for surprisingly low prices, even for a Chinese company."
The top five smartphones along with their approximate equivalent off-contract dollar price are, in this order:
Xiaomi – $380
Meizu MX4 Pro – $500
Oppo N3 – $650
IUNI U2 – $160
Meizu MX4 – $390
The Meizu MX4 Pro at number two in this list was launched this month.  It's reviewed by Richard Lai of Engadget here.   The MX4 Pro comes with a raft of impressive features several of which stretch an apparent admiration for Apple to the limit including a fingerprint sensor and a "one more thing" involving HiFi quality audio introduced as "Retina sound".  Maybe it also has a built-in synesthesia app?:
Baidu's Dubike smart bicycle seems to be aimed initially at the domestic market and is an interesting and very practical smart technology development.  It's:
"a non-motorized bicycle equipped with regenerative electric tech and laden with smart fitness technology. It sports heart rate, pedal rate, peddle pressure and other sensors which which connect via Bluetooth to a smartphone app. With that info, it'll monitor your health stats, provide mapping directions, track your bike's position and recommend cycling routes or fitness programs via social networks — to name just a few possible functions."
Security
This post outlines why the Linux "less" command may get you owned through a buffer overrun exploit that can be exercised via a number of legacy 'lesspipe' scripts.
The Register post on Regin "one of the most advanced pieces of spyware code yet found" points the finger of suspicion to Western security agencies.  Kaspersky's distribution map serves to underline that finding:
A fascinating and poignant insight from NYT into the often intimate human stories that lie behind the passwords we choose and how they often serve as keepsakes of our inner lives, private tattoos.  The article contains this revelation:
"Five years ago, people averaged about 21 passwords. Now that number is 81, according to LastPass, a company that makes password-storage software."
Data Science
"The company says that Charted was built as an internal tool by the Product Science team at Medium to help "analyze data and communicate our findings with the team.""

 
Smart Retail
"The use of the app can be extended to the introduction of beacon technology to push promotions to consumers through their app. Webtrends recently undertook some research that looked at the consumer appetite for beacon technology and found that 42% of Brits said they would like to receive real-time information and offers from retailers when in the vicinity. And of these, 11% would like real-time reminders from their phone when in-store so they can be directed straight to the item previously searched for online."
"Macy's will try to hook these shoppers with coupons sent straight to their phones. To do this, the department store chain has placed 4,000 tiny gadgets across its 788 stores. The devices, known as iBeacons, look for cellphones with the proper app and send them coupons. The strategy targets tech-savvy shoppers accustomed to checking prices and conducting other research on their phones during a shopping trip."
"A new software development kit (SDK) for Android developers lets apps give indoor directions using a combination of GPS, Wi-Fi, Bluetooth beacons and cloud data. A raft of location information is fed to CSR's cloud-based positioning centre, which calculates a more accurate indoor position before sending it back to the phone almost instantly.

CSR's technology can be built into any Android app, so could be used by any company that wants to track people's locations or provide indoor navigation. Such advanced indoor location tracking is a potential boon for advertisers and companies that want to stalk your every move."
Smart Cases
3D printing is taking off and variations on a case theme figure prominently.  Engadget have provided a forum for 3D printing enthusiasts to sound off.  One of them showcased a 1/4 scale printed Apple II case which houses a Raspberry Pi running an emulator: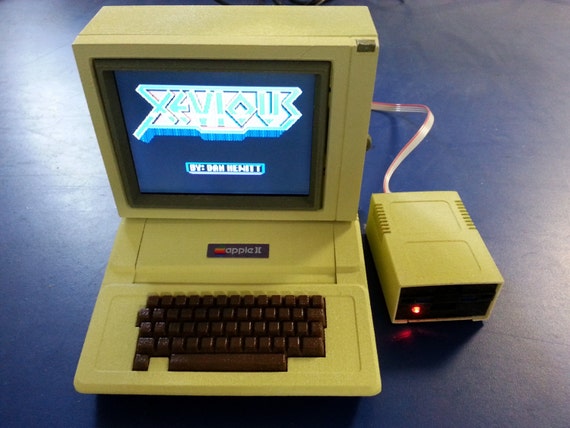 Researchers in the US have gone a whole stage further with 3D printable LEDs that could be "the key to a future generation of flexible and wearable gadgets":
"The researchers believe that the current technology could be used to make smart contact lenses with built-in displays, or bionic implants that use lights to stimulate nerves."
Wearables and the Internet of Things
GigaOM reviews the current status of the "Retrofit of Things". It's their term for projects to adapt existing home infrastructure from light switches to showers and air conditioners to connect to the Internet.  Many of the propositions in this space seem to be really struggling for traction suggesting the smart home is still some way away from mainstream adoption.
Apple released their first developer kit and UI guidelines for the Apple Watch.  It seems like the processing happens mostly phone side and not on the watch which suggests a closer high level similarity to Android Wear than some anticipated:
"WatchKit apps have two parts: A WatchKit extension that runs on iPhone and a set of user interface resources that are installed on Apple Watch. When your app is launched on Apple Watch, the WatchKit extension on iPhone runs in the background to update the user interface and respond to user interactions. WatchKit provides three opportunities to extend your iPhone app to Apple Watch: WatchKit apps, Glances, and actionable notifications."
The size of the iOS devices seems inadvertently representative of their relative roles in proceedings:
"If you're familiar with the heart rate monitoring chest strap that you get with a fancy GPS running watch, then just imagine that, but baked into a shirt."
The Bluetooth module that houses all the smarts is the main point of differentiation.  It has 12 hours battery life and can be easily detached:
The corresponding OMSignal iPhone app looks nice "with three large circles that represent your heart rate (red), breath (blue) and steps/calories (yellow)" .  It seems to be missing any social integration though:
The OMSignal smart shirt is by design a compression garment which is much en vogue in terms of fashion right now and also looks great on the models in the publicity pictures.  Our reviewer offers these words of advice to the rest of us:
"exercise clothes often look great on those who've already made it, people who are already "cut," but their figure-hugging nature may be intimidating if you're just starting out on the journey. That's why I'd suggest buying the sleeved shirts and wearing a baggy T-shirt or sweater on top, at least when you start out."
Programming and Games
Learning to code can be "a nightmare" of incompatible + brittle toolchains and environments.  This excellent Quartz post provides a lot of insight into why investing time and effort in these areas can make a huge difference.  Choose ONE language + environment and focus on being the best you can in that.
Product Development
Great advice on why you should desist from making technology decisions in isolation:
"my advice to technologists is exactly the same: never ask anyone to make tech decision; always think of it as a business decision, and always present it as such.  The truth is, in every business every technology decision is really a business decision. It's a decision that has consequences to the business, and nothing else matters. A different option will have different consequences. If an option has no consequences to the business then it's irrelevant."
Smart vacuum Dyson is aiming to invest over $2bn across the UK in R&D to support "new products and product categories".  There's some speculation that they will be using the investment to become the dominant player in the yet-to-be-created market for domestic robots:
"With this investment, Dyson is signalling a shift that could mean we no longer see it primarily as a vacuum company in four years' time. Could it instead become synonymous with domestic robotics?"
Lunar Mission One is a literal Kickstarter moonshot, a project to build and launch an unmanned robotic probe to the Moon's South Pole:  "the most inspirational mission to the Moon since the Apollo landings, and your chance to reserve your place in space."
Work and Culture
More evidence from the US through a study of the 2012 election of how social media can be used to fuel polarisation through self-curation of like-minded views:
"Social media like Twitter and Facebook can create an echo chamber in which people are exposed only to opinions in line with their own, according to the study, which analyzed Twitter usage during the 2012 election. … The Internet offers us a much wider range of choices about the information we read. But the responsibility for how wide our worldview gets, it seems, is a personal one."
"After four years I have decided it is time to hang it up. At this point there are better ways to find interesting links out there. There are plenty of computer algorithms capable of finding topical content faster than I can research and curate links and they are getting better all the time."
"More and more journalism will be small endeavors, often with only a single writer. The writer will have a narrow focus and be an expert in the field they cover. Distribution will be free (a website), and most marketing will be done through social channels. "
The one sign that you will be rich is apparently that you work harder than everyone around you.  Not sure that correlates with the experience of the one percent and those that work for them.
On the subject of the rich, the NYT question the very notion of Veblen goods suggesting that luxury consumption essentially operates under the same pricing logic as everything else.   As if to reflect this strange logic, Busy Town jobs for the 21st century include both one percenter and one percenter service provider:
Richard Scarry's Busy Town jobs for the 21st century: http://t.co/rP2AgOUAat pic.twitter.com/pBqSemtn06

— David Goldenberg (@dgoldenberg) November 26, 2014