Pick of the Week
Social media platforms like Twitter are frequently lauded by supporters for providing the public with a new forum in which to engage with political issues.   The reality however is that most people on Twitter have either never tweeted or only done so a handful of times.   And now Pew Research's Internet Project has released data suggesting that adults don't actually see social media as fundamentally any different in relation to political engagement employing the same "spiral of silence" model online that they use in real life: "In both personal settings and online settings, people were more willing to share their views if they thought their audience agreed with them."  It seems that social media might in fact serve to reinforce in real life an online echo chamber in which a relatively small group of self-appointed and sometimes pompous "thinkfluencers" hold court since Pew's data suggested "not only were social media sites not an alternative forum for discussion, social media users were less willing to share their opinions in face-to-face settings."  Their scenario breakdown is revealing:
In some cases the "spiral of silence" is given a helping corporate hand as highlighted in a revealing episode this week involving Code Club director Linda Sandvik:  "On Monday the 25th of August the Code Club board gave me an ultimatum: either I have to stop saying negative things about Code Club sponsors, or resign as a director. After careful consideration, I have handed in my resignation."
Social and corporate behaviour along with a growing raft of security threats add to a sense of disquiet about the direction of travel of the internet.   The Register reflected on these broader concerns with a reminder that whatever higher purpose we may desire, we cannot mandate how human beings will use a technology.  And with smartphones essentially in every pocket now, the scope for influence and exploitation on a mass scale for social media providers ought to give pause for greater thought.
There was a time before universal smartphone usage as anyone over 40 will recall.  Now it seems that anyone without one in the West is regarded as odd to downright suspect.   So it's refreshing to read Kate Bush's polite request to fans lucky enough to have tickets for her return to the stage after 35 years:  "It would mean a great deal to me if you would please refrain from taking photos or filming during the shows. I very much want to have contact with you as an audience, not with iPhones, iPads or cameras."   Perhaps unsurprisingly not everyone followed her request to engage with a transcendent experience without involving a phone.   In another reminder of how times have changed since Kate Bush was last on stage, the new new thing 35 years ago was synthesiser-driven pop music written and performed by self-confessed "engineer musicians" that weren't afraid to build their own hardware.   The BBC re-ran the fantastic Synth Britannia documentary covering the period – it's well worth watching.
Apple
Quora is a great resource for entertaining answers to questions often carrying insight from those who

really know what they're talking about

 and occasionally from respondents that go way, way beyond the call of duty.  In the latter category is

Jong Moon Kim's essay

in response to the question, "If Steve Jobs was handed a pen and asked 'Sell me this pen', how would he go about it?" It contains the imagined transcript of Apple Special Event in August 2014 in which Steve Jobs (still alive) launches the iPen to rapturous applause finishing off in classic Jobs style: 

"Oh, and one more thing.  

(Loud cheering)  

We

've teamed up with a wonderful company called Moleskine to offer you a special white, Apple Edition notebook.  They make the best notebooks in the world.

It's the world's best paper for the world's best pen.  A notebook is included with each iPen purchase.  

Thank you.  

(Applause)

." Seems 

reality just mirrored art in the form of Livescribe's pen and paper combo:  "Livescribe has partnered with the iconic paper notebook maker to produce special edition Moleskine notebooks filled with the special Livescribe paper required for the smartpen to do its job."
Smartphones/OEMs
Huawei have made great strides this year particularly with their top spec Android based Ascend smartphone range.  Richard Yu, their head of Consumer Business, made clear to WSJ in an interesting interview this week that Android is the only option they have for building smartphones.  He thinks Tizen has "no chance" of success and that they will make no more Windows Phone devices for now after "two years losing money" on their W series flagships.
iPhone covers are an increasingly serious business and likely to become more so with iPhone6 launch imminent.  The FT have surveyed the scene in the UK highlighting a growing interest from the fashion industry: "According to market research group GFK, sales of iPhone cases and screen protectors have quadrupled in volume since 2009, while sub-£10 styles have been most influential in growing the market.  Selfridges … has increased its investment in phone and tablet cases by 30 per cent for autumn/winter 2014".   Deluxe case manufacturer OtterBox are reportedly "exploring a sale that could value the company at more than $2.5 billion, including debt" which is a staggering sum given 75% of their business is in iPhone cases.
The noPhone takes the iPhone cover concept and turns it into a dummy or placebo phone because smartphone separation anxiety is apparently a thing for some: "The noPhone is built specifically to alleviate the anxiety that comes along with not having a phone, and/or work as a substitute for a phone during those moments when you should really be more attentive to what's happening in your real life."
At least the noPhone team don't have to chase the Qualcomm chipset bandwagon.  It's now rolling on from Snapdragon 801 to their 64-bit Snapdragon 810 SoC (ie. MSM 8994) which just surfaced on Antutu. This chipset will almost certainly power the first wave of 64-bit Android L release superphones:
The HTC One M8 is now available from Verizon in both Android and Windows Phone variants.  The Verge reviewed the Windows Phone variant favourably and applauded HTC's decision to use exactly the same hardware for both versions: "

just like Nabisco, HTC has released a variation of the One M8 that's the same on the outside, but wholly different on the inside".   It also 

allows a straight comparison of Android vs. Windows Phone performance to be made.  Slashgear conducted just such a comparison and found the battery on the Android version drained more rapidly than the Windows Phone version.  HTC's own figures broadly align with their findings to date.
Android HTC One M8
Usage Time: 12 hours
Standby Time: 12.2 days
Windows HTC One M8
Usage Time: 21 hours
Standby Time: 15.5 days
The Verge compared the iPhone5s camera with a highly-rated top of the range DSLR, the 2014 Fuji X-T1.  They took a wide range of comparison shots in varied lighting conditions.  The conclusion wasn't altogether surprising from a pro-photography perspective. The iPhone5s is more than serviceable for Instagram particularly with day shots but "when the sun goes down, or when I need more creative control, or when I just want the more intimate experience of turning an aperture dial while looking through a viewfinder, the iPhone's going to stay in my pocket and the X-T1 will be hanging from my neck."
Google/Android/Apps
ComScore's recent US mobile app report underscores an emerging pattern at least in the West, namely that most mobile users don't download any apps in an average month presumably sated by a combination of what they've already installed, social media sites and the likes of Google unbundling themselves.  ContentLoop suggests we may have reached "Peak App" and that "unless you're a priority business partner or already a major brand name, good luck getting noticed in there."  A role remains here for major OEMs to "kingmake" up and coming third party app propositions by rolling them into flagship devices at launch.
Google acquired two design and UX focussed companies this week.  Gecko is a mechanical design outfit that "did all of the mechanical design work behind the original [Fitbit] activity tracker".  Zync is a special effects house which has its own "cloud based effects rendering software" smarts.  Google will presumably look to incorporate Zync into its cloud platform as a further differentiator vs. AWS.
Asia
Reuters is quoting an official connected to China's

Ministry of Industry and Information Technology (

MIIT) suggesting that China is again looking at a home-grown OS to compete with what are seen as essentially US-based alternatives: 

"We hope to launch a Chinese-made desktop operating system by October supporting app stores…. Creating an environment that allows us to contend with Google, Apple and Microsoft – that is the key to success."
Counterpoint's Market Monitor report for Q2 2014 focussed on the China-specific smartphone market and highlighted a massive boom in LTE devices in the region: "

China remains the bright spot for entire mobile phone value chain and crux of all the growth….  T

his quarter it was all about China LTE smartphones and Chinese OEMs ramping up."  Headline quotes from their summary:

Global 

smartphone

 market grew to a record all-time-high shipment volumes surpassing

 300 million

 units in Q2 2014

Global smartphone shipments now account to 70% of all mobile phone shipped during the quarter, highest ever
China was the big factor this quarter clocking record high smartphone shipments, more than 100 million units
China now accounts to more than a third of the global smartphone volumes up from a fourth, eight quarters ago
The major growth in China is as a result of unparalleled demand for smartphones
We predict China will overtake USA as the number one LTE market in terms of LTE smartphone sales in the second half of 2014.

Counterpoint

 also provided a breakdown of Chinese LTE smartphone market share showing that Coolpad, Samsung and Apple collectively account for over 50% of the market:
Security
The California "Kill Switch" bill is now officially law: "

Its aim is to make phones a less attractive target for thieves by requiring built-in tools that let consumers remotely lock, wipe, and disable the devices."  Specifically smartphone OEMs will need to absorb the following requirements: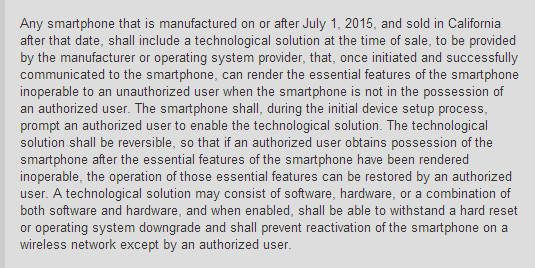 The NYT points to evidence indicating that this has already started happening with the iPhone which has had corresponding anti-theft technology included for a while:  

"Cellphone theft appears to be dropping after the introduction of a kill switch from Apple

.  Apple's iPhone has offered kill switch technology since September, and law enforcement statistics for several major cities 

show a significant decline 

in thefts of devices after the introduction of the anti-theft feature."
Continuing an emerging pattern of poor IoT security, it turns out that even traffic lights are vulnerable.  Research from the US highlights 

"traffic lights in more than 40 states are still running on unencrypted Wi-Fi networks, making them relatively easy to commandeer. Even where networks are encrypted, the devices still suffer from vulnerable debugging ports and default manufacturer logins, which make it easy for an attacker to guess the login and password in advance."
Cloud/Infrastructure
Microsoft announced DocumentDB database service, a new addition to their Azure Data Platform: "Currently available as a technology preview, DocumentDB allows for SQL-like queries on semi-structured data (i.e., JSON files) and supports strong consistency for transactional applications."
Lyft, a ridesharing startup based in the US, recently moved from Puppet to SaltStack for infrastructure environment management after carefully evaluating their alternatives including Ansible.  An InfoQ article summarised the background and highlighted a 10-fold reduction in code base: "The main reason to change the tool was Lyft's complex Puppet code base, with around 10000 lines of code. Since Lyft follows the "If you build it you run it" approach, the DevOps team felt the Puppet code base was not suitable to be used by the developers. In the end, both SaltStack and Ansible were able to reproduce the Puppet infrastructure with around 1000 lines of code."
Big Data/Machine Learning
As demand and compensation for data scientists soars, NGOs are being priced out of the picture .  This "Big Society" HBR opinion piece suggests low-cost strategies for re-engaging their volunteer talent for social good by provision of networking spaces and structured challenges.
According to Gartner's  Hype Cycle for Emerging Technologies, Big Data is now past the peak of inflated Expectations and heading towards the Trough of Disillusionment.  It's been replaced by Internet of Things and Wearable Computing.  Data Science is a new entry expected to reach the peak in 2-5 years.   The Hype Cycle is not exactly scientific but it does help capture and communicate some observable technology dynamics:
Services
Jan Koum of WhatsApp provided a timely reminder of the difference between registered and active users in the context of a service proposition in handy tweet form:
Now serving 600,000,000 monthly active users. Yes, active and registered are very different types of numbers…

— jan koum (@jankoum) August 25, 2014
Wearables/InternetOfThings
Some in the retail clothing industry have woken up to the threat of technology disruption.  Ralph Lauren have created a tech version of their Polo shirt which will be worn by ball boys in the US Open this week: "

The Polo Tech shirt, which was made with the help of Canadian tech firm Omsignal, has built-in sensors that track the wearer's heart rate and movement. That data then gets sent to an iOS app, thanks to a Bluetooth-enabled box that detaches from the shirt when it's time to do laundry.  Basically, it's designed to take the place of a standalone fitness tracker or heart rate monitor — gear that could potentially get in the way while you're trying to move.

" 
Meanwhile Fitbit, one of the original fitness tracker device manufacturers, goes from strength to strength at least in terms of cultural capital. There is evidence that the brand is beginning to cross the chasm at least in the US where owning one now seems to be all the rage at least for now…: "

Each day has more FitBit conversations invading my office and social media feeds. I see people using their GPS devices to draw lions and tigers, centaurs and dicks. Step leaderboards have become battlegrounds, with cash prizes on the line. Insurance companies are even giving premium incentives if card holders track and share their movements. I know it's reaching a tipping point, a point at which no one will ever want to share their exercise routines with the world again."
If you'd rather have more time on your phone than use a Fitbit, the QBracelet could be handy.  It's a wearable battery charger weighing under 50g and retailing at $99:  "Inside the bracelet's clasp, there's either a Micro USB or Lightning connector, which Q Designs (the new company behind the bracelet) says will give you 60 percent more charge on your device."
The Estimote iBeacon stickers highlighted last week are being referred to by the company as "nearables" which sounds like a term that will stick:
Hello's Sense smart sleep tracker has now raised $13m without any VC help through a combination of angel and Kickstarter funding: "[CEO James] 

Proud's path should give some big venture capital firms pause, as founders like him find there are more ways to raise eight figures without Sand Hill Road."

   The tracker is due to go on sale in November retailing at $129:
Swatch have finally bowed to the inevitable and have indicated they will enter the smartwatch arena sometime "in 2015" without being particular about details: "The company has let it be known that it'll add fitness functions to its Touch line of watches, although it wouldn't reveal specific features that we'd expect to see."
Swiss startup noonee have created a curious "chairless chair" that is attached as a leg support: "

Once you get strapped in, all it takes is a press of a button to get settled — the aluminum and carbon fiber frame holds whatever position your legs take and essentially becomes, well, an invisible chair. The secret sauce here is a battery-powered dampening system eases the load on your lower back and legs by supporting the your body weight and directing it down into your heels."
Direct brain stimulation (or transcranial direct current stimulation, TDCS) is of increasing interest right now with several apparent benefits in terms of mental performance but also scope for serious side effects.  This is becoming a cause for some concern given that "

people are also increasingly making brain stimulation kits themselves" and the appearance of "an active Reddit forum on the topic"

:   "

Transcranial direct current stimulation (TDCS), which passes small electrical currents directly on to the scalp, stimulates the nerve cells in the brain (neurons).  It's non-invasive, extremely mild and the US military even uses TDCS in an attempt to improve the performance of its drone pilots.  The idea is that it makes the neurons more likely to fire and preliminary research suggests electrical simulation can improve attention as well as have a positive impact on people with cognitive impairments and depression.

"
Work
This HBR article emphasises the importance of actively integrating live sales data into corporate strategy.  All too often in big companies planning is detached from what is going on at ground level with customers: "The average corporate planning process takes 4-5 months per year. While this is going on, the market is doing what the market will do, and sales must respond issue by issue and account by account."  Somewhat disturbingly HBR posit that: "on average, companies deliver only 50-60% of the financial performance that their strategies and sales forecasts promise"
And this TNW article assesses the structural forces ranged against innovation in a big company environment.   Companies like Apple and Google are notable exceptions; in most places, there is a clear disincentive to innovate if doing so detracts from the priority of profit creation for both Private Equity firms and publicly listed companies.   The former are typically financing the business through debt so need to hit EBITDA predictions.  The latter are tightly managed to quarterly reports with major consequences for missing targets.   Regardless of how innovative a startup once was, if it ends up on a PE/Public track it will "lose its mojo".
Typical big company positions require as political nous as much as technical skills and it appears will remain immune to robotic replacement since robots lack common sense: "Many of the middle-skill jobs that persist in the future will combine routine technical tasks with the set of non-routine tasks in which workers hold comparative advantage — interpersonal interaction, flexibility, adaptability and problem-solving".