Pick of the week
Innovation – it's everywhere but according to @asymco very few really seem to know what it means: "Illiteracy is the inability to read and write. .. currently 15% of the world has this affliction.  Innumeracy is the inability to apply simple numerical concepts. The rate of innumeracy is unknown but chances are that it affects over 50% of us.  But there is another form of ignorance which seems to be universal: the inability to understand the concept and role of innovation.   The way this is exhibited is in the misuse of the term and the inability to discern the difference between novelty, creation, invention and innovation.  The result is a failure to understand the causes of success and failure in business and hence the conditions that lead to economic growth.  My contribution to solving this problem is to coin a word: I define innoveracy as the inability to understand creativity and the role it plays in society."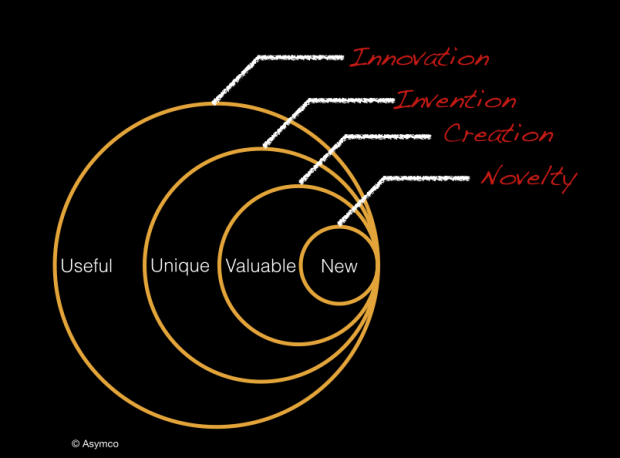 To understand how to drive innovation it is important to carefully study and examine an existing portfolio and focus on that rather than fetishize the creation of entirely new ideas through ideation.  HBR covered that well recently: "Research shows that learning from past mistakes and successes has, by far, the biggest impact on increasing revenue from new products. … The key is implementing a formal and mandatory review of all successful and unsuccessful new products or services to capture everything learned. Then use this to develop and refine explicit criteria that are religiously followed when selecting the ones to develop and launch."
Smartphones/OEMs
Everything in this Radio Shack advert from only 23 years ago is now technically possible/available in a modern smartphone: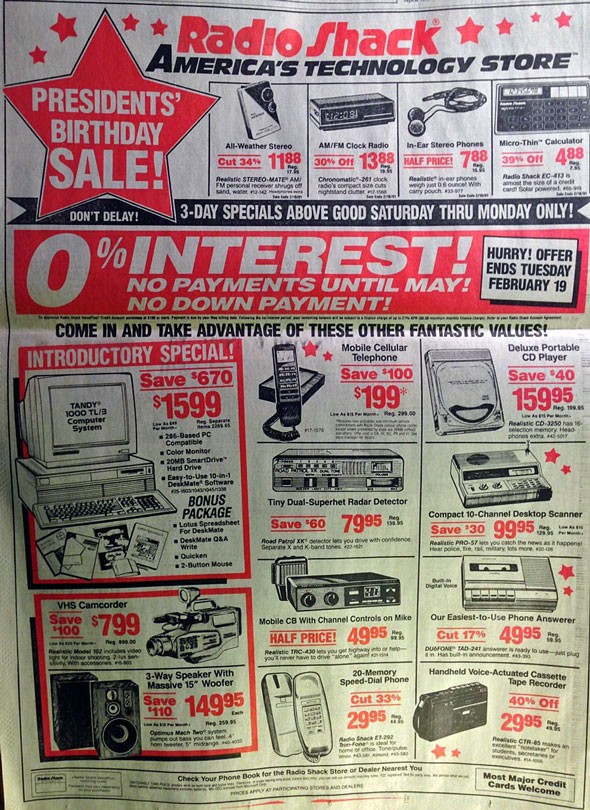 The Head of Design at HTC is leaving as they indicate that despite all the MWC plaudits and great reviews, they need more sophisticated marketing to break Asia in particular: "HTC is instead targeting bloggers to use and write about their devices, an approach that could make sense in Asia with the rise of what's known as 'celebrity bloggers' — people who become famous on the Internet via blogging."
It didn't take long for Microsoft to separate itself from the Nokia brand.   However, in case anyone missed the news in all the blog coverage about Nokia Devices moving over to Microsoft, there is evidence that the old problems remain – Windows Phone isn't gaining traction and scale sufficiently quickly: "overall sales fell by 30 percent compared to the same period in 2013. Nokia blamed the lack of interest in its low-end devices by saying that the industry was in a race to the bottom, while at the top, it let out the usual refrain of "competitive industry dynamics" — a polite way of saying that Nokia and Microsoft have been unable to topple the behemoths of Android and iOS."   Against this grim background, The Register asks "Perhaps a viable Android is the best acquisition Microsoft could have made?"  All of which inevitably adds further fuel to the debate on compensation vs. reward for failure.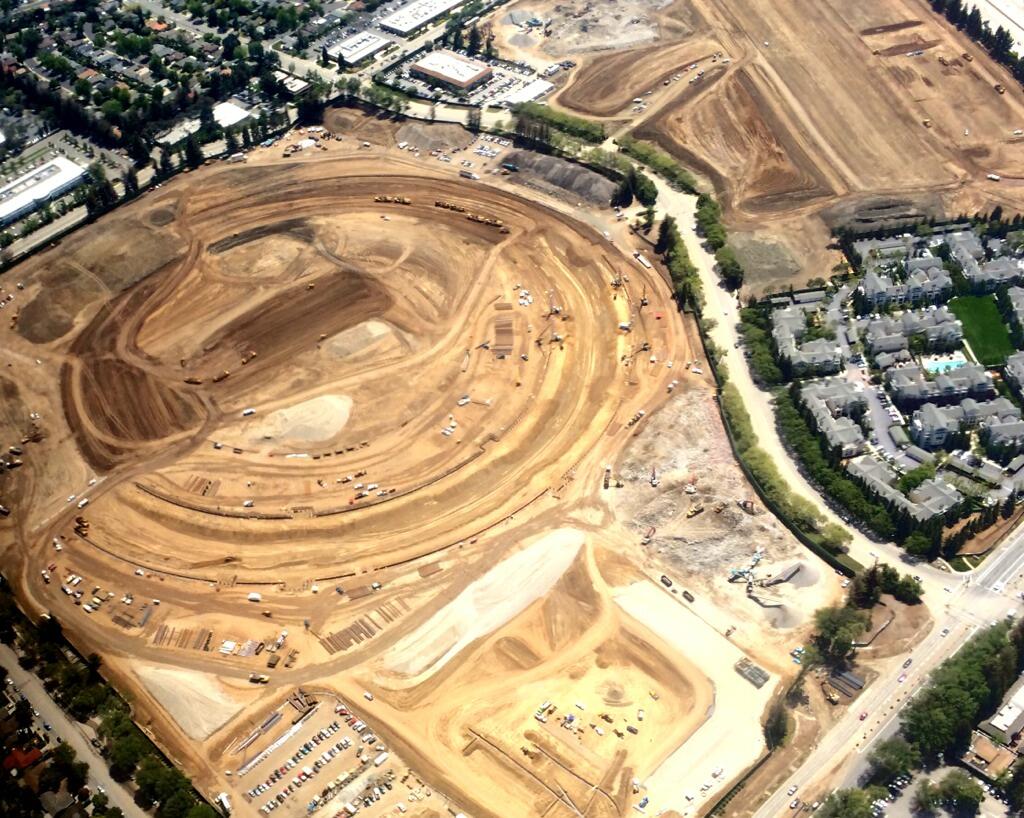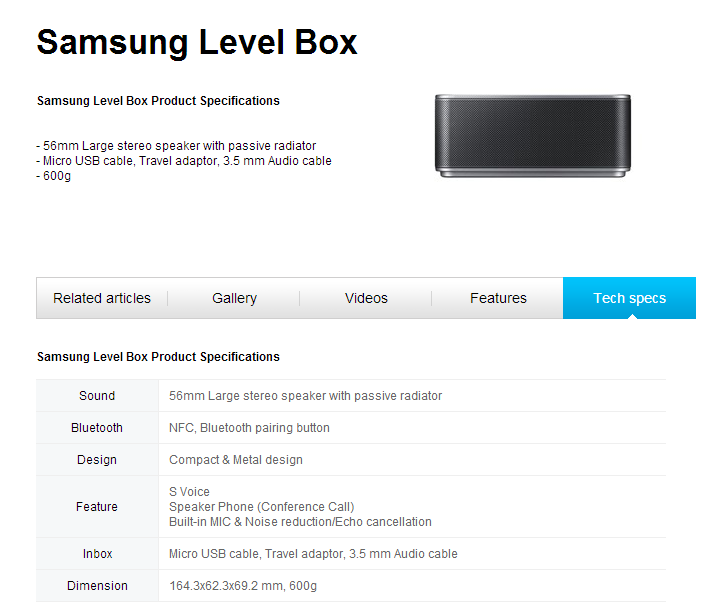 While on the subject of Bluetooth/NFC speakers, this looks nice from Beats Audio:  "Beats has done something I thought nigh impossible these days, which is truly surprise me with a Bluetooth speaker."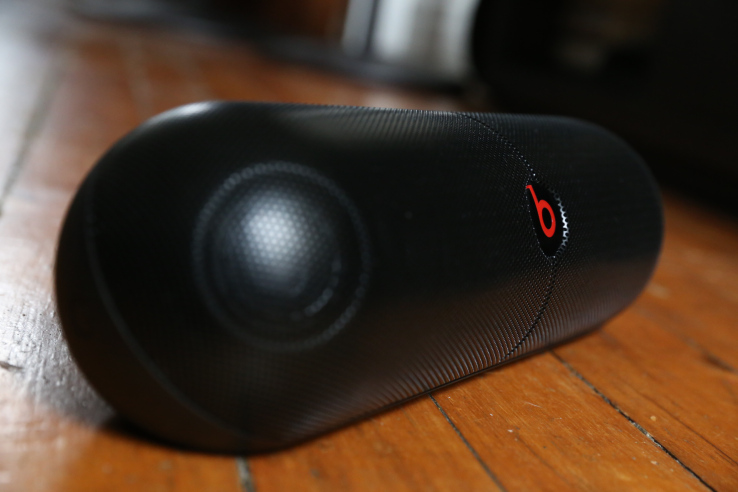 Google/Android/Apps
More rumours on what will be in the next version of Android including suggestions that navigation icons will change to a rounded form and a g+ "red button" will be added and that it will apparently major on voice control.  In a further sign of the assertion of Google's control "importantly, the on-screen "home" button is set to change from a photo of a house to the Google logo itself".
Meanwhile Google are quietly making great progress with their autonomous cars.  The potential here is enormous and they seem to be in for the long run:  "Our vehicles have now logged nearly 700,000 autonomous miles, and with every passing mile we're growing more optimistic that we're heading toward an achievable goal—a vehicle that operates fully without human intervention. "
If you want to make money as an app developer choose iOS. HTML5 on mobile is also worthy of consideration and appears more lucrative than Android.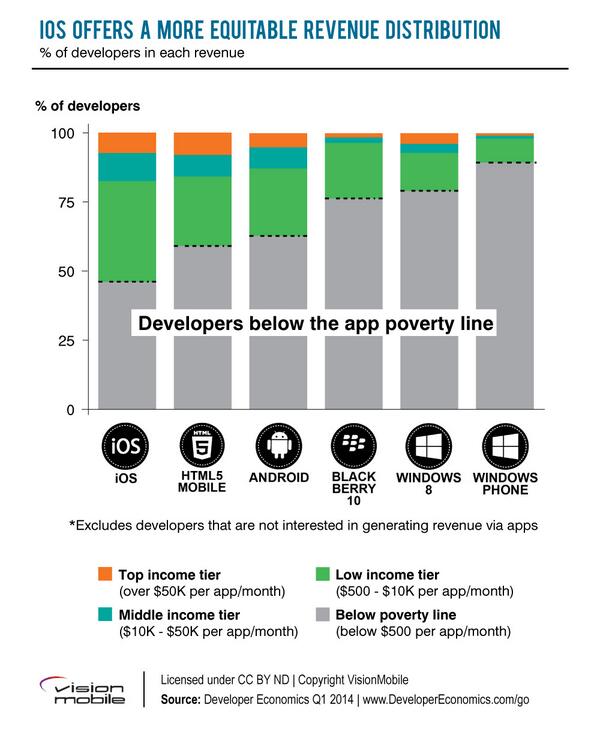 Asia
Cloud/Infrastructure/Security
RightScale's Cloud Appliance for vSphere is now available to support enterprises that need to manage AWS and VMWare installations from a "single pane of glass" as it appears that many of their customers do:  "In most enterprises, the infrastructure team runs vSphere while the app dev, cloud, and DevOps teams typically use AWS and other public cloud services. …. enterprise customers overwhelmingly tell RightScale that they want a single system to provision, manage, and govern both AWS and vSphere resources … With the general availability this week of the RightScale Cloud Appliance for vSphere, we now enable customers to manage workloads seamlessly across vSphere, AWS, Google, Azure, OpenStack, and all of the clouds we support."
2013 Gartner report on Cloud IAAS reprinted providing yet another data point on how far ahead Amazon are from their competitors in a leaders vs. challengers analysis: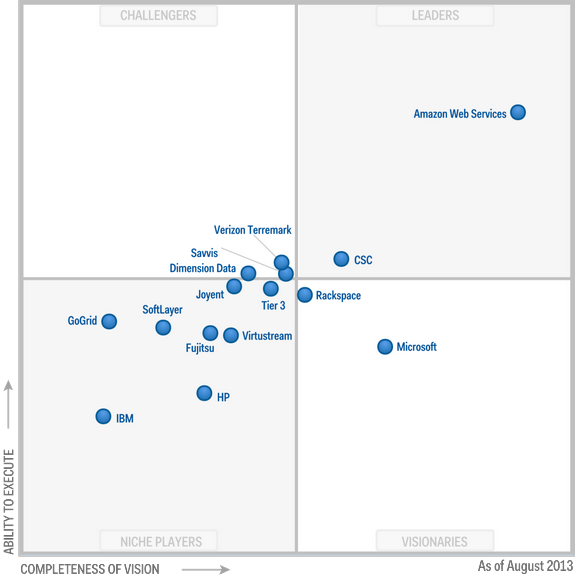 Services
Why iBeacon is vital to future Services development – it provides a way of providing your smartphone with "eyes":  "Most people don't yet get it, but beacons as a platform are really a wedge into 'appifying' the physical world. They give context to a physical space. They are a way of actually extending the network intelligence to the edge again, something that has been missing since the desktop era. Beacons are truly a way of giving your smartphone eyes—place dumb signs around you and let your phone discover and read them."
This TNW article feels like it ought to be the plotline for a Silicon Valley spoof from which the following quote gives you a flavour of the kind of mash-up fun involved:  "If you're after the perfect playlist for your car, look no further than Beat for Speed. The novel iOS app will automatically change tracks depending on how fast you're driving. So when you're stuck in traffic, it'll select some slow reggae to keep you relaxed, before queing up 'Highway to the Danger Zone' when you put the pedal to the floor. The app also considers the time, weather and your location to make sure your tailor-made playlist is just right."
Big Data
Hadoop is one of the hottest tools in the big data world and widely used across the industry to operate map reduce jobs on huge data sets.  Here's a good Cloudera primer on what it is and how + where you might want to use it within an enterprise environment.
As well as extracting data it's very important to pay attention to how you visualise it: "Present the facts in the most straightforward, accurate way you can.  Present a comprehensive picture. Provide proper context …Summarize your analysis, including shortcomings and alternative explanations for the results you see."
Wearables/InternetOfThings
Goccia LED tracker button with interesting "LED light communication" technology that avoids the need for BTLE and allows the device to be " the world's smallest activity tracker".
Miscellaneous
Absorbing insight into the early days of iPhone dev which includes this classic Steve Jobs Reality Distortion Field anecdote: "One person on the iPhone design team was also named Steve, which caused some confusion in meetings. … At some point Steve Jobs got really frustrated with this and said 'Guess what, you're Margaret from now on … From there on, members of the team would always address the designer Steve as Margaret."
This… well, you should just try and spare a minute to watch it 🙂