Pick of the week
This is a long but ultimately really worthwhile and important read on why the winners in the next wave of mobile, namely wearable computing, will be those that are able to bring world class expertise across a range of areas.  In particular, the triad of hardware, software and services allied with strong branding and top class data science.
Smartphones/OEMs
There are suggestions that Apple may be looking to build its own baseband team.  They remain peerless, the true class leader in mobile because they cover every aspect of product design and manufacture so well:  "In short, the future is grim for any competitor not nearly as invested as Apple is in design, materials, process, and manufacturing. The iPhone 6 will be a product that fully demonstrates just how peerless Apple has become."
CTIA have created an initiative called the "Smartphone Anti-Theft Voluntary Commitment" to introduce a "kill-switch" feature to smartphones.  Google, Apple, Microsoft, Samsung and all the leading US network operators have endorsed it:   "Under the terms of the Commitment, smartphone models manufactured after July 2015 and sold in the US will offer the "kill switch" capability either preloaded on the device or made available to download. As well as remotely wiping the phone and rendering it unusable to an unauthorised user, the CTIA also wants manufacturers to prevent the handset from being reactivated without the user's permission as well as reverse the kill switch when the handset is recovered by the authorised user."   Update: seems that this isn't going to happen any time soon following a reverse in California.
Nokia Services and Devices business as of 25th April is officially part of Microsoft and apparently will be renamed "Microsoft Mobile Oyj".  Interestingly Nokia is seeking to retain its old supplier base and this may suggest they have plans to launch non-phone consumer electronics devices perhaps as early as this year: The  "Nokia Smart watch is something which we have heard about coming in Q3 and one recent tip claims that all the future Nokia hardware will come from HERE division.  So, this gives a boost to hopes of Nokia thinking about bringing some consumer hardware in future."

Obi Mobiles, yet another new smartphone vendor launches in India into what is already a pretty crowded market.
Steven Sinofsky ex-President of Microsoft's Windows division provides some great insights into product development and emphasises the importance of viewing "shipping as a feature".  Much of his focus in this article is on the need for clear-minded decisive product management – the essential role of product management is to decide WHAT to do:  "Some people love making decisions on their own. Other people need socialization and iteration to make a choice. Either way can work (or not) as a product manager, but to be great you really do have to decide."
Amazon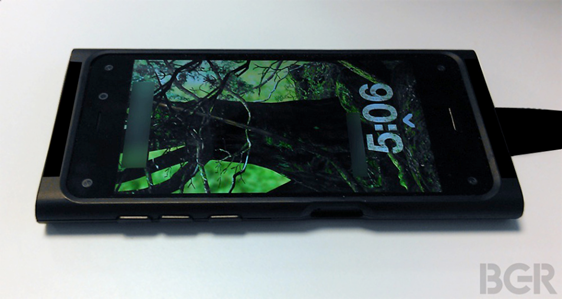 Amazon's intention may be to disrupt mobile network operators:  "Amazon is planning to offer a unique wireless data plan alongside its first smartphone, which is set to launch in the coming months.  The plan is tentatively named "Prime Data," and it will be positioned as one of several key selling points for the phone."
Second, an hour long BBC program offering a fascinating glimpse into Amazon corporate culture and leadership which seems to have some unsavoury aspects including the requirement to drop everything to respond to a "?" email from Jeff Bezos in the hope of receiving a ":-)" response from him when they've dealt with the issue.
Android/Apps
An important post from WSJ citing a Strategy Analytics survey looking at application usage on Samsung Galaxy smartphones in the US.  Turns out that mostly users are on Facebook, Instagram, Google and Twitter with Samsung apps making hardly any dent: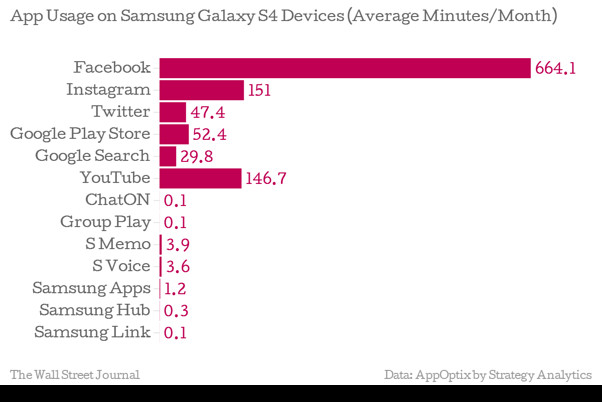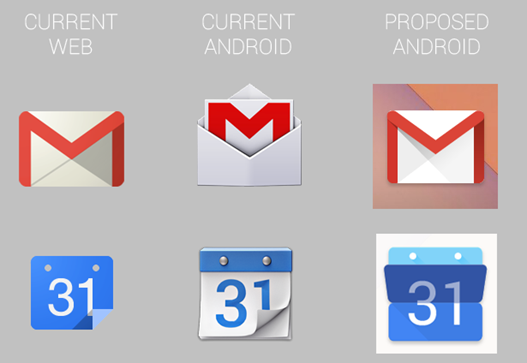 Meanwhile, The Verge secured an interview with Matthias Duarte Google's VP of Android Design.  It's a little bit fluffy and high level but still offers an interesting insight into how the Android Design function is led – by "starting with a problem".
Fascinating TNW article on how Zeebox A/B testing revealed Android side drawer navigation to be a real drawback in terms of user engagement relative to a conventional use of plain old tabs as shown in these stats: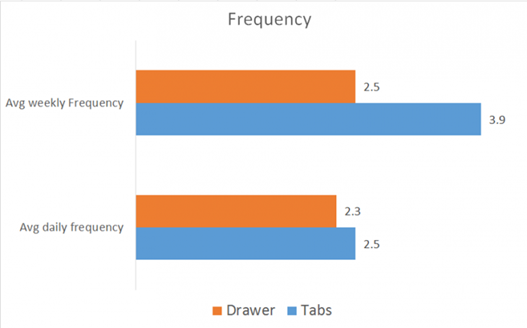 China
Meanwhile network operators are feeling strain.  Even the mighty China Mobile faces severe  financial challenges in an increasingly competitive landscape.  Interestingly, China Mobile "has managed to attract 2.79 million customers to its TD-LTE 4G network since launch just a few weeks ago".
Cloud/Infrastructure/Security
Meet Robin Seggelman, the Deutsche Telekom developer who accidentally let in Heartbleed and has probably had better months than April 2014.
Very entertaining collection of Reddit posts on how little most people are aware of the security risks involved in browsing the web:  "I actually think the general population is getting more tech illiterate. As devices have become more user friendly, the level of IT knowledge required to use them has gone down dramatically. So what we have now is the equivalent of a bunch of toddlers running around with bazookas and not knowing what makes them go boom."
Amazon again.  This time with AWS price cuts since launch in 2008 leading to GigaOM  proposing the existence of Bezos' Law:  "Bezos' law is the observation that, over the history of cloud, a unit of computing power price is reduced by 50 percent approximately every three years…. "if Bezos' law reflects reality, the only conclusion is that most enterprises should dump their data centers and move to the public cloud, thus saving money."  Details of cuts outlined in here: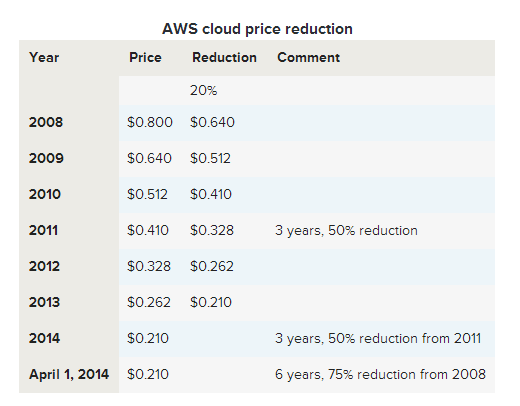 Meanwhile a lot of other enterprise cloud industry players like VMWare, Rackspace and RedHat are aggressively pushing OpenStack as the open platform alternative to closed AWS APIs.  And OpenStack adoption does appear to be ramping, indeed "reaching critical mass" according to this Novell report.
Services
Interesting interview with James Tagg, Truphone CTO on how they built their "global MVNO" proposition though he doesn't seem to like that term preferring to call it a "next generation global mobile network".  Truphone is backed by Roman Abramovich (yes, that one) and have long been touted as one of the likeliest companies to provide the holy grail of a "global SIM".
Big Data
It's important for SMEs to consider partnership with academia to establish a channel to connect with and enthuse really talented data science researchers for potentially for no cost.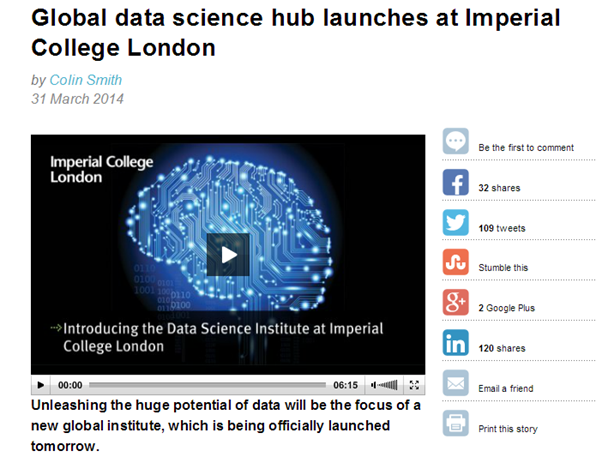 Wearables/InternetOfThings
You can buy a Nest thermometer via Google Play now. Coincidentally I had British Gas install Hive at home recently and have it working with both iPhone 5s and Android.  Interestingly: "For those keeping track, this makes the Nest Learning Thermostat the only product available on both Google and Apple's retail site"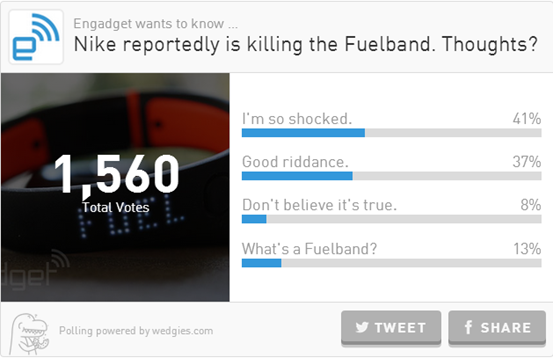 Insightful article highlighting a major area for wearable technology – namely the quantification of corporate wellness.  This is a big and growing business for Fitbit.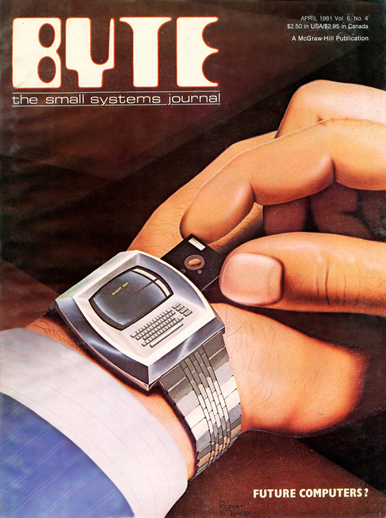 Miscellaneous